KNOWING WHAT YOU'RE GOING TO WEAR!
I've really enjoyed preparing for the season ahead. I usually struggle a bit with Summer clothing. I'm not a big fan of flashing lots of flesh and wearing high heels gets tricky as the temperature rises. Heeled sandals can be notoriously uncomfortable. Straps and hot feet don't get along too well! I've found pieces in the new season high street collections that have slotted into my wardrobe nicely so you're going to see some "old" favourites mixed with my new season buys in this blog. Surly that's the whole point of it? To be able to build on what you have to make things feel fresh, current and interesting again after the deary Winter months. I've tried to give as many links as I possibly can to the items in this blog but I think you'll get the general jist of how to look out for items that will lift the wardrobe you already have?!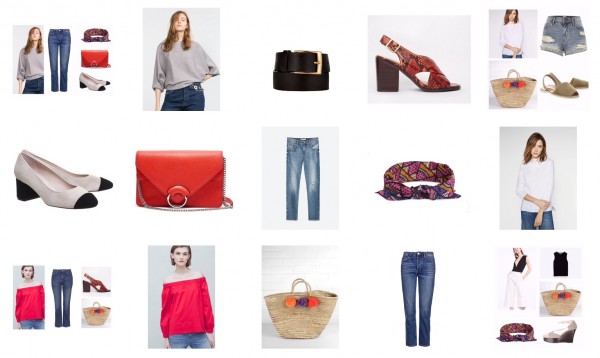 TAKE A GOOD HARD LOOK AT WHAT YOU HAVE!
That's exactly what I did! I know I love my jeans so I bought a favourite shape in a new colour; bought a new style to spice things up and re-worked my most versatile pair that I already own with my new purchases. So that gave me the building blocks for lots of outfits in my Spring wardrobe. By looking at my existing items from last season and at what I wore last time around I quickly realised that this needed to happen…..
NO MORE BLACK!!!
Yes, I made myself a rule, NO MORE BLACK! Don't get me wrong. I'm not opposed to black in the Summer months but I just felt the urge to put more colour into my life. An all black cotton or linen outfit can look uber cool in the heat and I will continue my love affair with black I'm sure but colour was on my radar so colour it is! (for this blog anyway!)
ACCESSORIES, less is more or more is more?
Who knows but let's give colour a go here anyway. Accessories are the easiest way of injecting colour into your look. I'm not teaching you anything new here I realise that. I've said it before but even a well chosen lipstick colour can do the trick. I've been needing a nice little cross body bag for a while. When I'm out shopping with ladies and dashing up and down stairs, I can't leave a big bag lying around. The criteria for my purchase was therefore, leather, smallish (still big enough for a phone, purse and Ipad mini), cross body and in a nice colour that could go with most of my existing wardrobe without braking the bank! I came across this little number from Banana Republic. It's definitely not red but more of an orange/coral tone but looks good with all the neutral  tones I usually buy in my clothing. It adds a well needed pop of colour to all my greys! When a discount code for 25% off landed in my in box I decided to pounce. This code is no longer valid but if you sign up to the news letter you can get 15% off your first purchase and there are quite regular offers to be had.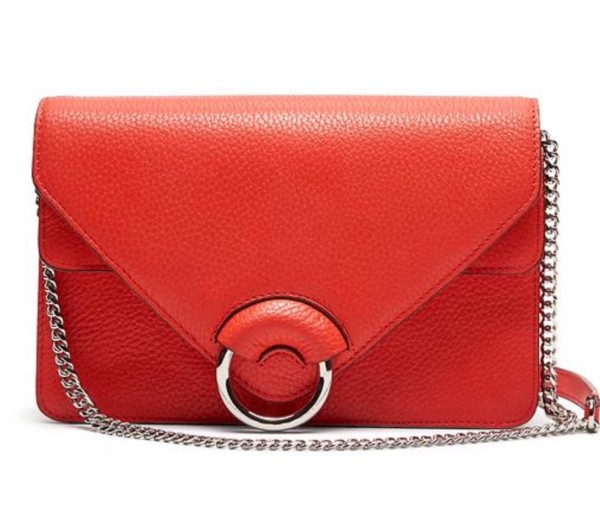 LEATHER BAG – BANANA REPUBLIC  £85 (before any discount)
THE LITTLE ACCESSORY THAT'S MAKING BIG WAVES!
It's the small scarf or bandanna. Wear one around your neck or tied onto your bag or even through your jeans as a belt. This little accessory is making big waves and I loved this pure cotton one from H&M. At only £3.99 it's an inexpensive way of trying out a trend even if it only makes it's way to the handle of your bag!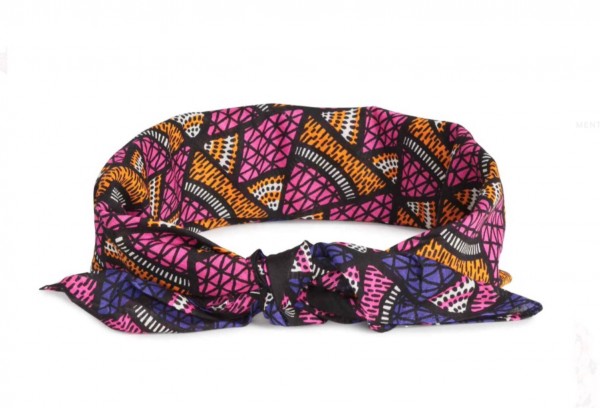 BANDANNA SCARF – H&M – £3.99
ACCESSORIES WAITING IN THE WINGS!
This is the basket I have posted in a previous blog. As this post continues you will see why it's here again. It's all part of the process of building a wardrobe with items that all work together to make lots of outfits. Outfits that work for different occasions. I can't really get away with calling my wardrobe a capsule wardrobe but there is theory here that hopefully might be useful to read!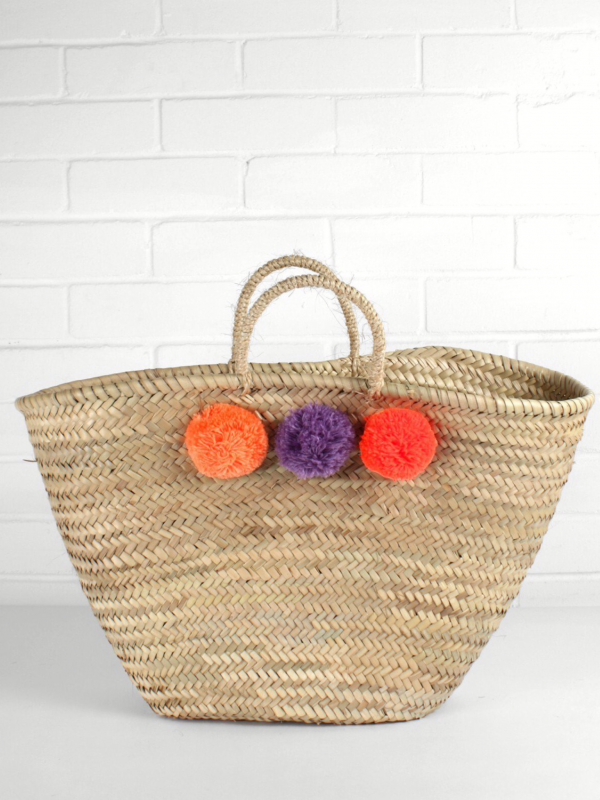 BASKET – BOHEMIA DESIGNS – £32
other pom-pom combos available on line and a fun way of adding a bit of colour to a classic basket
SHOES AND ……..!
From bags to shoes. Do you remember my blog about shoe trends? Do you remember me trying "the queen shoe"? Do you remember my epic fail?! Well, I persevered and found my Prince! I found a pair that were a little less "queenie!" A pair that looked a bit more "French girl". Basically a take on a "Chanel" with black toe cap included! I'm not complaining as there were then in my price range being from OFFICE shoes. They were just the ticket. They don't come quite so high up the foot as other styles of a similar ilk so looked cute rather than frumpy. Sizes are limited on line as they are proving popular. Not available in smaller branches but I've spotted them in The Bullring.
MID HEELED COURT – OFFICE SHOES – £65
…….SANDALS!
The ALDO sandals pictured below were purchased last year. I was really pleased with them and I still am! I'm going to wear them loads this summer. I love the wide straps that don't cut my feet to shreds. The absence of an ankle strap makes them flattering with dresses too. I love the colour that goes with most of my wardrobe and great with denim. I love the block heel for stomping around town and the fact that they can still look quite smart. All in all, I love them! They are still available in limited sizes and at a clearance price at ASOS and ALDO.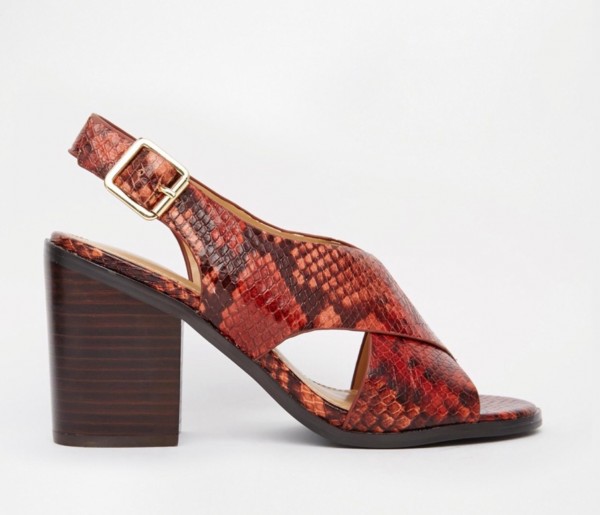 MARITA SANDAL – ALDO (links above in text)
The colour in real life is a much deeper tone of rust/red.
BUILD A SHOE WARDROBE!
This might sound odd but it's important to refresh your shoe wardrobe as much as your clothing. If not more so. There's nothing worse than killing that killer outfit with the wrong shoes. I see it time and time again when I'm doing my job. Not that anyone gets it wrong, gosh, I never judge like that, we all have a different style (thank goodness). What I mean is that it's frustrating not to have choices in our wardrobe. Invest in a few shoe styles that work for you and you will find that your existing wardrobe will take you places you thought you could never go!!!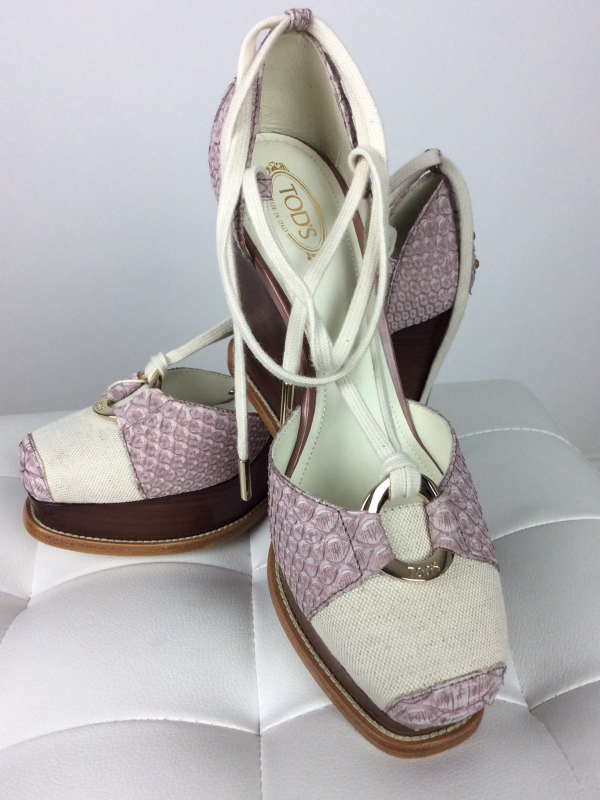 WEDGE SANDAL- TOD'S a sale find from YOOX (similar here), sadly not in the sale.
TO TOP IT OFF, MORE COLOUR!
What's wrong with me? I think it's because I do look at a lot of social media and I wouldn't be human if I didn't absorb it to some degree. It's not that I've been looking at loads of colour in fashion. I think that actually it's the opposite. I feel I need that lift out of black, white and grey. So I went a bit crazy! I broke the rules on every level for me! HOT colour, unstructured shape and off the shoulder! This next little item just made me smile! I felt nice in it. I liked it. I can't explain why but I just bought it! So there! Sometimes it's good not to over think it and just enjoy fashion. When it's really warm I will be grateful for the airy shape; cold shoulders  and hit of colour! Stuff it that I have board shoulders, I couldn't give a hoot! I've wanted an off the shoulder top for a while. I had seen many in white, pale blue and black but this red one from Mango just called to me!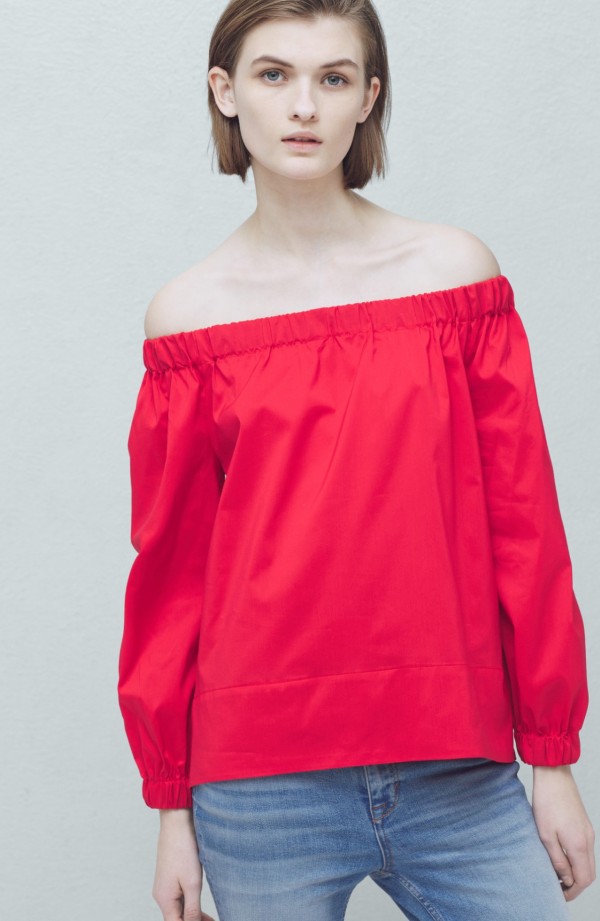 OFF THE SHOULDER BLOUSE – MANGO
I sized down in this, it's VERY generous.
There's a great big brand new store in the Bullring
ONE TOP IS NEVER ENOUGH!
This summer was a quest to find a few fresh new tops. We have obviously established that I was searching for colour! To open up my wardrobe further I did play a bit safer and get some toned down options too! BOOOO! I know! I had been on the look out of a little Victorian style blouse but hadn't found exactly what I was looking for? Then I found this one from ZARA. I do love a sleeve in Spring as I'm so pale and I hate arms and legs out at the same time. Actually the high neck is a good thing too with short hair. It's 100% linen which makes it look better than it's price tag. A pretty little no brainer. I bought a size small for your info in this one but it wasn't the easiest to get off over my shoulders but the next size up was too big.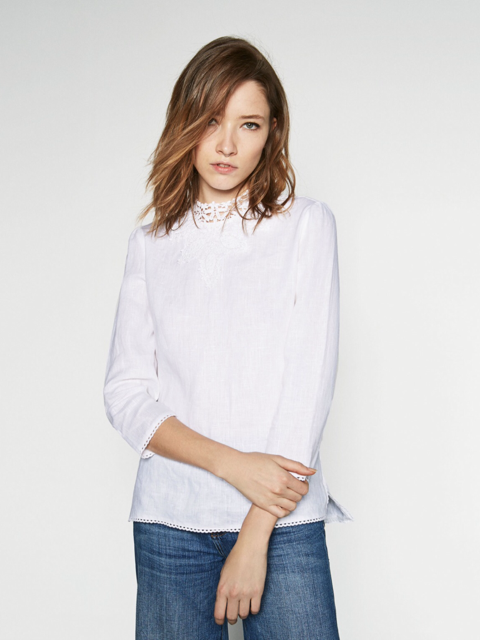 LINEN BLOUSE – ZARA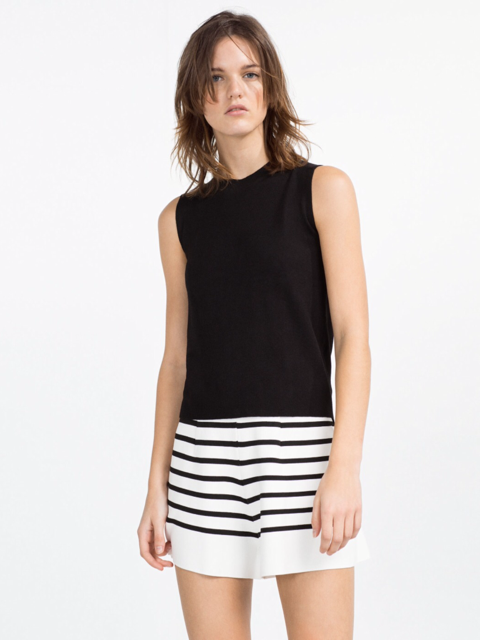 KNITTED TANK SWEATER – ZARA– £17.99
I've snuck this in, I know it's black but just let me have my fix and I needed a basic!
OH JEANS, JEANS,  JEANS, OH HOW I LOVE YOU!
Everything but the skinny! Well if truth were told I am desperate for new pair but I'll do that in my own time! I will put it on hold for the summer months as I do find I reach for a pair of jeans with a relaxed fit. I still love my little DREE kick flares from TOPSHOP from last season. Every high street retailer has produced a cropped kick flare jean. This style works with so many shoe and sandal styles and it has given my wardrobe a fresh spin for a while now. I would highly recommend giving them a go if you like the idea. I've worn them with killer heels to put proportions back in my favour but I like them equally well with other shoe options for a cute look on dress down days. I've even posted them in the past on a blog teamed with a low heeled loafer. They are by far the most versatile jean shape I have tried to date. So what is this jean shape I was talking about earlier that I was buying in a new colour? The new colour I have tried in an old favourite jean cut is …….TOPSHOP's straight jeans. This is a great jean with an authentic retro feel. These won't be for everyone as there is hardly any stretch in their fabrication. They are 99% cotton so feel like the jeans I remember of my youth. Real denim with some serious substance. I love the fly front and higher waist that's reminiscent of good old fashioned Levi 501s! They feel like a really expensive pair of jeans but they are not! I bought a size 28″ waist with a 34″ leg and there's no room for growth!!!! Their leg lengths are deceiving and do come up short in the straight leg styles so bare this in mind. I've only ever found them on line too but there is free delivery to store if you fancy giving them a try? The new colour for me was this dark wash blue pictured below. A good all-rounder colour wise for styling lots of different ways. They can be dressed up or down. I can't carry off boyfriend jeans with anything other than a high heel so this straight jean has saved my live this Spring as it works with a low heel or at a push a pretty flat. The description says 98% cotton, 2% elastane the last time I looked. Don't be fooled! There is only 1% elastane! Trust me, this makes a difference in the fit. If they suit you, you will love them as much as me! If they don't, you'll think I'm nuts (though you probably do already?!). They are indeed "MARMITE".
STRAIGHT LEG JEANS – TOPSHOP -£40
(NB fresh stock has just arrived, these sell out fast, especially in the 34″ leg)
STYLE TIP!
Scared of these jeans? find a straight leg jean that suits you. GAP does a good straight option. It's a welcome break from skinny jeans in the warmer months and looks good with lots of shoe and sandal styles. Roll them up too to give a girlfriend jean vibe and get extra wear.
THE NEW ADDITION TO MY JEAN FAMILY!
My new baby! The ripped jean! OMG I did it! I know I'm in my 40s but I just had to do it! I found a pair I felt good in and went for it! I didn't pay too much just in case! I've worn then with a mid heel and a smart silk blouse and a tailored coat and felt absolutely fine!  They'll be my new "go-to" pair for casual nights out with the girls in the Summer evenings with a lady-like top. They are only any good for standing in and I've already ripped them further by putting my whole foot through the rip in the knee! I'm such a Doris!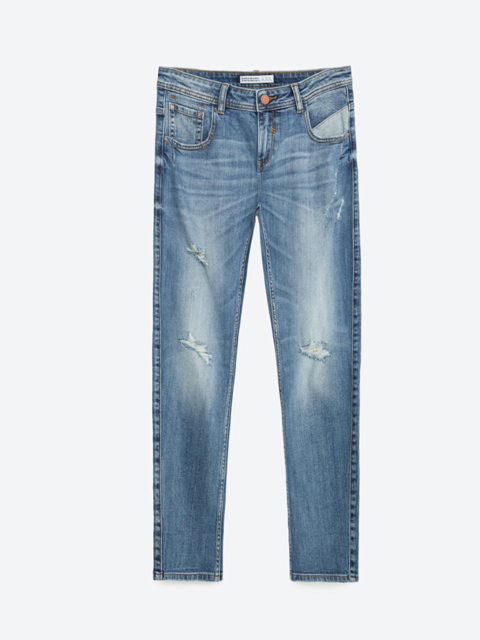 RELAXED FIR JEANS – ZARA– £29.99
I sized down in these. Generous fitting.
ABRACADABRA! TA-DAH! THIS IS THE GOOD BIT!
When a plan comes together. The old and the new in perfect harmony. I now have outfits for the beach; for shopping, for going out and for all the bits in between! I hope you've enjoyed my ramblings in this blog? As the weather improves no doubt I will be posting them in action! There are a few items in the pics to follow that have been featured in previous blogs. I didn't want to keep repeating myself so I have just cracked on with posting the different outfit combinations.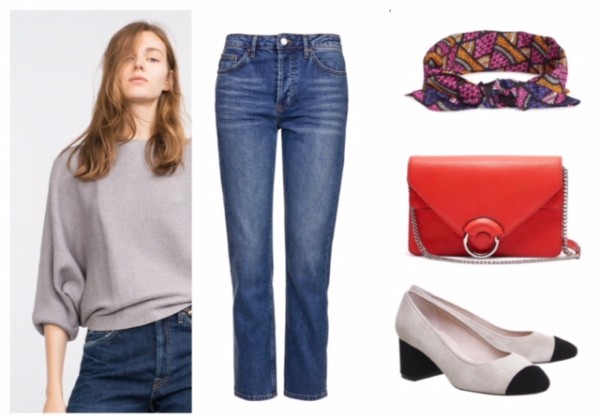 SWEATER – ZARA , STRAIGHT JEANS – TOPSHOP, SCARF – H&M, BAG – BANANA REPUBLIC, SHOES – OFFICE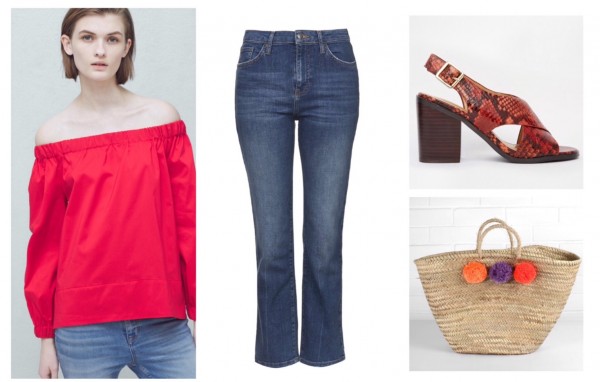 BLOUSE – MANGO, DREE KICK FLARE-TOPSHOP, SANDALS-ALDO, BASKET-BOHEMIA DESIGNS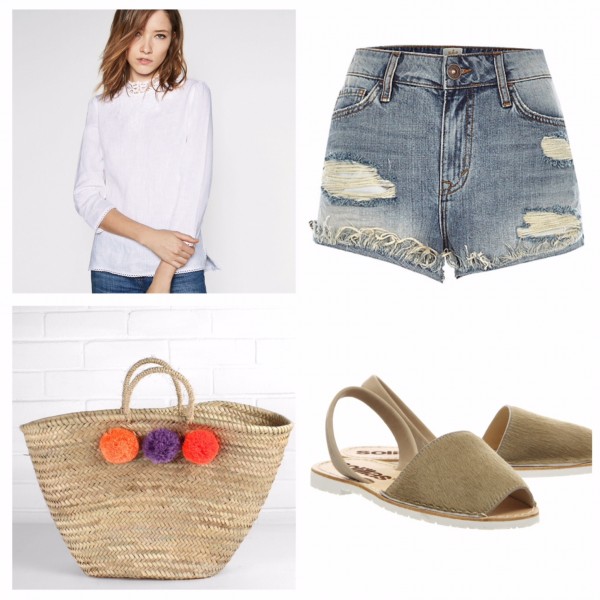 BLOUSE-ZARA, DENIM SHORTS-RIVER ISLAND, BASKET-BOHEMIA DESIGNS, SANDALS-SOLILLAS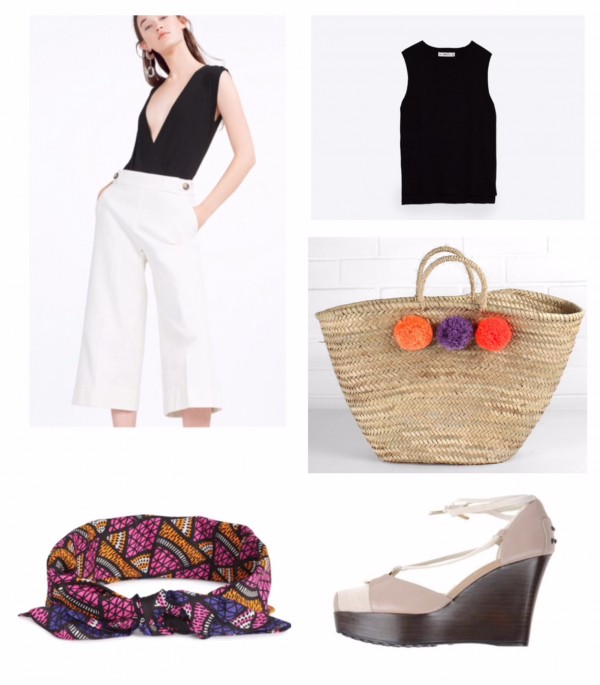 COTTON CULOTTES-ZARA, TANK-ZARA, BASKET-BOHEMIA DESIGNS, SCARF-H&M, SANDALS-TOD'S
the list could go on…….
ALL WE NEED IS SOME SUN!
So, come on sun, let's be having you! I'm hoping that my next blog might be some action shots wearing the pieces featured in this post but I'm not holding my breathe as it's blowing a hooly outside at the moment and it's raining! Fingers crossed but if not I'm sure I'll come up with something to waffle about! It might be the pending Solihull Fashion Week Launch and some celebrity gossip!? Anyone else going? Got your tickets yet for Thursday 21st April? (tickets here). Full blog about the event here.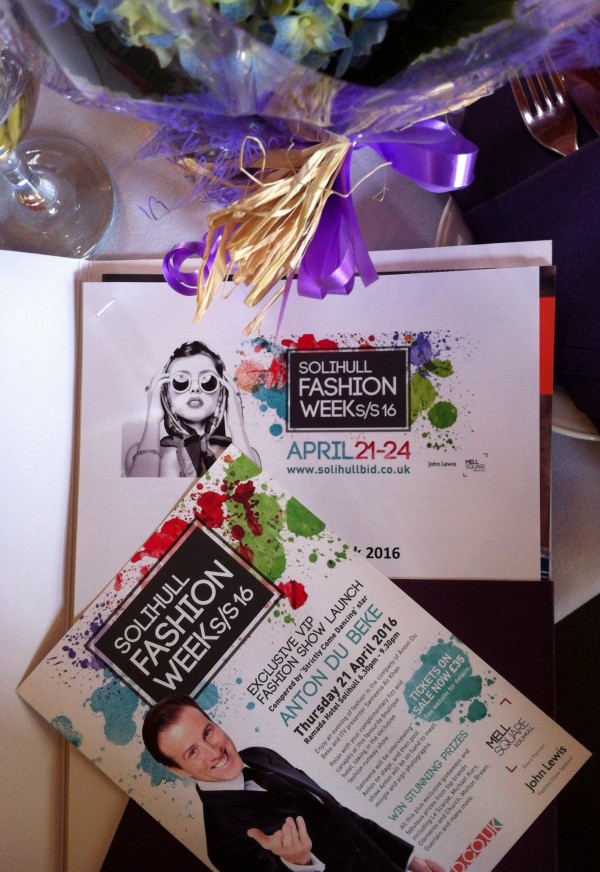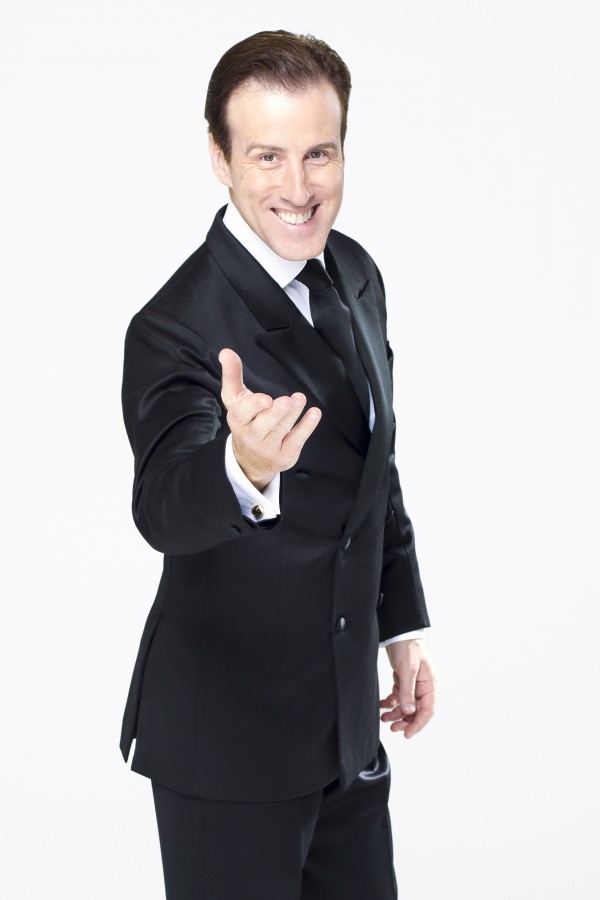 MEET ANTON DU BEKE!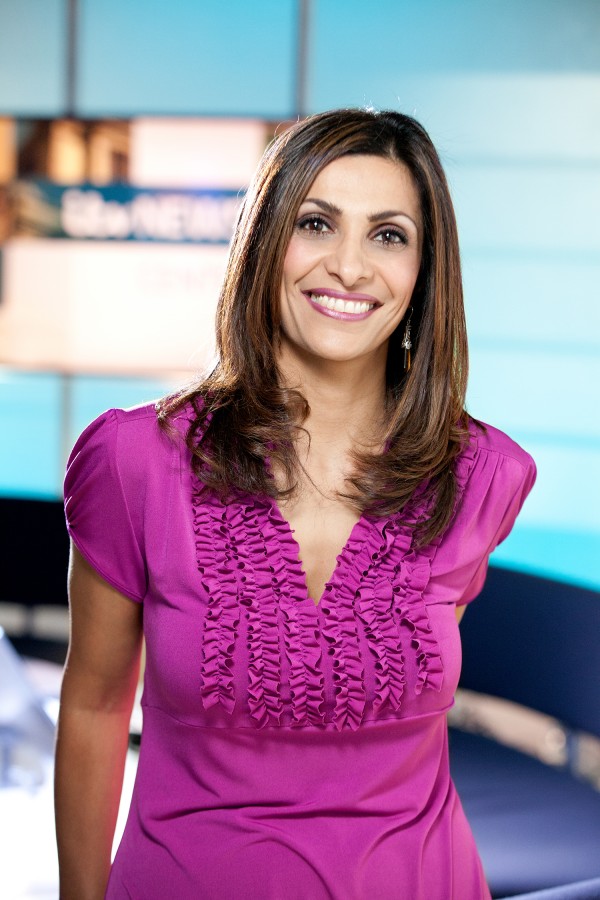 AND SAMEENA ALI-KHAN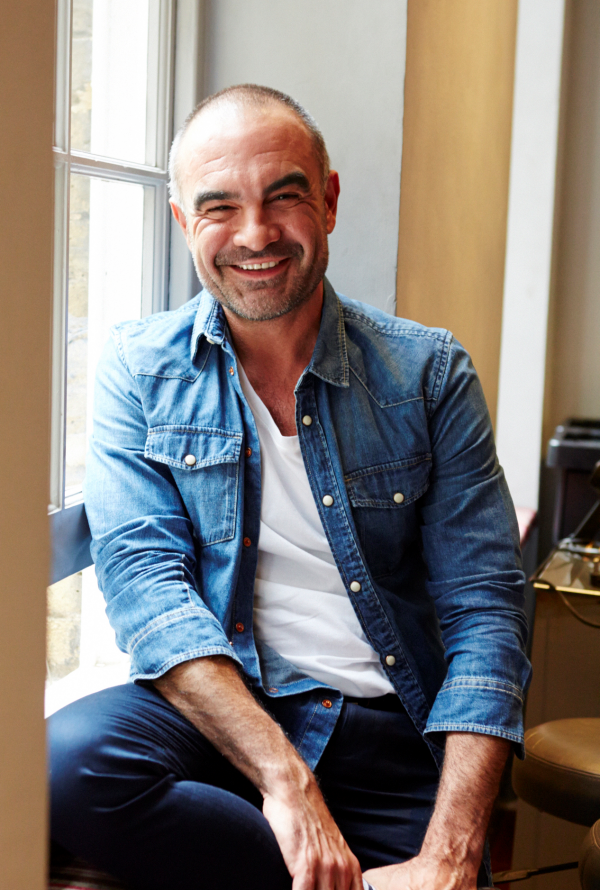 OR ANDREW BARTON at the Friday shows!
Thank-you for reading!