OUTTA NOWHERE!
I wasn't planning to write this blog at all after I'd got up and got dressed. I'd got up in the morning and thought..and I'll be totally honest, there's nothing new here. No point taking any pictures as there's nothing helpful to tell. Then I thought  I would go along the lines of the outfit being about feeling a bit poorly so being comfortable is sometimes, if not most of the time, ones priority with the busy lives we lead. Hmmmm, but then I'm wearing heels aren't I so I knew you'd all be screaming at the screen at me! I was feeling poorly so I couldn't really be a**** to wear much more than my slobs….oh yes I have those!! My youngest son had been nagging ….oh my goodness can he nag… he has this way of grinding us both down until we say yes. Nagging to go bowling! Rugby was cancelled for Remembrance Sunday so after lunch it kinda worked as an option even though I'd rather saw my own arm off. Choose your battles I guess and no one else came up with a better plan. I stared at my wardrobe. I did! I know I can't say to anyone "I've got nothing to wear" so I had to suck it up buttercup and get out of my PJs. I really didn't want to!!! I even ate my lunch in my bathrobe trying to pretend the inevitable wasn't about to happen. Sundays is usually auto pilot for me. Put on thermals, put on jeans and really snugly jumper; put on puffer coat and hat and scarf…oh and boots and off to rugby we go! Easy. Today I had to think and I wanted to hibernate!
STRIKE ONE!
I might've had a couple of strikes. Is that what you call it?! I am fairly useless at bowling. It starts with the shoes for me and it's all down hill from there! Back to my thought process of getting out the door when I really didn't want to! My velvet jeans, that's it…I'll start with them! They are the only new purchase. I bought them a couple of weeks ago as I wanted a really black pair of jeans. I can't tell you how comfortable they are. They are almost as good as gym tights but you can totally dress them up or down. There are other colours available online and they'd make a good staple for smart/casual party season looks. I'm hankering after the others as a change from black. With a true high rise they have become a go to when I feel my brain switching off. When I feel really lazy or under the weather I just reach for black basics. I just do. Something made me reach for something different…no idea why. Maybe it was just there in the pile on the chair! It happened to be a camel cashmere sweater. No rocket science here! If I could've put my bathrobe on top I would've! I think poor MR.W wants to burn said robe.  It's not even nice! I bought it whilst camping in Devon one year. I was so cold at night that I couldn't sleep a wink. We found the nearest shop.. which happened to be LIDL and I bought it there. Unfortunately for him it came home from Devon! Still in denial I instinctively reached for my camel coat. Bathrobe like in it's appearance and just as oversized and cosy. This coat is HUGE. It's why I love it but sometimes hate it if that makes any sense? I'll try to explain. LOVE it because it fits over everything, even really sloppy jumpers, HATE it because it's not the most flattering garment in the world and I need to be in the right mood to want to wear it.
WHY THE VIDEO!
We did the video to show movement. We don't stand still in life. Sometimes it's the way clothes make us feel on a particular day that's important. It can be how something moves too. It might be how we push up a sleeve or how we flip up a collar. You've heard the phrase "she wears it well". Have you ever put something on one day and hated it only to love it another time? I know I have. That day I wanted to feel safe and in something that felt like a hug. I didn't want fitted and tailored and camera friendly. I get asked all the time. "Do you ever look at someone and think…they shouldn't be wearing that". No is the answer. Who am I to judge someone else's choices. I don't know what that person has been through physically or mentally to make that particular choice in the morning. I've dressed ladies with all sorts of health issues and problems. I rarely get clients that find shopping easy or are a perfect standard ready to wear high street size, who is?  If they did find the whole process easy they wouldn't need me. Some of the things ladies tell me about how they feel about their bodies after child birth, surgery or ageing often breaks my heart. When I can help someone feel better in their own uniquely beautiful skin, it's the best feeling in the world.
THE ELEPHANT IN THE ROOM!
It's the heels isn't it? Why oh why if you felt like do-do would you wear heels?! I don't know! HA ha ha!!! I knew I wanted boots…it was cold and I felt really cold. I couldn't help myself. I knew I needed black "feet" at the end of my jeans to keep the illusion of height to balance out the oversized coat… I knew I was going to have to take them off at the bowling alley anyway.  I failed at the final huddle to not completely let go didn't I! I couldn't help myself! In my defence, if I owned some black leather trainers I would've worn them…maybe?! Te he he!
ON A SERIOUS NOTE!
Boooo! Don't feel like being serious but I guess I need to be helpful somewhere along the lines other than pointing you in the direction of some fab velvet jeans. I have bought a few bits of late so I'll share when I can. In short I've been pleasantly surprised at the leather shoes at ZARA. You know I'm an advocate of buying less and buying as good as quality as you can with the budget you have but some high street finds have excelled expectations this season and if you love animal print, but can't face a whole garment, then a leopard or snake shoe or boot is quite literally a fun way to dip your toe in. I've fallen for COS too where in the past I've found their styles a bit too shapeless (rather ironic really considering the oversized content of this blog!) but this season I think they've done a few beautiful quality basics at an acceptable price point.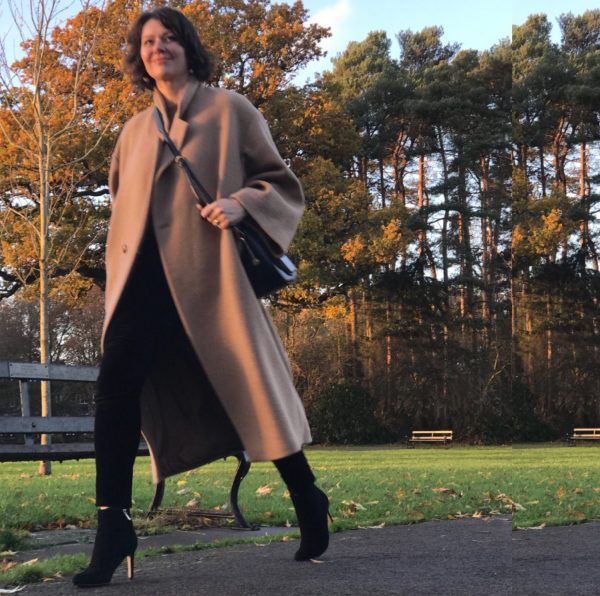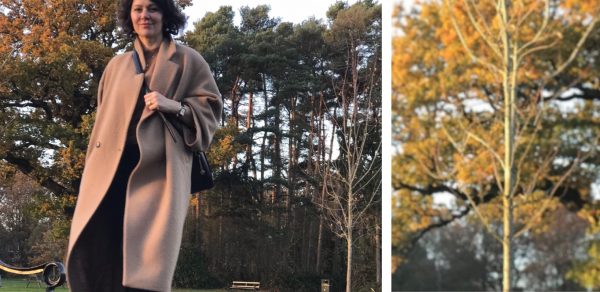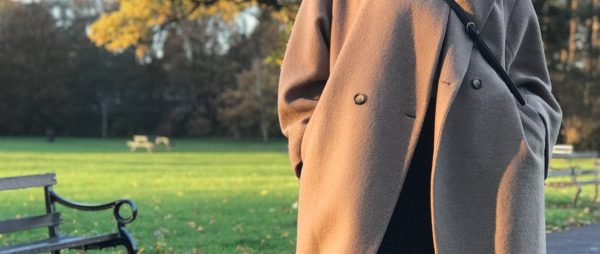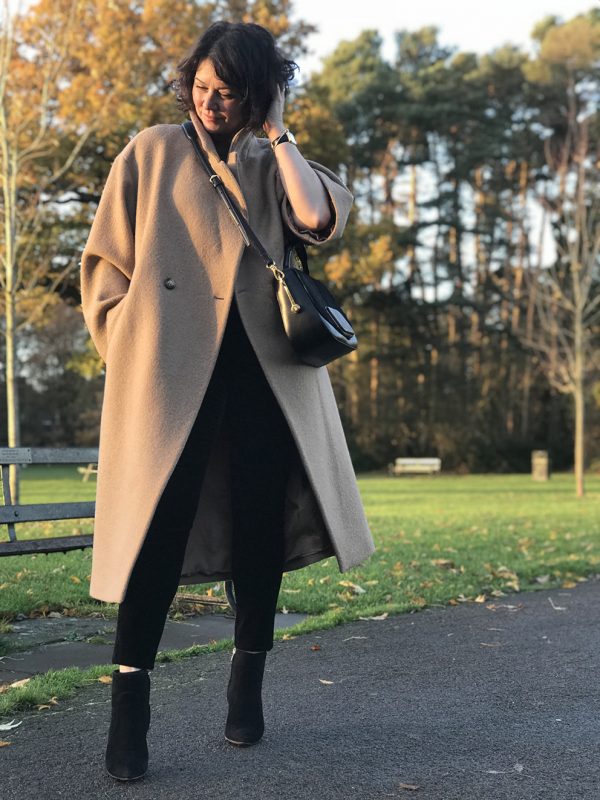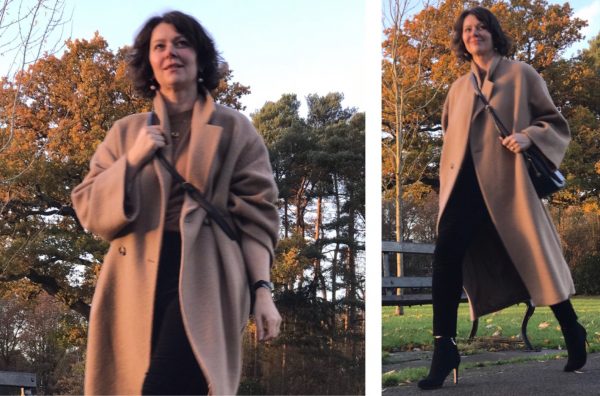 COAT – H&M Premium Quality range… old season, finding your shade of camel is up to you! I like this one.
CASHMERE JUMPER – H&M Premium Quality
VELVET JEANS – Massimo Dutti current collection
SUEDE BOOTS – old season Sam Edelman
BAG – TODS at Bicester Village
I hope you've enjoyed my musings about nothing much in particular. Can you believe it's November. The high street is already awash with sequin skirts and Christmas jumpers. Have you got the party season sorted?! Maybe this is the year I get a Santa sweater? Hmmmm! HO HO HO!