Well I think we can safely say that it's autumn! It's that funny time of year we call transition as we dig out our autumn clothes and maybe store away our high summer pieces. Sometimes I find this time a bit weird. A time to feel a little unsettled as to what to wear. This year it's not felt so strange? I'm not sure I can say why? Maybe the weather has been kind to us and we're not straight to wearing puffer coats! Thank goodness!
I'm hoping to not get seduced into buying too many new things. Often easier said than done as all the gorgeous new season coats, boots and knits hit the high street!
There will always be the odd piece that needs replacing with something similar that's really worked out well. Often a chance to buy an updated classic? He he!!!!
So what's on your radar? What you "need" we will very different to me. I say it all the time, however, if you're reading this I'm guessing you enjoy seeing what's out there! Maybe you're looking for a little inspiration or maybe just enjoy a light hearted read? Let's face it my blogs are rarely very long!
Sometimes it's nice to realise we're all going through the same thing and often asking the same questions?
I will confess to often being drawn to the same types of clothing. There's nothing wrong with that because I'm drawn to them because I know what works for me, what I'll actually wear and whether it fills a gap in my wardrobe to make other things feel fresh again. Every now and then it's worth just stopping and thinking though whether you buy the same things ALL the time and feel frustrated or stuck in a rut? We're all different as to how we answer these questions. Are we're moving forward with confidence knowing what we really like and spending our hard earned pennies really well or are we just playing safe and missing out on feeling really amazing? It's an interesting topic for debate!
This brings me nicely onto the point of this blog! Who'd a thought I'd write a blog about a denim shirt! Well maybe it's long overdue! It's a classic for sure! But why this one amongst so many? I liked the clean lines, the soft lyocell fabrication; the colour and the fact that, because of all these things, it had a blouse like quality to it that works for my feminine style. I'm a horror at buying a white shirt. Nothing wrong with this but the brighter blue denim just gave my neutral wardrobe a little transitional lift. This reflects my earlier points of discussion! A new white shirt or something different?! I realise that a denim shirt is hardly "out there" in the style stakes but it's something that I'd never bought before so for me it was a tiny step out of my comfort zone into a place of freedom!!!! Ha ha!
So me being me, I had to do you a little styling video just for fun and hopefully show how versatile this little wardrobe staple can be! There's obviously soooo many more ways to style it but there's only so many that work nicely in the space of a palatable length vid! You could belt it or even wear it open as a jacket/over shirt over pretty much anything…..the possibilities are simply endless!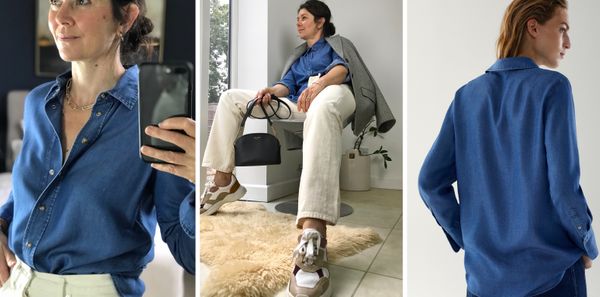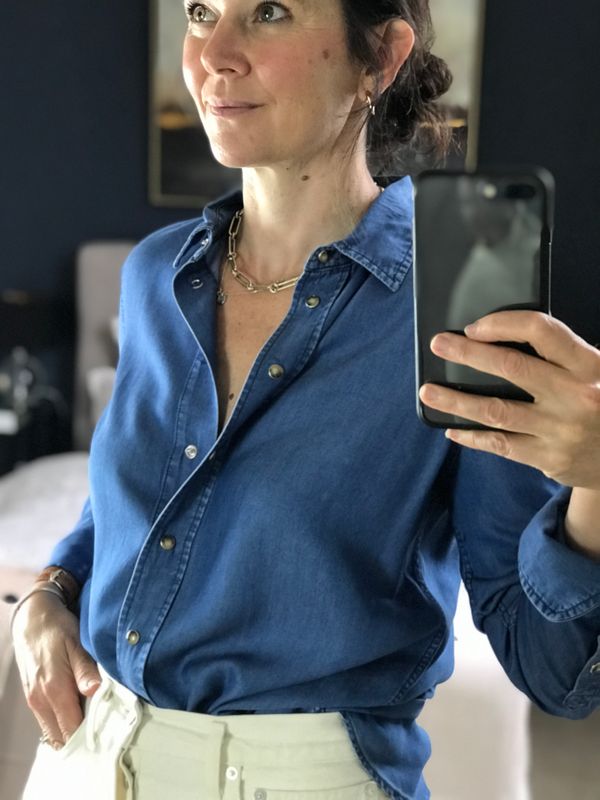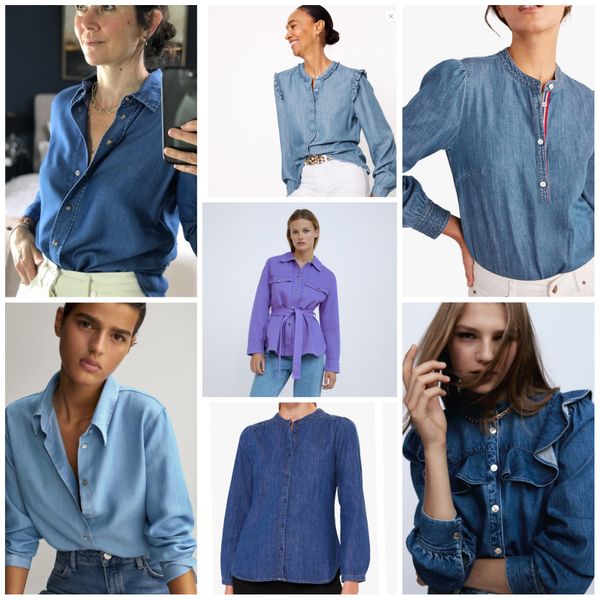 top left – MASSIMO DUTTI
top middle – M&S
top right – BODEN
middle – ZARA
bottom right – ZARA
bottom middle – HOBBS
bottom left – MASSIMO DUTTI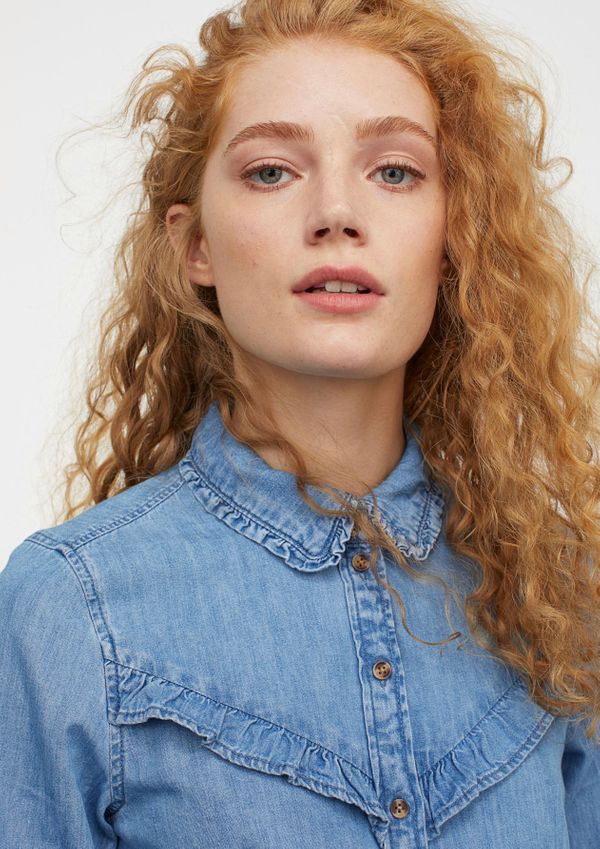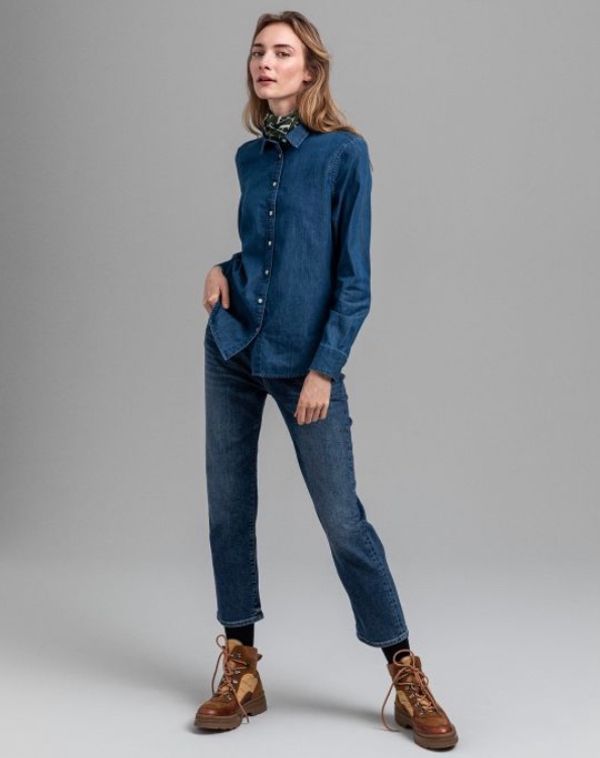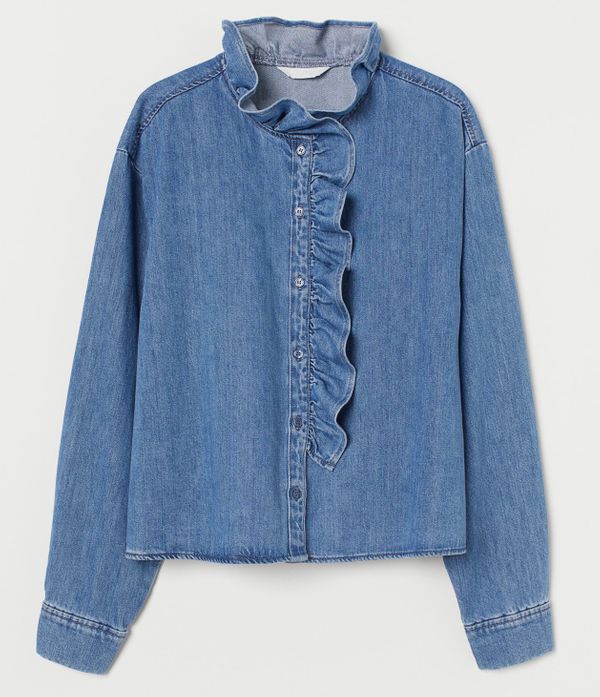 I hope you enjoyed this little dive into the blue! There's lots of exciting things ahead here at Solihull Style. It's full steam ahead with all things social medium based and lots more Instagram reels coming you're way which are great fun to do. The whole family has gonna involved and I'll even rope in the nearest friend who's willing! I'm been back to work as a stylist at Smart Works Charity in Birmingham which felt so good to feel normal again despite working under very different restrictions. the wonderful uplifting results for clients were the same which is the main thing. I've got new and returning clients over the next few months which is obviously amazing and I'm off to London for an exciting fashion event in October. PHOOOR so It's all go! 2020 despite it's faults is my year!
Thank you for reading, and watching!