The start of the holiday was a little rocky to say the least. Firstly we had the issue that everyone has faced this year with the possibility of holiday cancellations and secondly we had to go later than planned whilst I had my tooth pulled out! Very glam ey?!
But after a period of convalescing we got there and were more grateful than ever to have a break and get away from our four walls!
If you know me well you'll know we've been going camping to the same site in Cornwall for the past four years.
I like to write you a blog because I know lots of you visit the coast with your families and I love seeing everyone's holiday snaps and find it helpful to know where they visited and why so hopefully this blog will help someone else to discover something new down South or reignite fond memories of their own trip away.
PORTHPEAN BEACH
We're base at St. Austell. Our nearest favourite beach is Porthpean Beach. Like most British beaches it looks bleak on a cold day but picture postcard stunning on a sunny one!
Porthpean on a sunny calm day is absolutely beautiful and a real hidden gem frequented by the locals. It's a shingle beach until the tide is right out. There's a place to hire kayaks or paddle boards which my boys enjoy every year depending on the weather and the height of the waves. Being a small sheltered cove it's rarely very rough but we did have one day when they were called in off their kayaks as the surf became too much. From time to time the seaweed can take over too so we rock up every year with an open mind to what we will encounter! If everything is in our favour it is hard to beat as it's short drive from the campsite via Costa!
No life guard.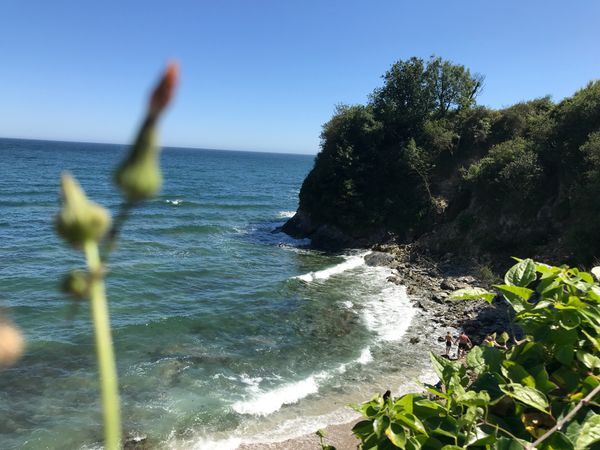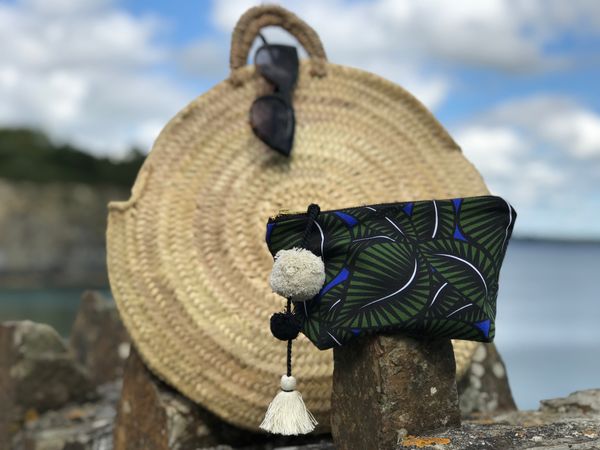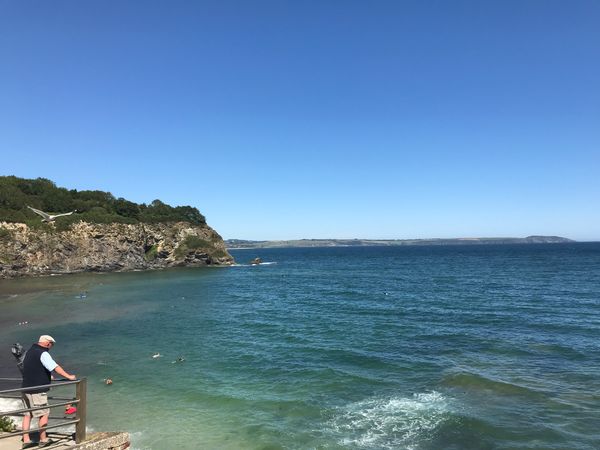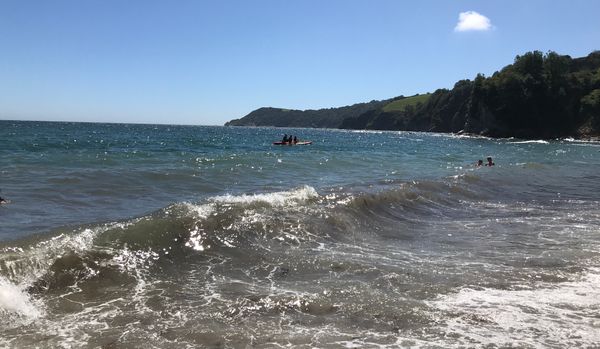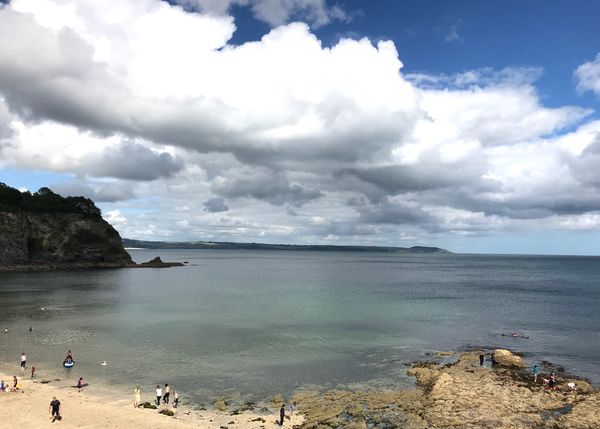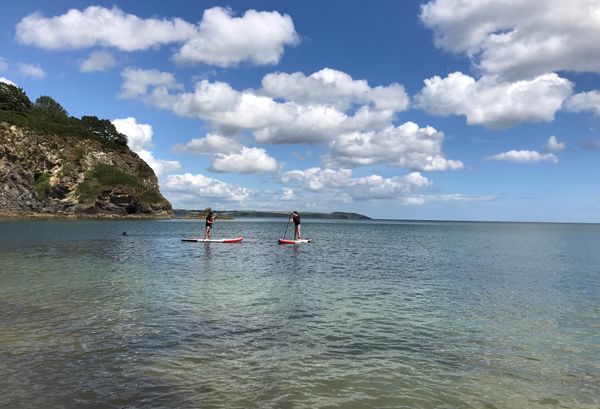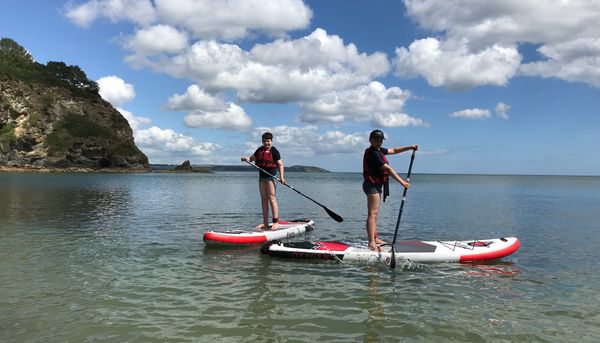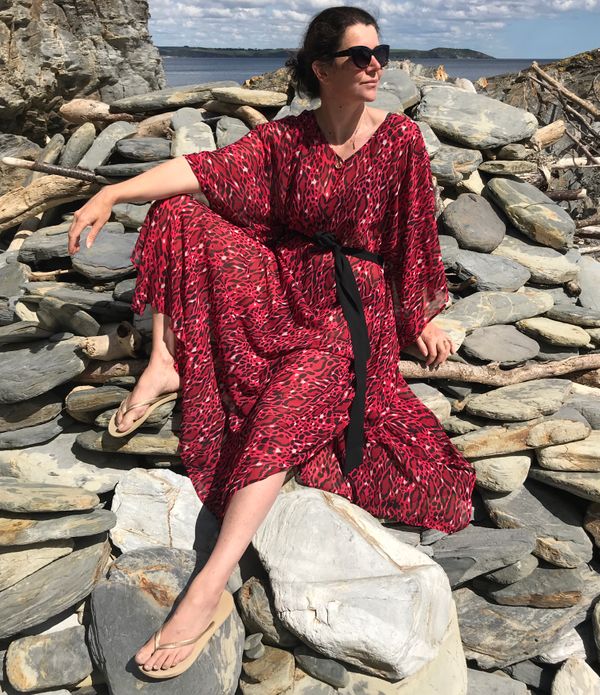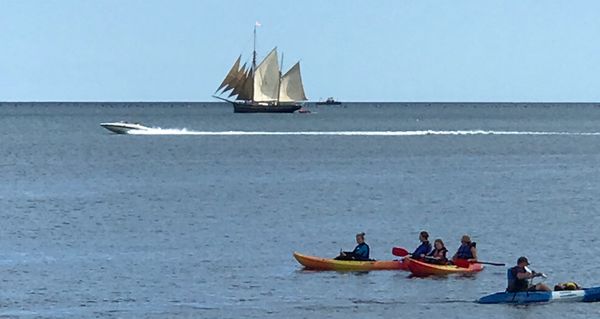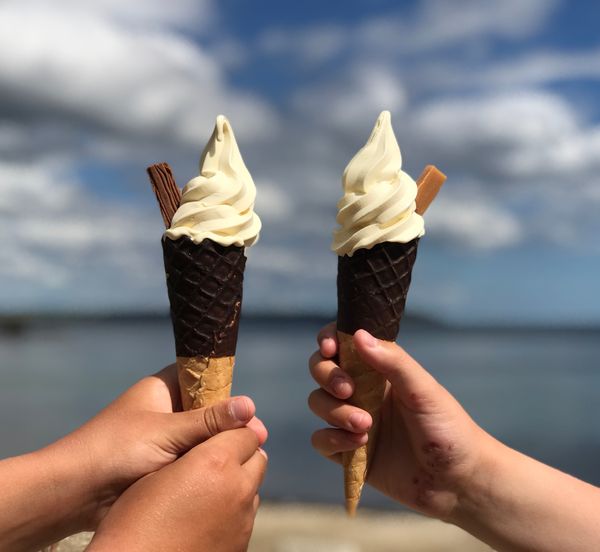 TROPICAL PRINT MAKEUP POUCH – PIPET Design
BEACH KAFTAN – John Lewis (old)
BASKET BAG and SUNGLASSES linked later in blog
CAERHAYES BEACH
This is not my favourite day out! The kids love this beach on a wet, windy day as it's perfect for body boarding. I however either brace myself and get into the sea too or sit and watch under an umbrella! And let's make it perfectly clear that it's not just for half an hour! They are immune to the cold (ok they are in wetsuits) and stay in ALL day! We can't get them out, however, jokes aside I absolutely love watching them having so much pure unadulterated fun.
No life guard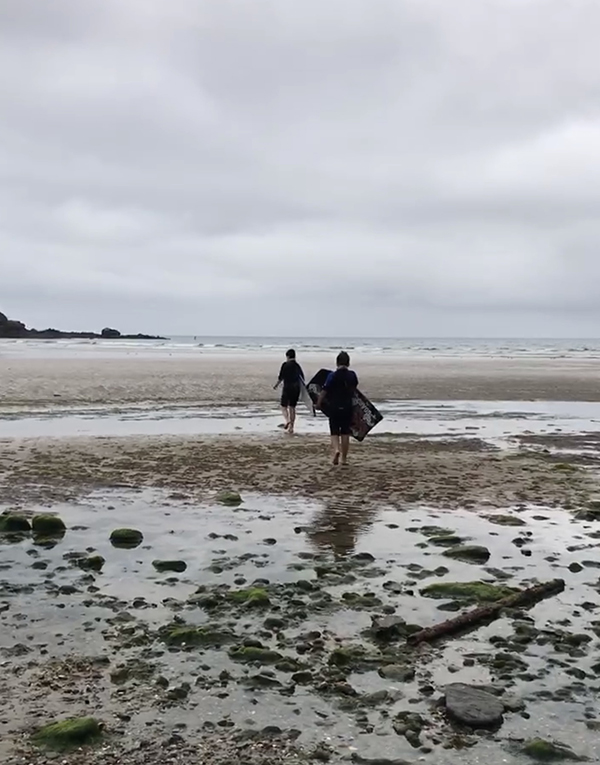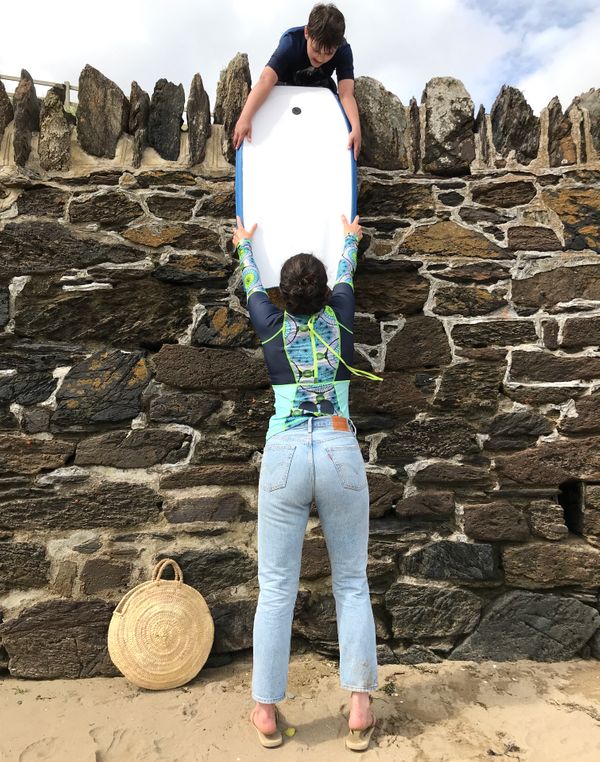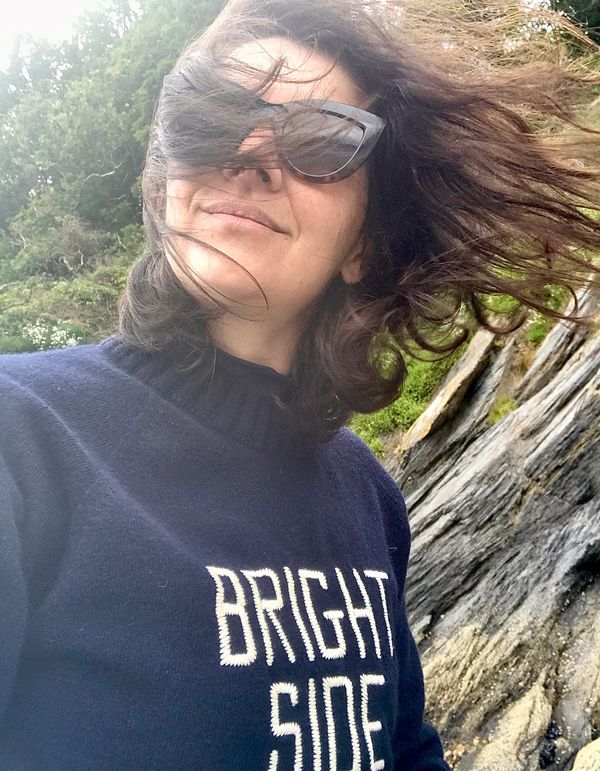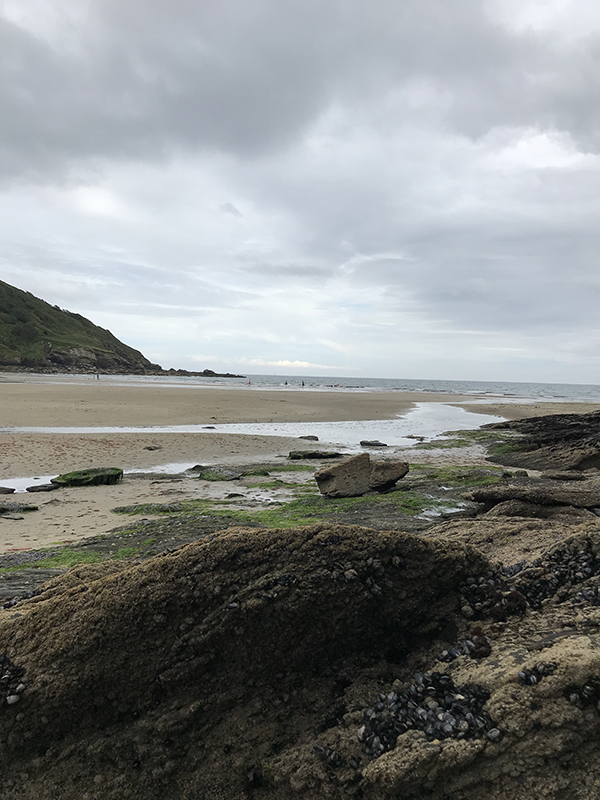 BRIGHT SIDE JUMPER – FUND Jumpers
RASH VEST – Sweaty Betty (old)
PALE BLEACHED JEANS – Levis (old)
CARBIS BAY ST.IVES
I love this beach. It has white sand and it has crystal blue water. Much quieter than Portminster Beach it's become our family's favourite destination. Granted it doesn't have all the cobbled streets and cute little shops to look at on your walk down to the beach but it's just so beautiful once you are there. We were obviously in no rush to join the crowds in small side streets or cram ourselves in amongst other holiday makers on the beach. We visited Carbis Bay instead of ST.Ives numerous times this year come cloud, come shine!
Though there aren't gift shops there are places to eat and places to hire water sports gear from at Carbis Bay. Life guards on site.
I realise I haven't mentioned fashion that much! I suppose because it's the sort of holiday that is about relaxing and switching off and just feeling comfortable. I packed very little this year as I know that in the past only half gets warn and I end up washing everything anyway when we return! Who else dreads that huge pile of washing?!
I only packed two pairs of shorts and just lived in them both so please excuse the lack of different outfits!
This year I really delved into the depths of my wardrobe and revived some old favourites. I'd  been looking online at all the brands that do great holiday fashion. In particular I wanted an oversized slouchy 100% cotton chunky knit that would feel comfortable on sandy sun kissed skin, still giving a bit of warmth in the chill on the afternoon wind whilst wearing damp swimwear! I think you get my thinking? So? I dug out this really old Zara cotton jumper.  It's naturally become lovely and soft with it's own washed out patina. It no longer felt precious! I cut the stitches at the neck for a slouchier less boxy fit and viola! Yay, happy days!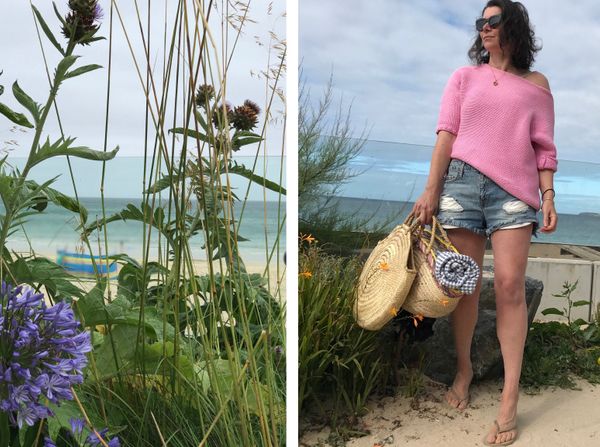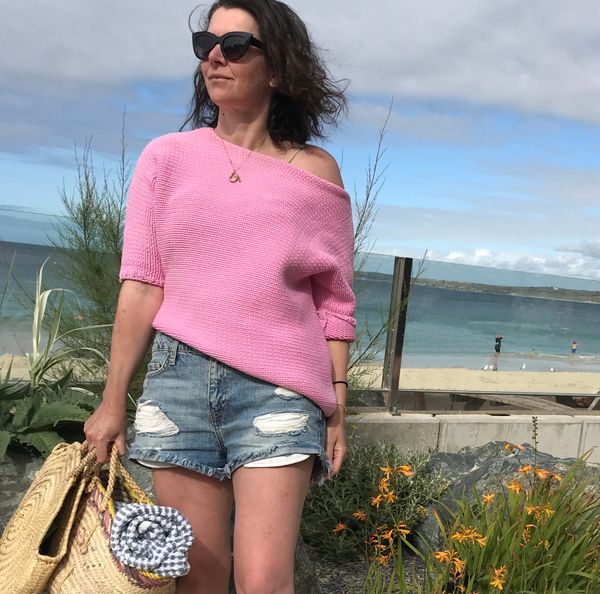 DENIM SHORTS – River Island, as old as the hills
ZARA COTTON SWEATER – just as old!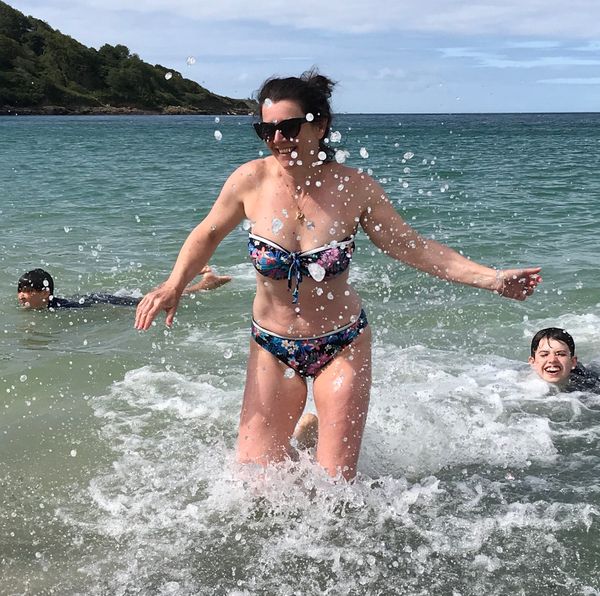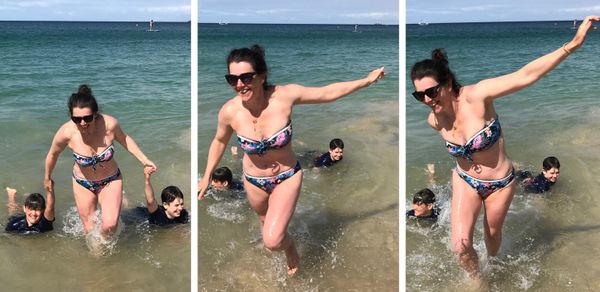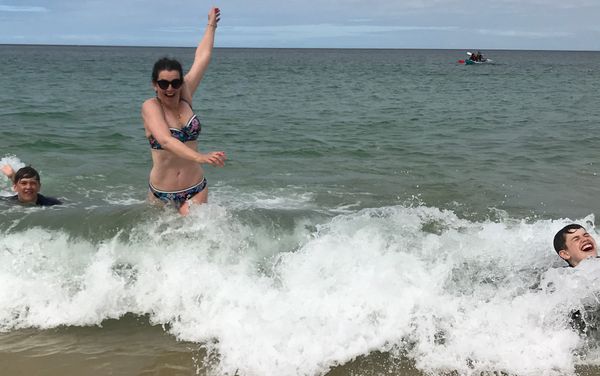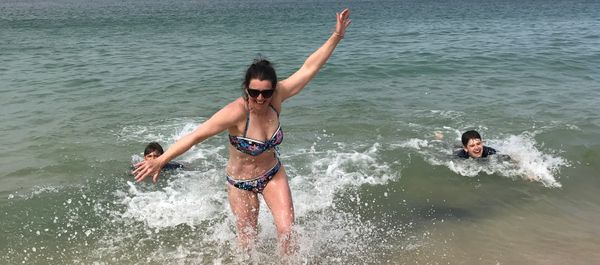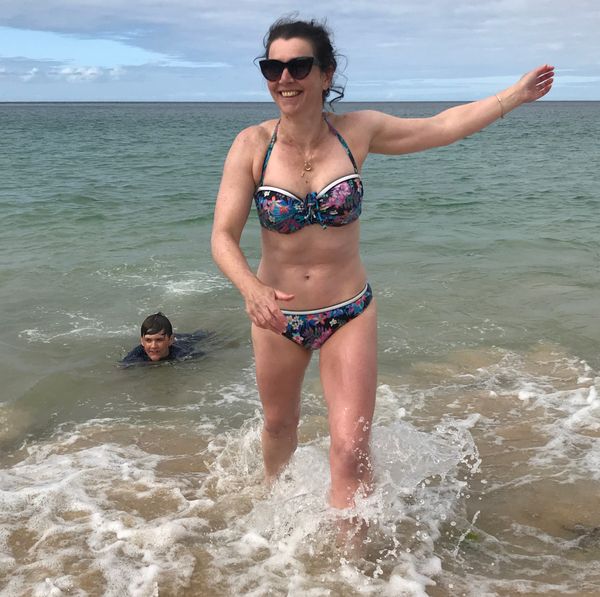 BIKINI – GOTTEX at UK swimwear HERE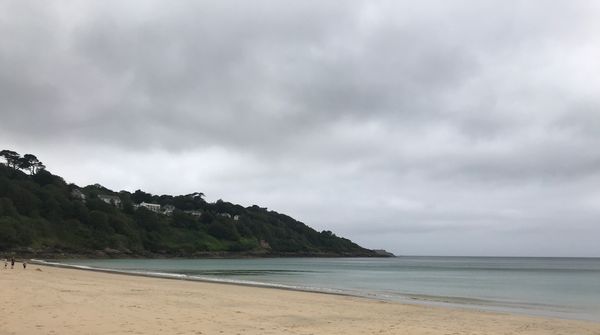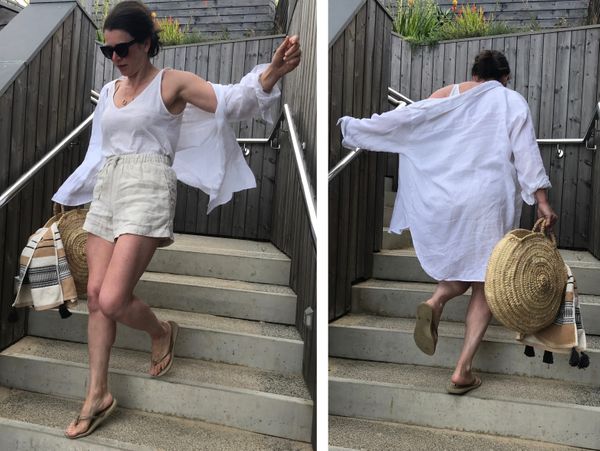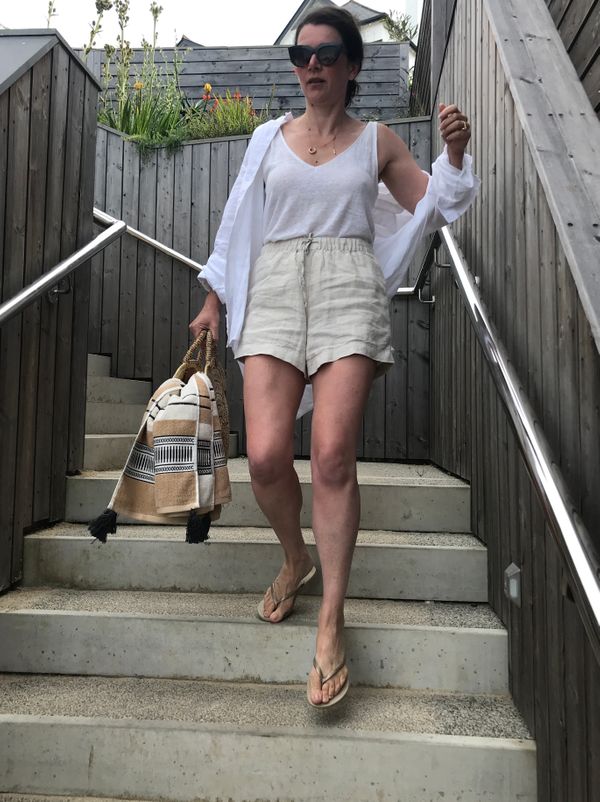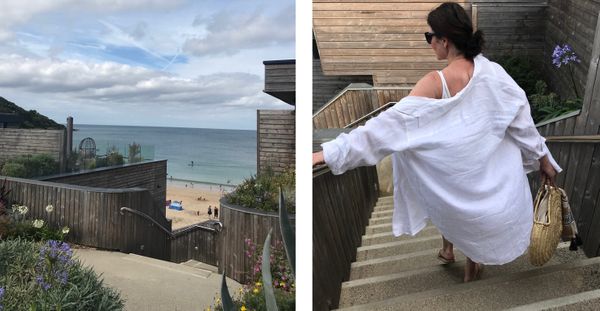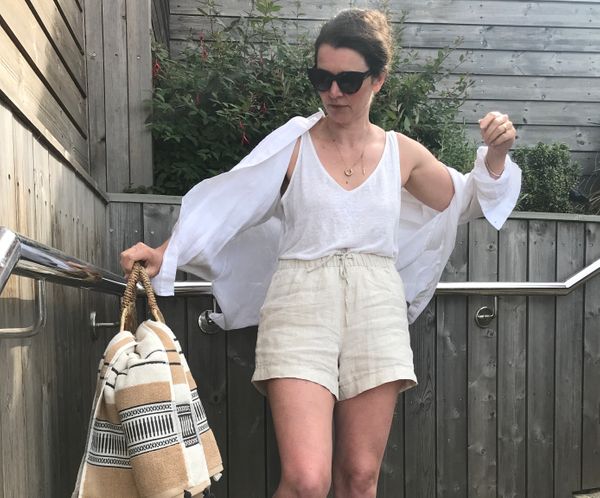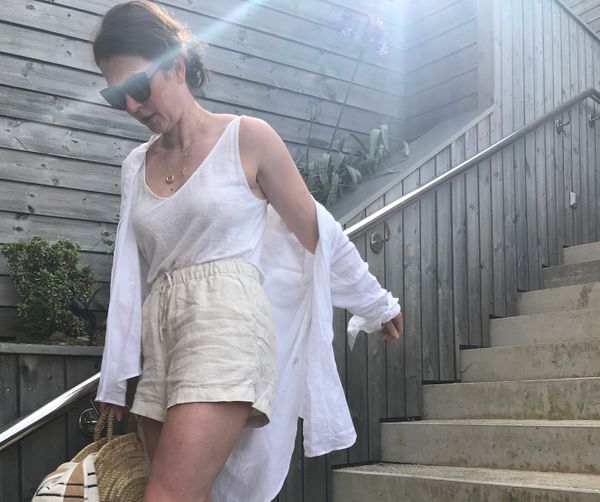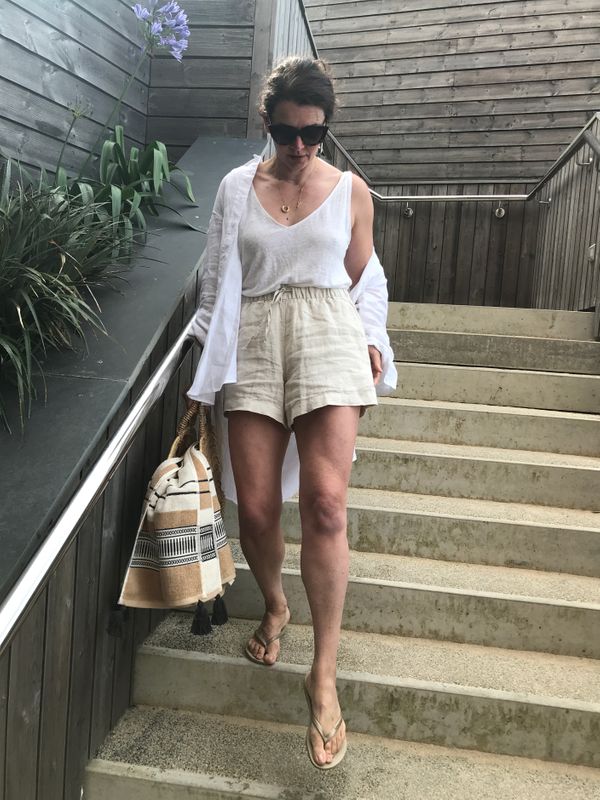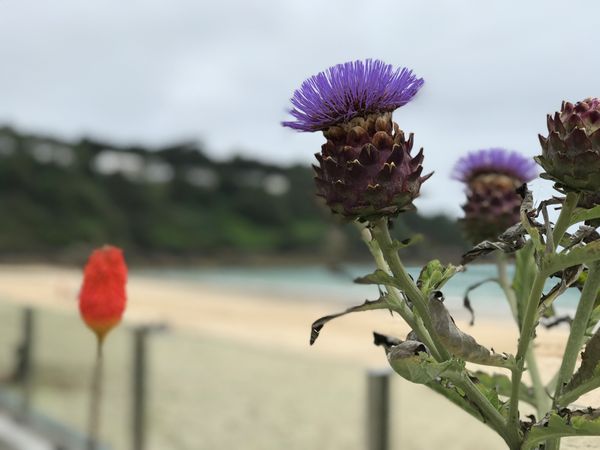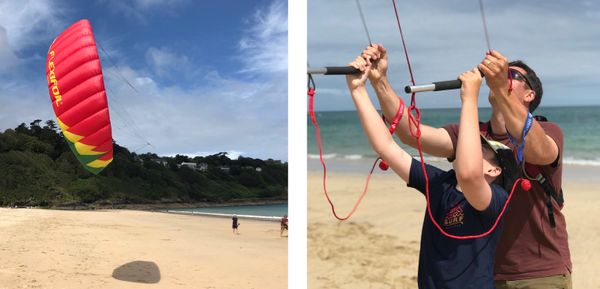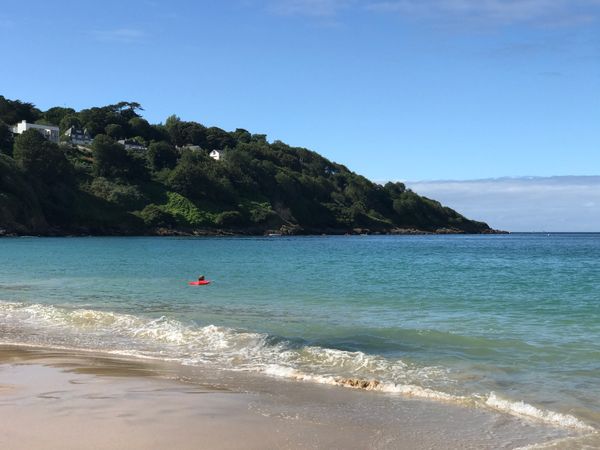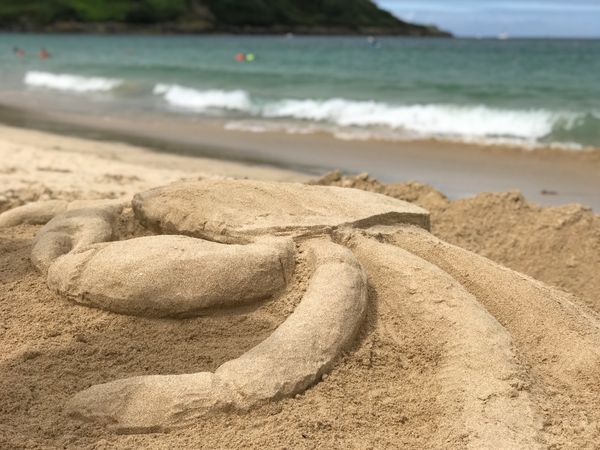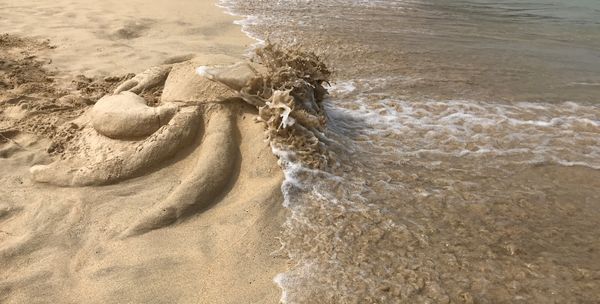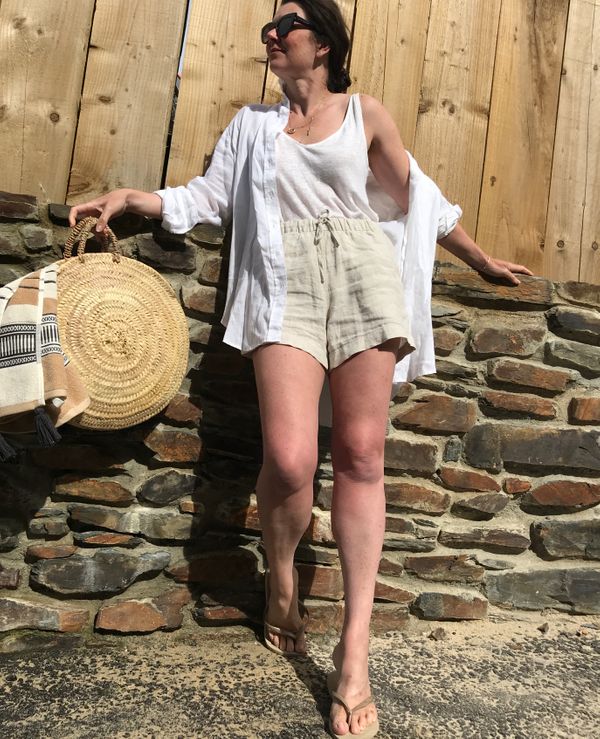 LINEN SHIRT – H&M current season but sells out fast online TRY 
or…. HERE
LINEN SHORTS – ARKET current season
LINEN VEST – H&M current season, again sells too fast online to link!
HAVAIANAS – widely available
FLORENCE SHOPPER – Bohemia Design I've had for years but still available
TOWEL WITH TASSELS – H&M Home current, similar HERE
SUNGLASSES – Katie Loxton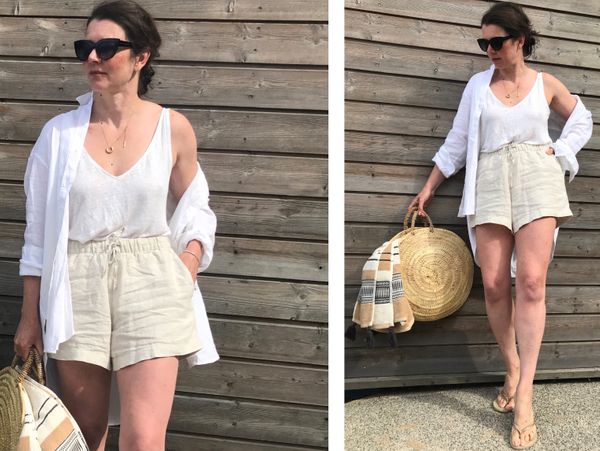 I absolutely love linen in the heat of summer. There are some great pieces from the high street to high end. I could write a whole blog on it and probably I will take note and do one at the beginning of the summer next year. There seems little point at present but maybe invest now if you see a timeless item in the sales? There are some amazing bargains this year. Try ARKET, Poetry Fashion, H&M Premium Quality Range, NRBY Clothing….to name but a few, even your local little independent boutique may have stock of interestung linen pieces? If you're local to me pop to Christal Ladieswear in Knowle. Becca has some lovely linen jumpsuits and dungarees. I may have one that will feature on an IGTV video some time soon! Wink wink!!!
WHITSAND BAY
Well I messed up here because I left my phone on charge back at the tent! We chased the sun according to the weather forecast only to sit in cloud all day! The kids always enjoy this beach as usually there's waves suitable for surfing. There's a local surf school there too that's happy to hire out boards. Life guards on site. It's here where Mr.W stood on a weaver fish last year and needed their assistance. I featured this beach on last years blog…read it here.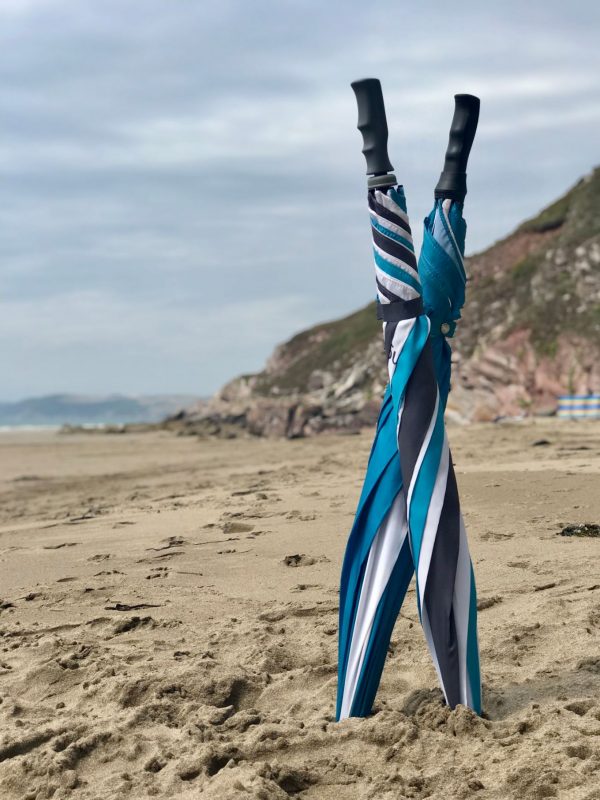 MEVAGISSEY
MEVAGISSEY, I love Mevagissey! It's a proper Cornish harbour town with lots of character and the most amazing fish and chip shop! It's particularly lovely in the early evening for supper on the quayside watching the sun go down and the boys fishing. Seas Shells Cafe does a legendary crepe with Cornish ice cream in an array of different flavours and a great cup of coffee!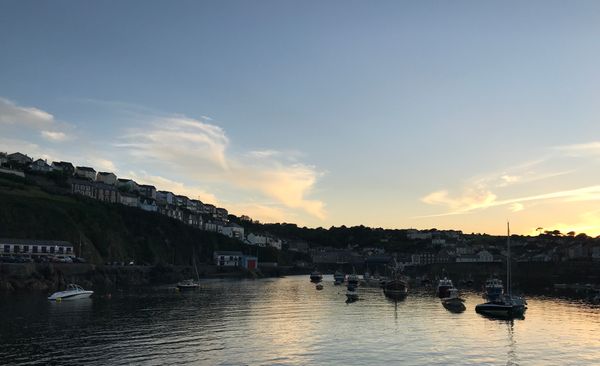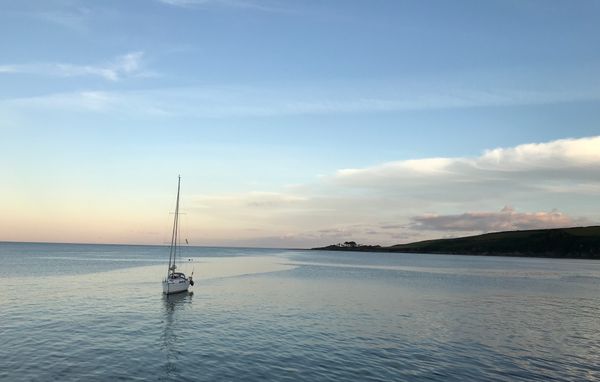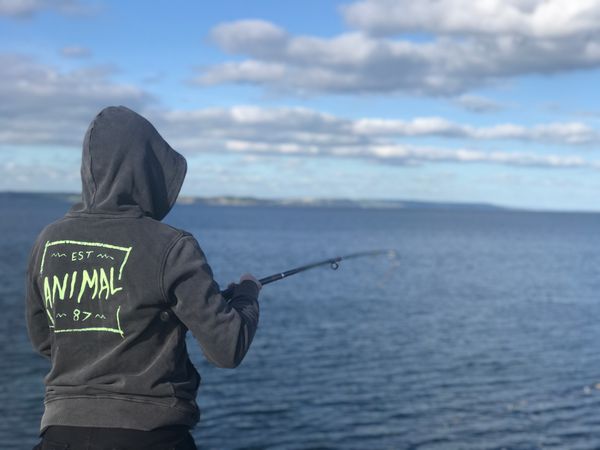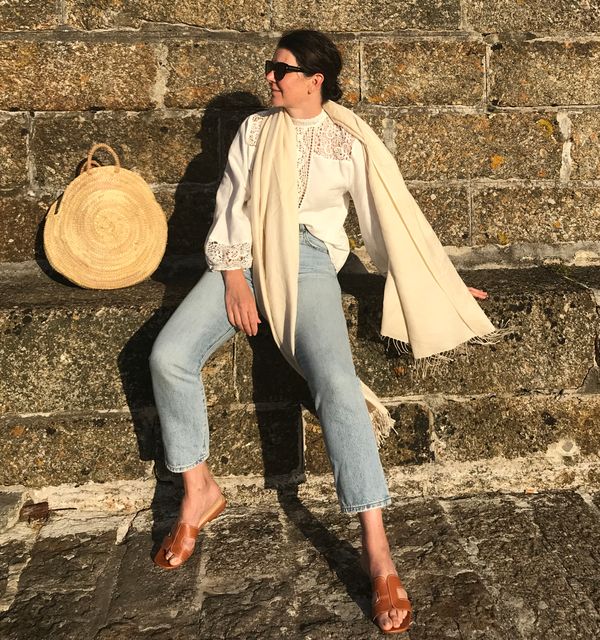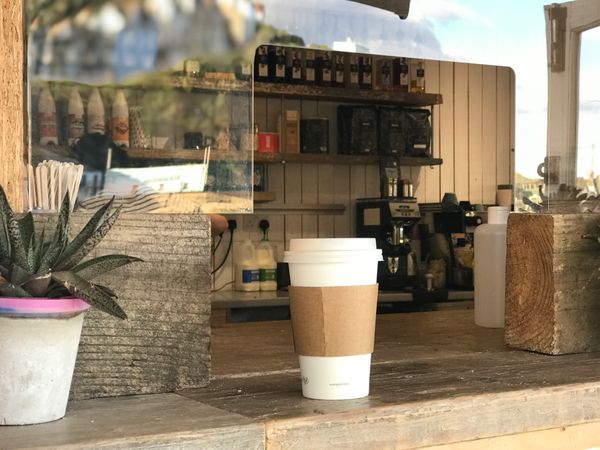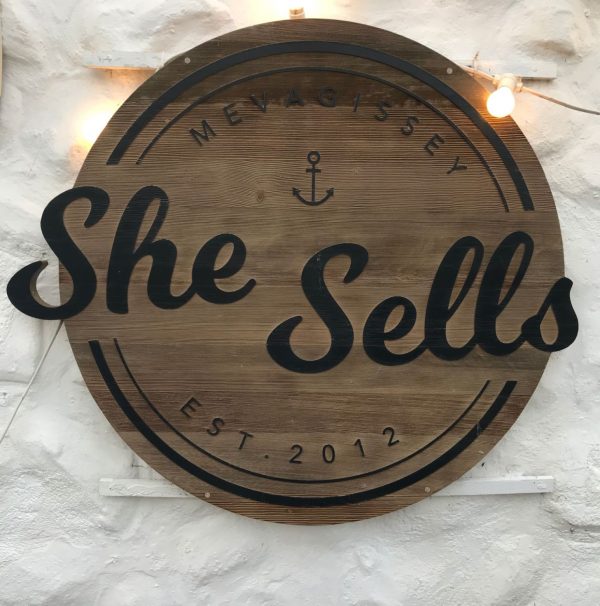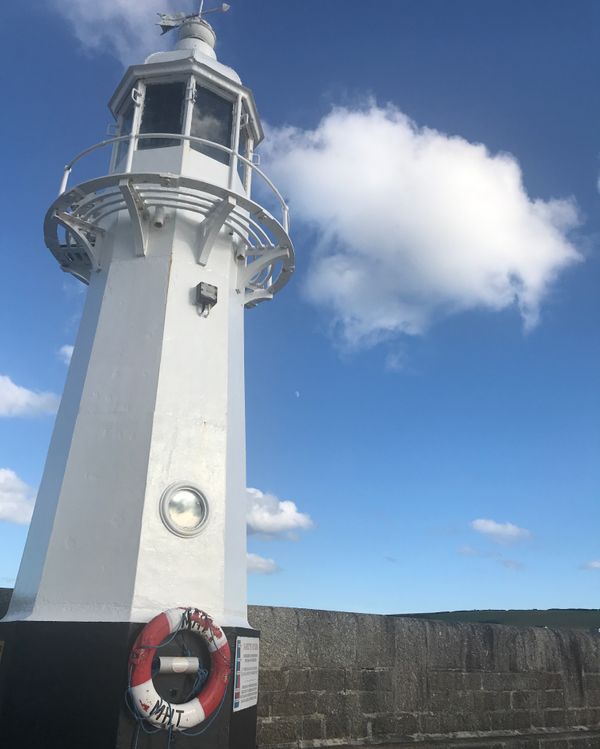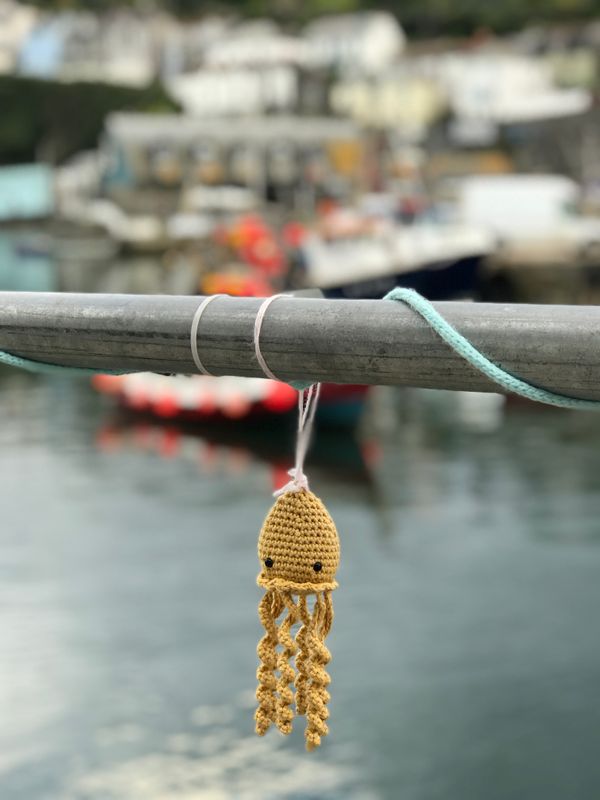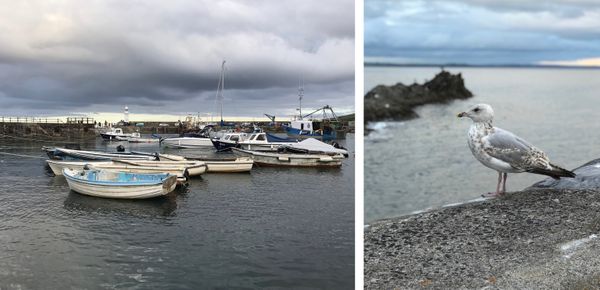 HARLYN BAY
This turned out more successful than the picture below might lead you to believe! The weather was better than it looks and the kids absolutely loved it here! They used their own body boards ALL day so we didn't need to hire a thing!
Life guards on site.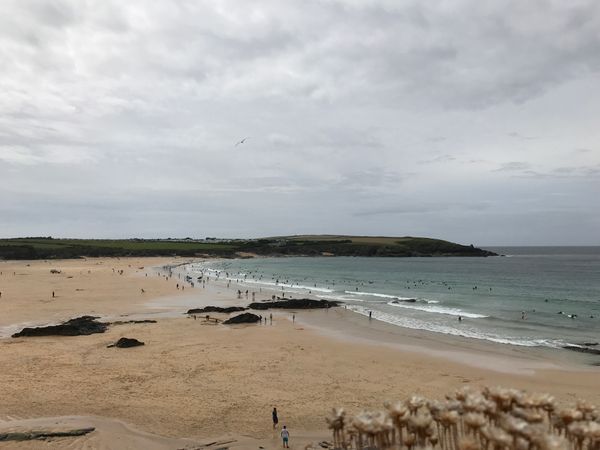 I think that's it this year? We kinda stayed where we felt safe and avoided the big touristy destinations. We did have our annual visit on a really wet day to Truro, one of Cornwall's cities. It was fine and not overly busy to be honest. Maybe because of lockdown, I don't know, I'm not 100% sure, but the beach trips came first and foremost this year? Maybe it was the need to be outside in the fresh air as much as possible? Though the weather was probably the worst we've had yet by the coast, it was by far our most enjoyable visit to date. Grateful. Quite simply, grateful x
OK, some fashion…..
If and when I want to up my game on the beach shorts front I may well try these? Denim shorts and beach wear in general size up! Tailored shorts get the right fit. Length…find your own "sweet spot!" and what makes you feel comfortable and confident.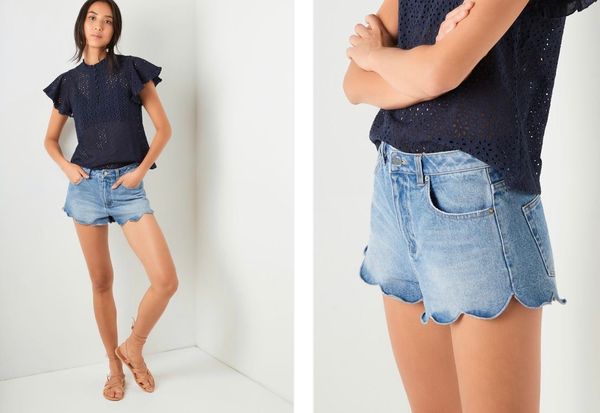 DENIM SCALLOP SHORTS – WYSE Lndon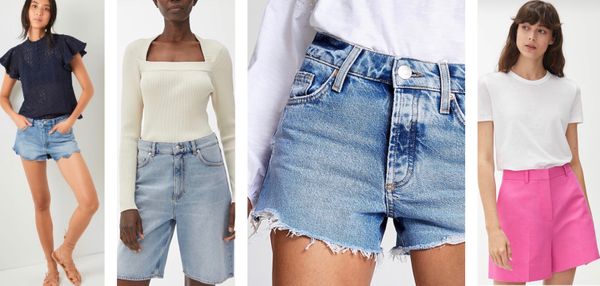 And the products?
Well here's the thing! I'll have to disappoint you all here. I was make up free all holiday bar factor 50 Ultrasun and factor 30 Tan accelerator which I discovered while away. The only make up I wore if I did was Trinny London Lip 2 Cheek in CHLOE. I blooming love this little pot of summer kissed glow on my pale olive self! Lip 2 cheek….hmmm, I stick it on as an eye shadow too!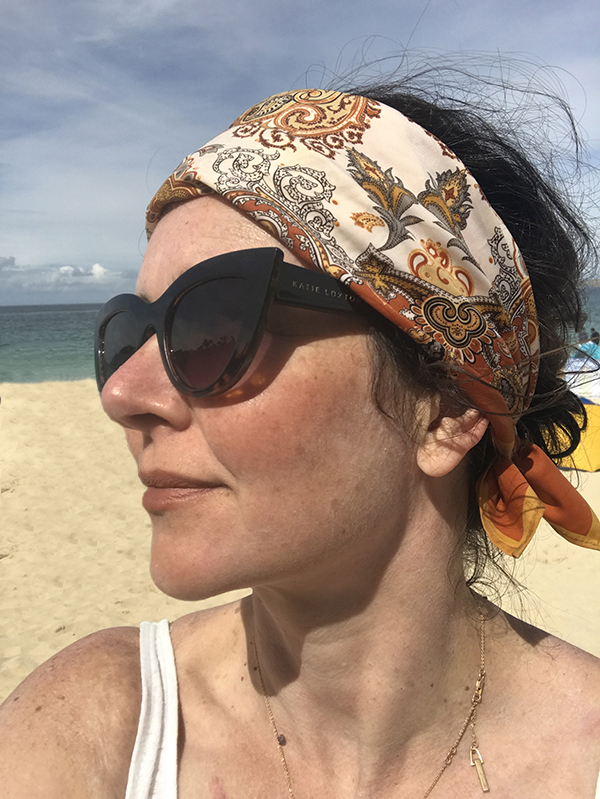 Well I hope you enjoyed my little virtual tour of Cornwall? I'll be back to the styling videos soon. I've got some great finds I want to ping your way!
Thank you for reading and I hope you all enjoy some form of holiday this year. XX
Oh gosh almost forgot! 10% off for readers at UK Swimwear which has the most amazing selection of designer swimwear. Use code BEACH10 at the checkout. I can't recommend my GOTTEX bikini enough. It is so comfortable and feels so secure on. You can see me nearly falling over in the waves but the bikini didn't shift! Even when I wasn't wearing the straps. I've had it a few years now and it's as good at the first time I wore it and it's been wore a lot!
TIP: Hand wash swimwear. As in really hand wash! Allow to air dry. No heat, no radiators and absolutely no tumble drying! To avoid saggy bums, loose Lycra threads and those see through patches that others can see when you bench over! Ha ha ha!