Where to start?
There's so much that so many of us are going through right now from saving small family businesses, to struggling with home schooling and oh my goodness couldn't the list just go on in one endless list of negativity that no one needs to read right now….so I'm gonna do my upmost as usual to give you a light hearted distraction and write my usual pointless drivel!
I think in the summer when we were able to get out in the sun things felt different. Now the climate is colder and often wetter making any kind of effort has become more of a mental challenge. My daily exercise has been a walk. This has involved LOTS of mud so I have literally been stuck wearing chunky soled boots. Good job they're a massive "thing" right now! I've always worn them for watching the kids play rugby but never as an every day style choice! This different lifestyle has made me dress every differently but you know what I like it!
To feel like me I found that wearing the chunky boots with tailored pieces was a revelation! A pleated front masculine trouser worked well and was all that was needed to elevate even a simple quilted coat. Good job I saved this old Zara pair of black trousers from the charity bag!
Layering became my best friend. Bibs, tank tops and padded under layers all helped to feel warm and cosy and a way to add texture and interest to otherwise very dull outdoor essentials.
I've put some of my favourite looks to follow:-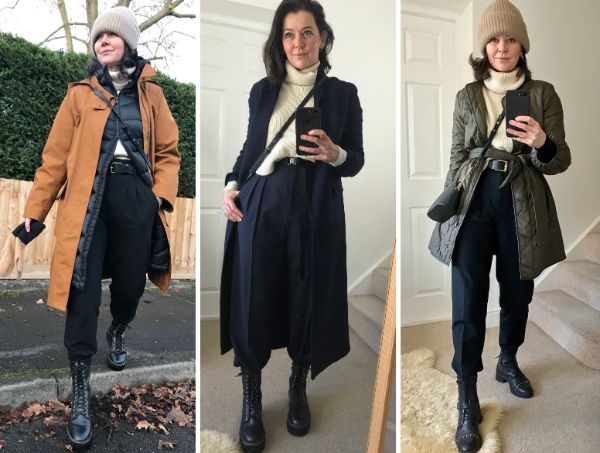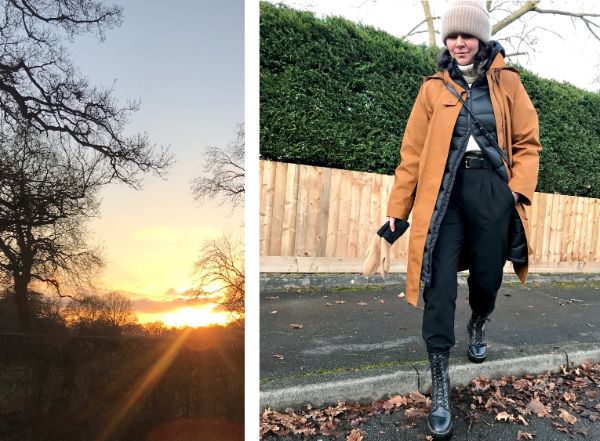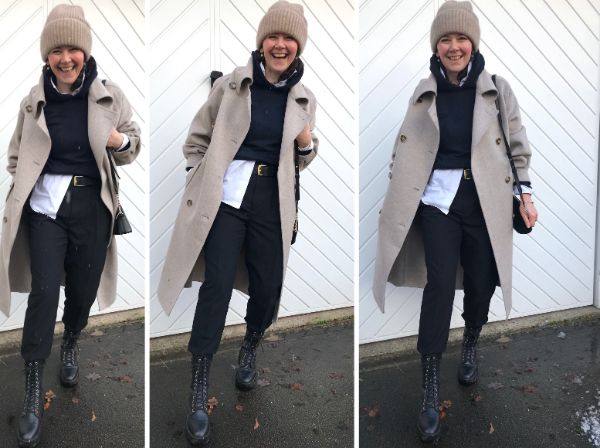 Boots – H&M similar here
And then there was Christmas! The first time I've not been with extended family at Christmas and my first time cooking a Christmas dinner! One of the highlights of 2020 was a very special surprise Christmas gift from a brand I fell  in love with this year. I bought a dress that spoke to me! A Justine Tabak dress. The minute I saw it I knew I'd love it! You might remember it? I wore it to death in the summer! The neon gingham rainbow dress? Little did I know I'd meet the designer in London at an event. just before lockdown no.3. Pure luck or was it fate? Justine walked into the venue at the exact same time I had my 20 minute slot to view a selection of dresses! We connected….it's a long story after that but Justine recognised me from the pictures of me in my dress on Instagram. She's the loveliest person. I'll cut that long story short and just tell you that she sent me a gift of a dress which arrived on Christmas Eve Eve. A wonderful dress. A dress I'll love forever! Purely as a thank you for supporting her brand on social media. All I did was gush about a dress that was worth gushing about. She's got some real treats coming soon for spring so please do follow her journey on social media if you can.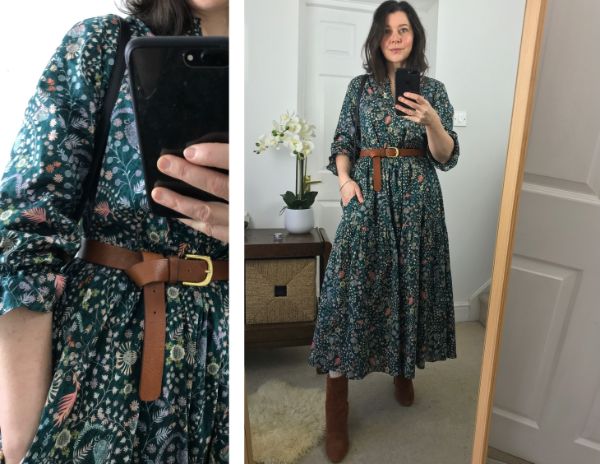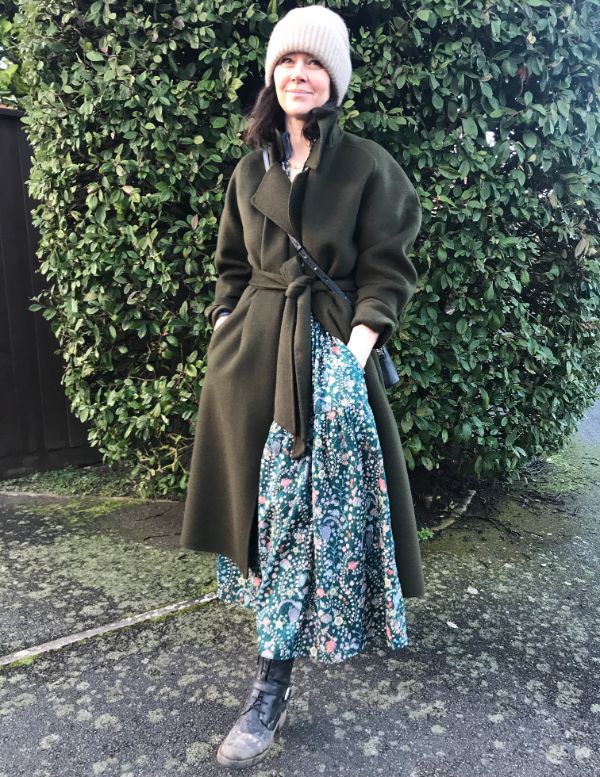 Liberty Print Cotton Camden Passage Dress – Justine Tabak
I made a pact with myself that I'd get up and show up whenever possible. Not just for me but for you guys too. I've had so many lovely personal messages from ladies that have enjoyed my daily drivel!  I love writing a blog because it's more personal. It's for those that like to read something. For those that enjoy understanding processes and getting to know other people better. I've grown to love and be proud of my social media through lockdown. It's been one of the only creative outlets I've got with the restrictions in place at the moment. I hope you've enjoyed it too? At times it's been a real challenge to find something to say or to even simply getting a photo! Most days I'm not dressing up! Walking has kept me sane and I'm not walking in freezing temperatures in a silk blouse or sequins!  Not even for you lot! Lots of layers, lots of snow and lots of laughs!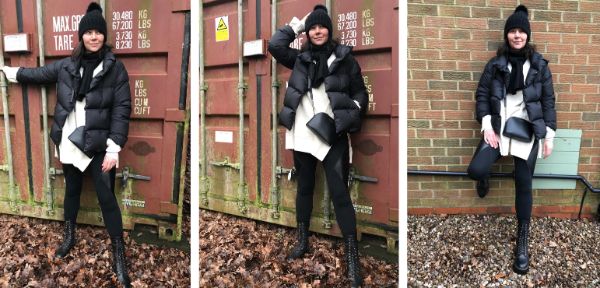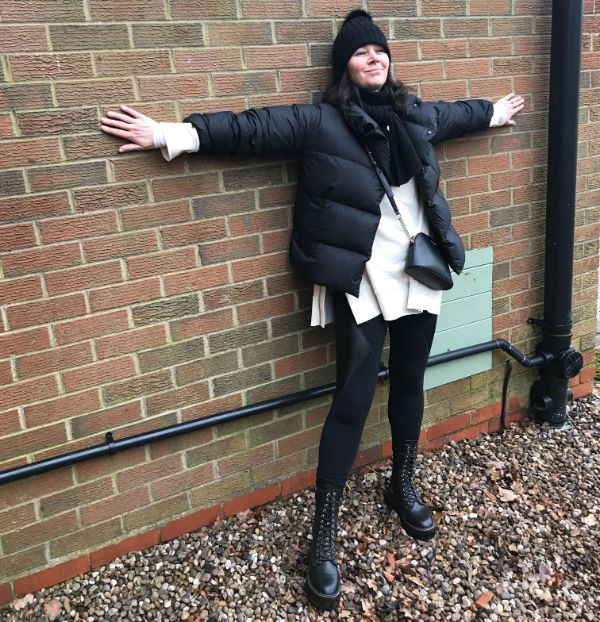 Side split sweatshirt – ARKET new season colour here 
I'm wearing an XS/S in last years cream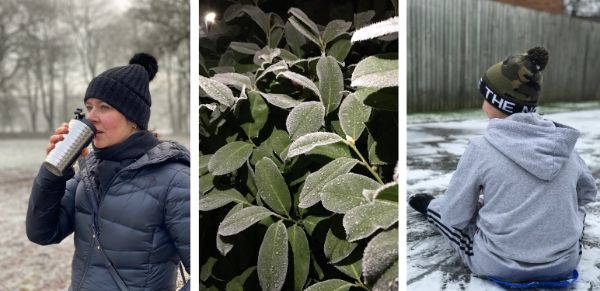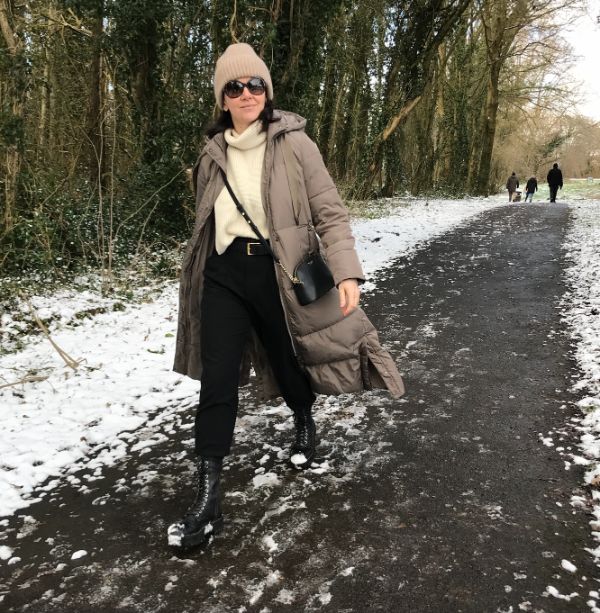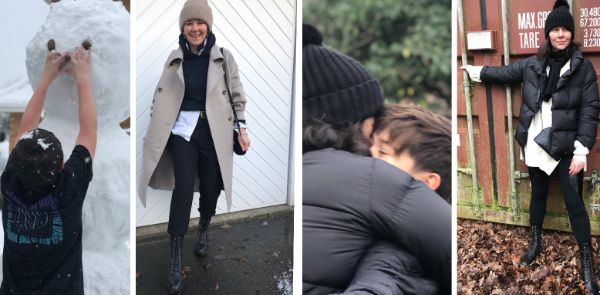 Amongst it all there have been moments of normality. A chance to still go into Smart Works and help our clients there at the centre to continue to receive  the services we offer. Even more important at present than ever. At a time when these  most vulnerable women need help it is crucial that these charities can continue to deliver the support they need. I love working at Smart Works as a stylist, feel honoured to be part of the team and have made some very special friendships along the way. I can't wait to get back to the office again. Some of the ladies there have worked selflessly as coaches still delivering support at this difficult time. THEY'VE BEEN AMAZING.
I met Ann, oh gosh is it about  four or five years ago now? We met when I helped at a Smart Works event in Birmingham. A mutual contact from one of the brands that support the charity asked if I'd help and of course I said yes!  It wasn't until a few years passed, the charity moved to the centre of Birmingham and the kids got a bit older that I was able to commit to the charity properly. I've been working at Smart Works Birmingham now for a couple of years as a stylist.
So I got to dress up for some filming at Smart Works and a radio interview for BBC West Midlands. I also put on my glad rags for some Zoom wardrobe edits and style coaching sessions which have now started online for the season ahead. Things are looking up and there are glimpses of life as we knew it! I've put on some more stylish pics just to show it wasn't just one big walk in the park! Ha ha……see what I did there?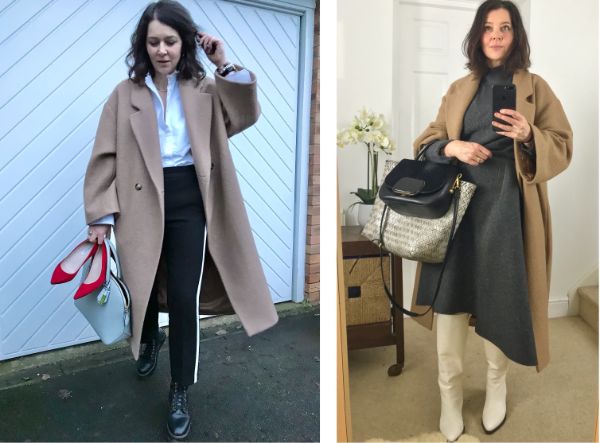 Recycled plastic shopper – My Funky bags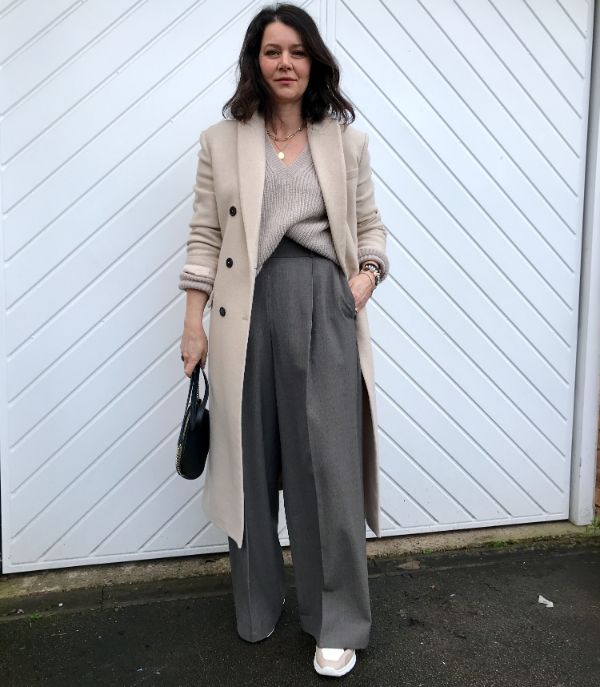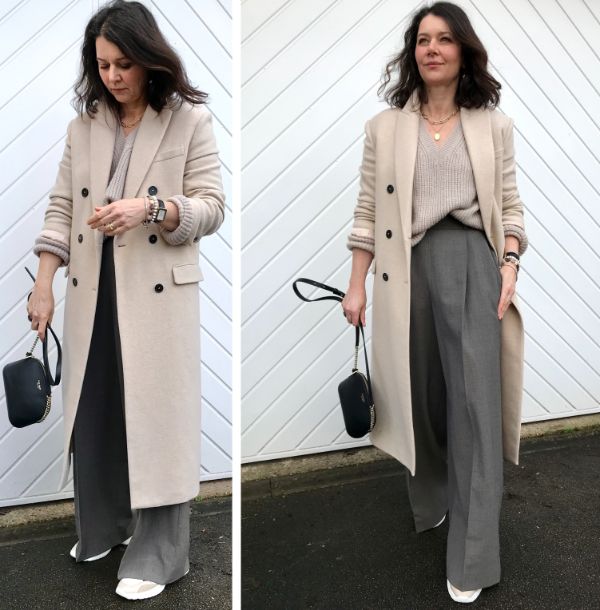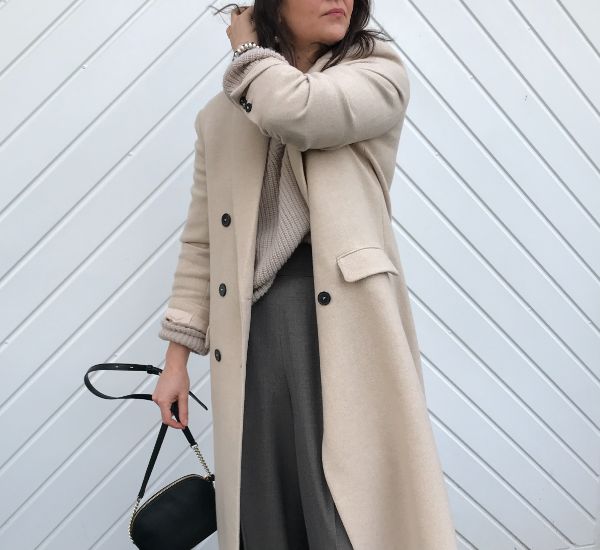 Wool trousers – H&M   
I'm wearing a size 10
Fingers crossed the next blog will be over on the other side with the promise of spring, some sunshine and new season style. Hang in their team, we're getting there! This too will pass! Lots of love to every one. A huge high five to any fellow parents out there and teachers. Enjoy your half term!
I hope you get some inspo from the blog? If nothing else you can take comfort from the fact that I chose to live in my gym kit too! Ha Ha!!
Thank you for reading! XXX