JUMPSUIT
Having another one of those moments here, when I realise there's a lot of catching up to do!
Ok, right… SUMMER 2020 blog done, styling video done! Now there's the styling video blog to be done! Phooor … it's all go!
I do like putting the videos on the blog as it's a chance to explain them a bit more and not everyone likes a long Instagram post. We're all different and I get that!
Sooooo, what's the deal with the linen jumpsuit then?!
Well…I first saw it on Instagram on the lovely Becca, the owner at Cristal Womenswear in Knowle. It was exactly what I'd been looking for for my holiday in Cornwall this year. Though said ship has obviously sailed, it didn't put me off! It's classic isn't it? And actually will go nicely into the cooler months and great now with this unsettled weather. One minute it's so humid, the next the heavens open!
To cut a long story short they sold out so I had to wait but every cloud and all that….Becca came back with the kind offer of gifting me one so I could post it. Once I'd gotten my sticky little paws on it I realised how lovely it'd be to style and how alive it would come if I could show you it in motion!
I've tried to use, as always, things you might have at home or at least things you could easily get yourself if there's something that might work for your proportions. We're all so different aren't we! A white shirt? A denim jacket? Sneakers? A cardigan?…… the things you have will be a different fit to mine but hopefully the video is something that's nice to watch at the very least! I've linked what Ican.
This jumpsuit is quite long in the body so maybe good if you're tall. If you're smaller it may work as illustrated in the videos, it may not but it's impossible to style every body shape with one item. There's no fixed waist point so there's definitely some versatility there for fitting different body shapes and different proportions.
This video was also a chance to showcase a little brand I found by chance whilst searching on Etsy. It's the cotton crochet shopper. I can't tell you how much I love it! Check out her shop here on Etsy. All hand made by the lovely Barbara in London. They are so beautifully  made and I'm planning on buying more! There's something so magical about buying something handmade from the person that's actually made it! It came with a handwritten thank you card and a free surprise gift. Just so lovely. If there's not a colour that works for you she's happy to take commissions.
I hope you enjoy the video. Feels good to support a little local independent boutique and a small business on Etsy.
I have no idea what's next! Already feel like I need another holiday! Te he he!
Have a good week… see you on the the squares!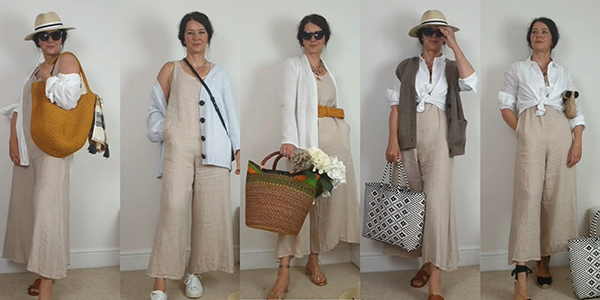 LINEN JUMPSUIT – Cristal Womenswear Knowle
COTTON CROCHET SHOPPER – SistersByCraft on Etsy
STRAW MARKET BASKET – MMAA Social
TAN LEATHER SLIDES – Dune London
KNITTED WAISTCOAT – ZARA
BLACK WEDGE ESPADRILLES – CASTANER
other knitwear from previous season – The White Company
WHITE LEATHER TRAINERS – Veja esplar