KISSING A FAITHFUL FRIEND GOODBYE
I'm not going to lie to you but I've found coming into the new season a real challenge on what seems like LOTS of levels. Firstly, I think it's been the weather. The sun pops out to tempt me into a T-shirt then turns to thunder storms by three or the other way around. From a dreary start to full on tropics by tea!! On Tuesday this week we had wind, rain, hail and scorching hot sun all in one day.  My kids are definitely going to grow up knowing what a RAINBOW IS!!!!
Secondly, I think this season has been tricky to tap into because of the styling? Suede, really? with kids? come on! I'm not a slave to fashion but unfortunately so often the High Street is. I think it's the season that hasn't worked for me for all it's peasant blouses; fussy details and teenage festival chic. I tend to give these "trends" a nod rather than buy into a look I won't wear. Finally, where I usually shop has gone all "boho" on me ( hence the title!!)  I'll leave it there, nuff said!!!!! Not happy!
So, somewhere over that rainbow I have to find ways of putting together outfits that work with the dynamics of my day while still feeling like it's Spring. I read LOADS of articles about current fashion trends; drool over some of the clothes in those glossy magazines and go green with envy at those glorious fashion editors in their super duper attire on their blogs. On my fourth trip to school, in every temperature known to man and after I've put two wet, muddy scooters ( the joy of boys!!) into the boot of my car, that white drappy, super trendy trench coat doesn't quite seem so important ( or worth the dry cleaning bill). It's not about making excuses as any one who knows me knows I refuse to take these hurdles lying down! However,  daily family life doesn't make getting dressed as easy as it should be!
My black TOPSHOP baxter jeans are my best friend ( see BLOG post here) and £ for wear they have cost far less than a few Haribos I'm sure. I can't afford to and won't waste my money on clothes I won't wear, however, I realise this isn't hugely helpful when it comes to fashion blogging and guiding others through all the great buys currently out there in the shops. This cloud does have a silver lining! Styling tips I can do; outfit inspiration I can do; ways to make your wardrobe go that extra mile I can do AND how to add a bit of COLOUR to lift your muti-tasking outfits into spring I can do!!!
Never underestimate the power of clever styling. Magazines, advertising and shop floor merchandising does it all the time to make us feel we NEED a particular item in our lives. One piece can be used to style a multitude of different outfits and your look can go from out dated to modern in the blink of a Manolo  Blahnik!! Have you got a  hidden little gem in your wardrobe that can be reworked this season?
So, I said I'd do I post about COLOUR. Not my most comfortable of places to put myself I have to say as you all know how much I love my BLACK (OK, I might have some navy,white and grey!!!) but it's Spring after all, so colour it is!!! As I've mentioned before, there's ALOT of old faves here and not much new purchase wise but really it's about ideas to rework the staples you might already have in your wardrobe and hopefully a fun read.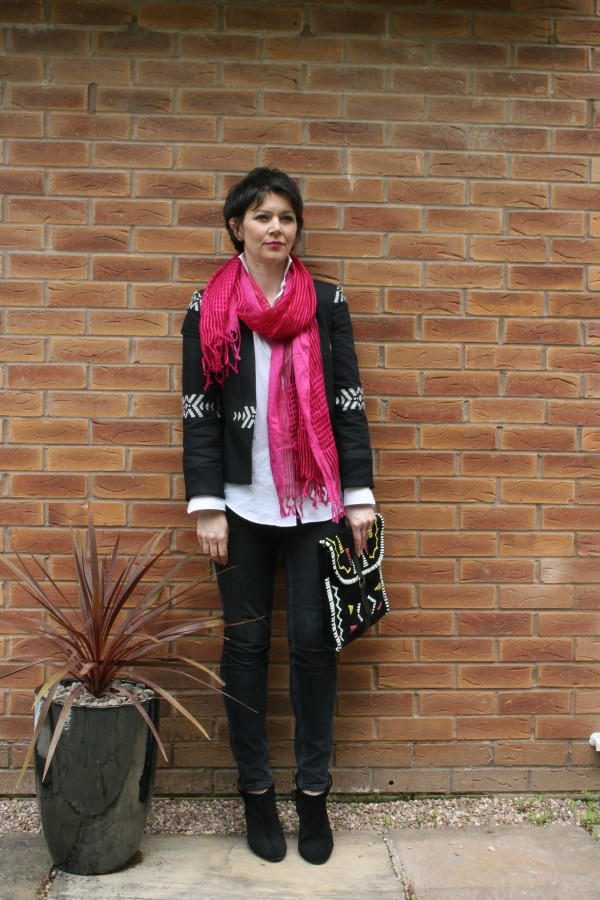 Back in my boots for Spring! And black because it was a HORRIBLE day. But with the addition of a bit of pink and yellow I didn't feel so deary. Accessories are a great way to add colour and texture to basics. I love yellow at this time of year but like lots of us I'd look seriously ill with it up to my face but in accessories it's a different story. I'm not a massive fan of colour with black either ( but that's just me!!) as it kills colour, however, a little bit I can live with. A smidge of yellow with black is fun and works equally well with navy or great to lift neutrals.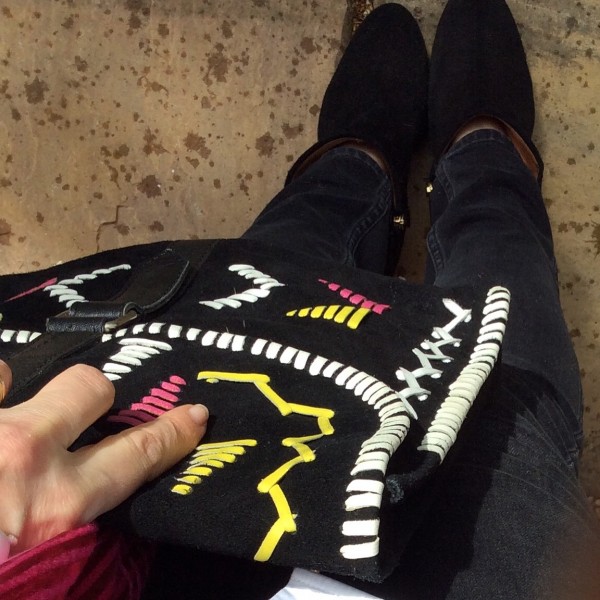 COME RAIN!!!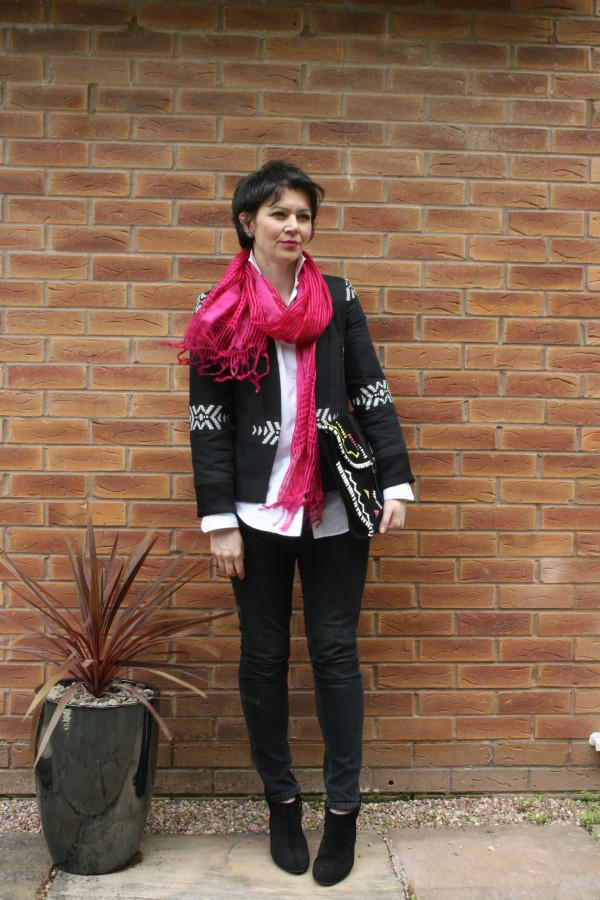 COME WIND!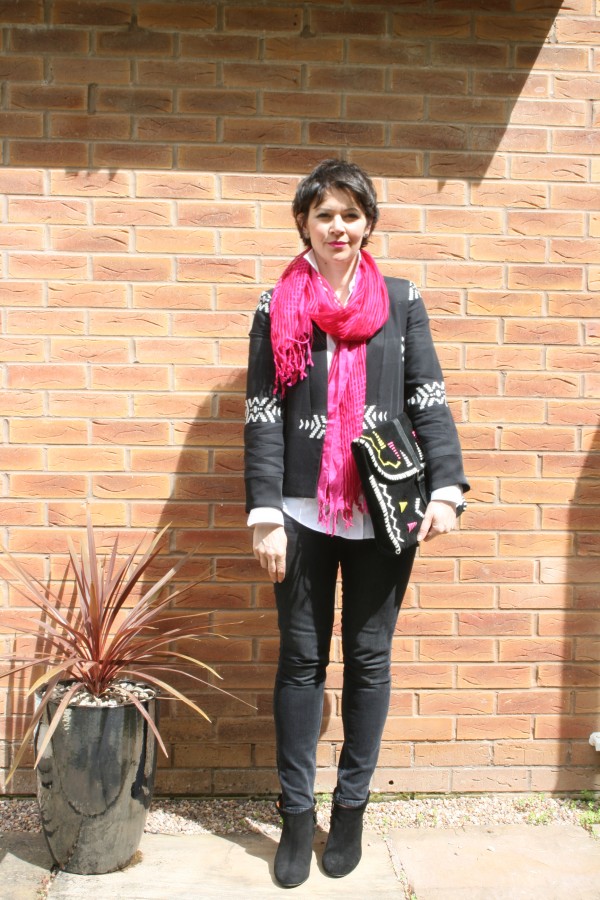 COME SHINE!!!
All taken in the space of about 5 minutes!! ( you get my point????!!!)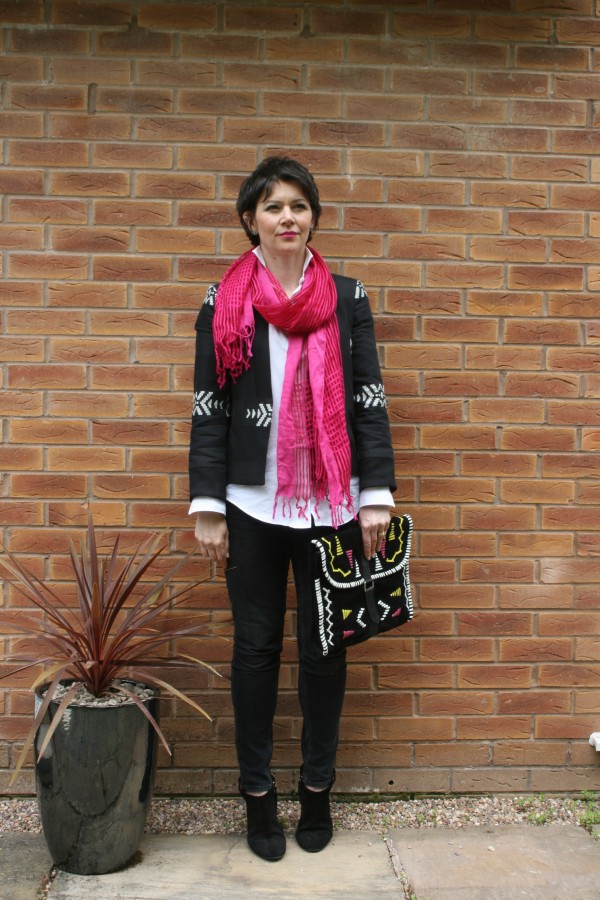 My clutch bag was an ebay find (ASOS) which I only paid a few pounds for as I knew I wasn't going to love it forever!!
With all the great accessories now available there's no excuse not to have a play. If you've got high contrast in your features (like light eyes and dark hair) you can have great fun with high contrast in your outfit,  it might be in the form of a print or just in colour blocking your items. It might be as simple as black and white with a bit of colour like me!!! Find a place that you're comfortable. If you love your neutrals and softer shades then there are some fab pieces which mix your comfort zone with a bright shade.
SOME EXAMPLES OF MONOCHROME AND YELLOW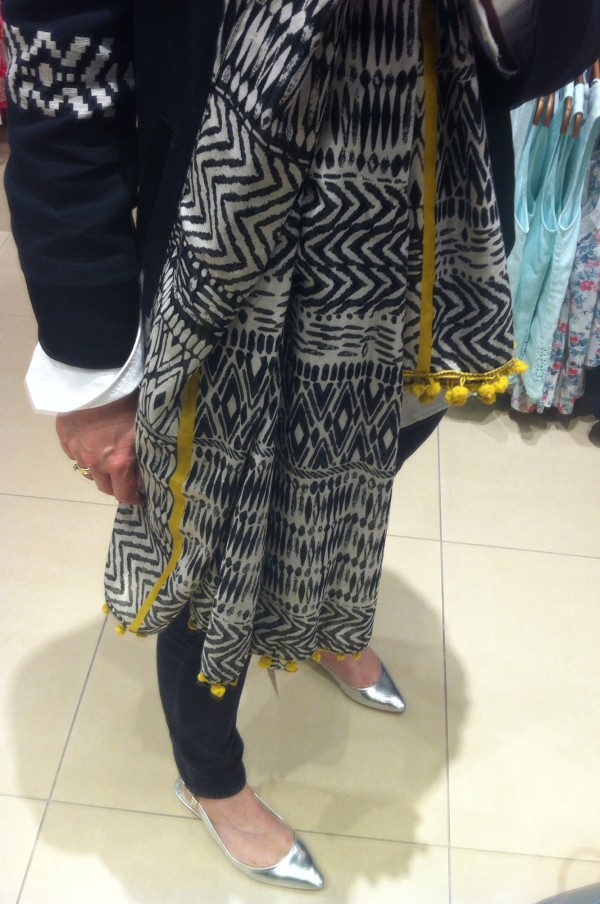 scarf – ACCESSORIZE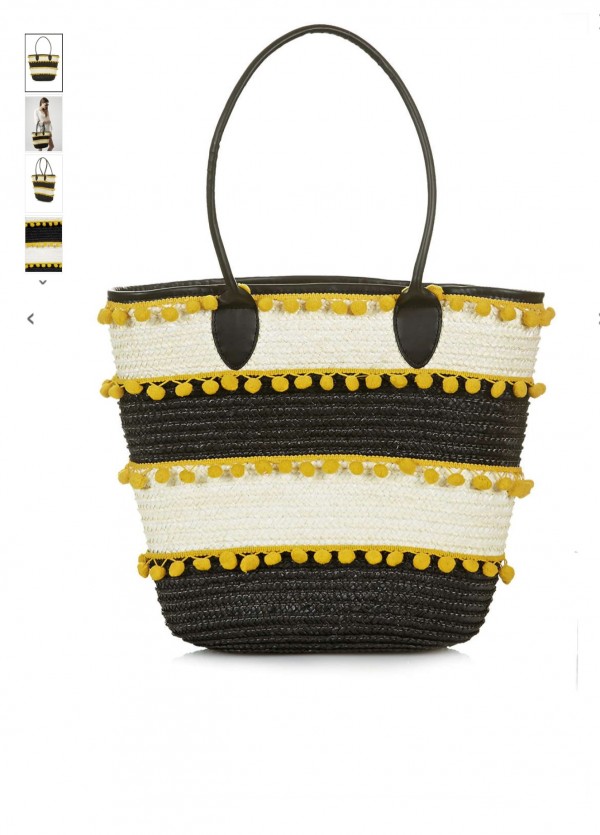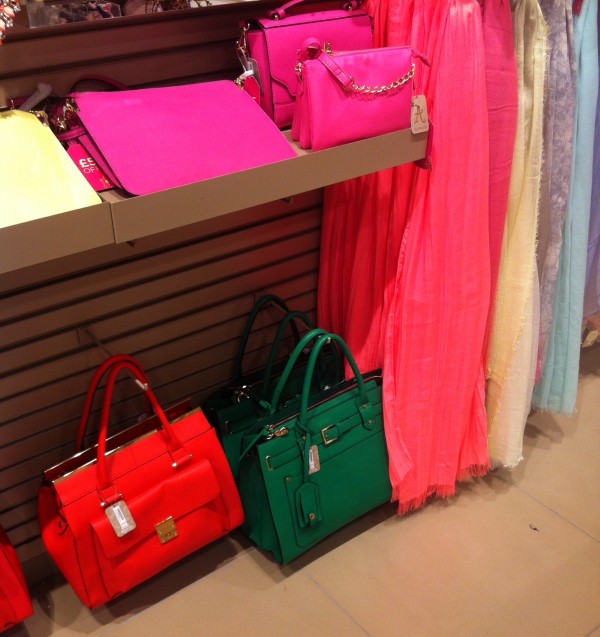 ACCESSORIZE
we now have a big new branch in SOLIHULL to explore!
A mecca for all thing bright and breezy!!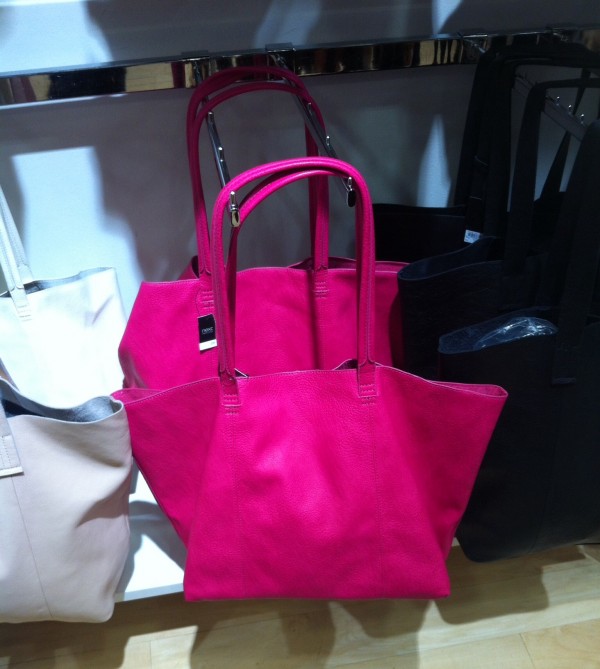 bag – NEXT
(available from our TOUCHWOOD branch)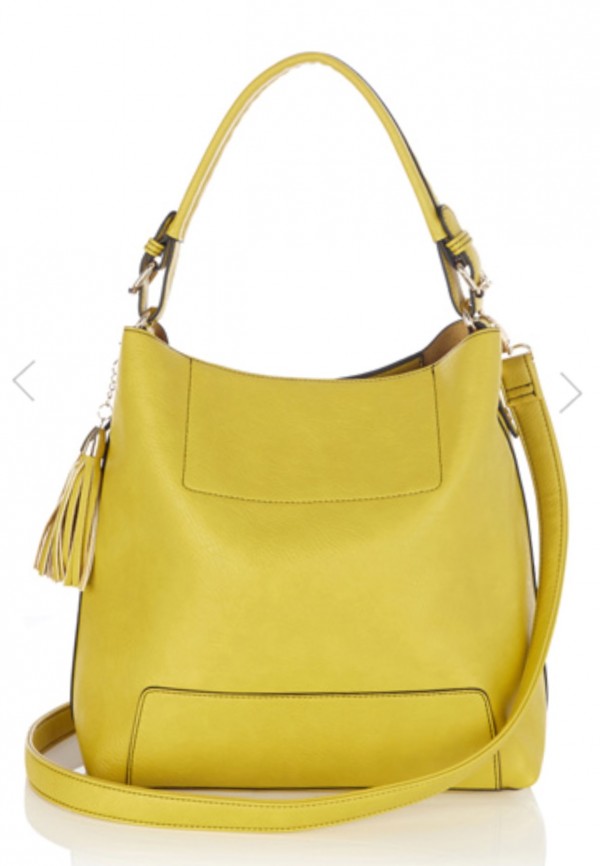 (also available on line in orange and cobalt blue)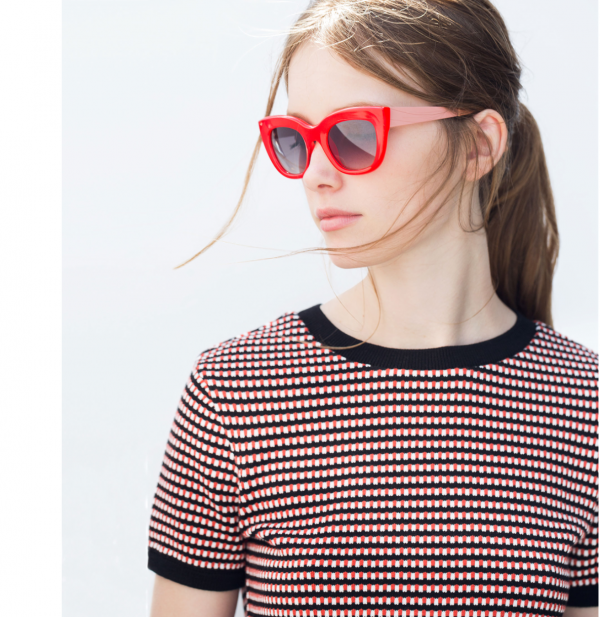 sunglasses  – ZARA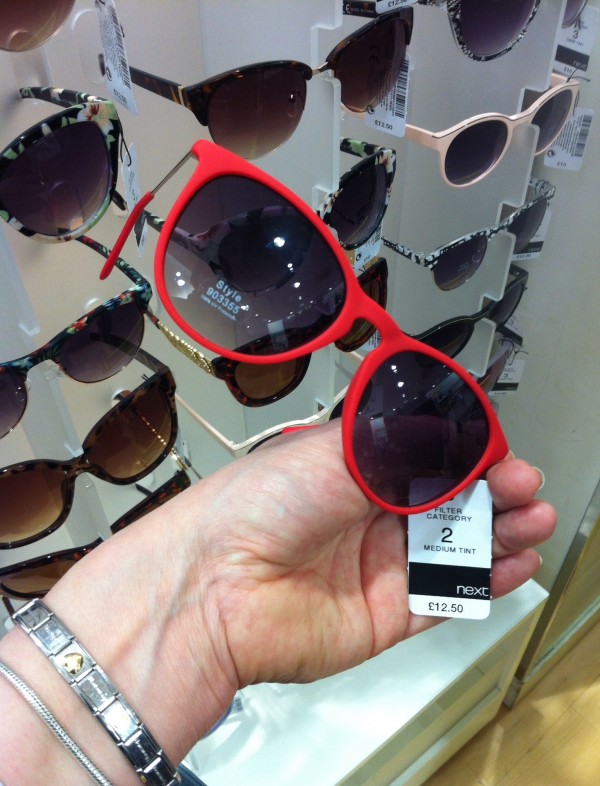 Sunglasses – NEXT
available in store – TOUCHWOOD
It can be as easy as buying a pair of coloured sunglasses or a new lipstick in a shade that does wonders for your complexion. The quality of colour in premium brand make up is worth the investment here.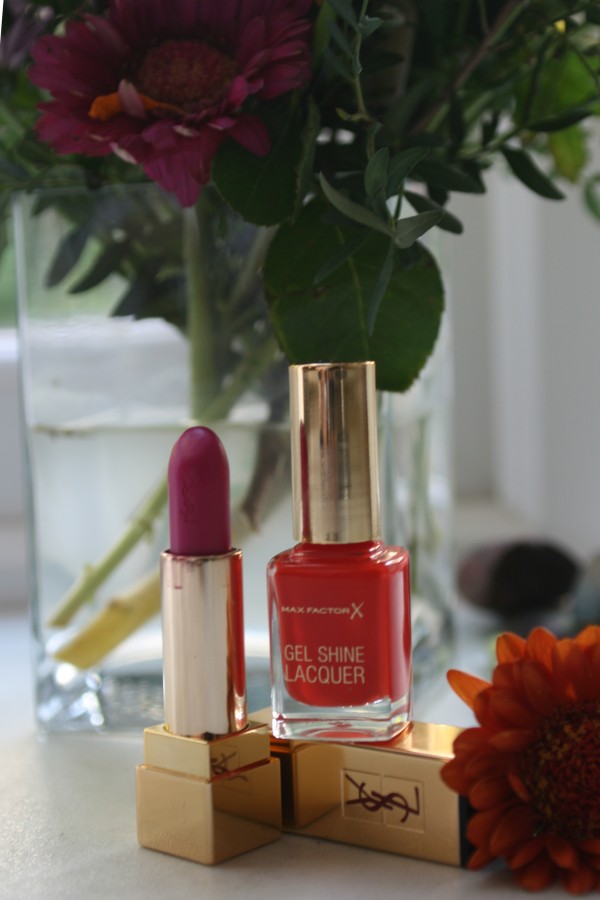 lipstick – YSL col:19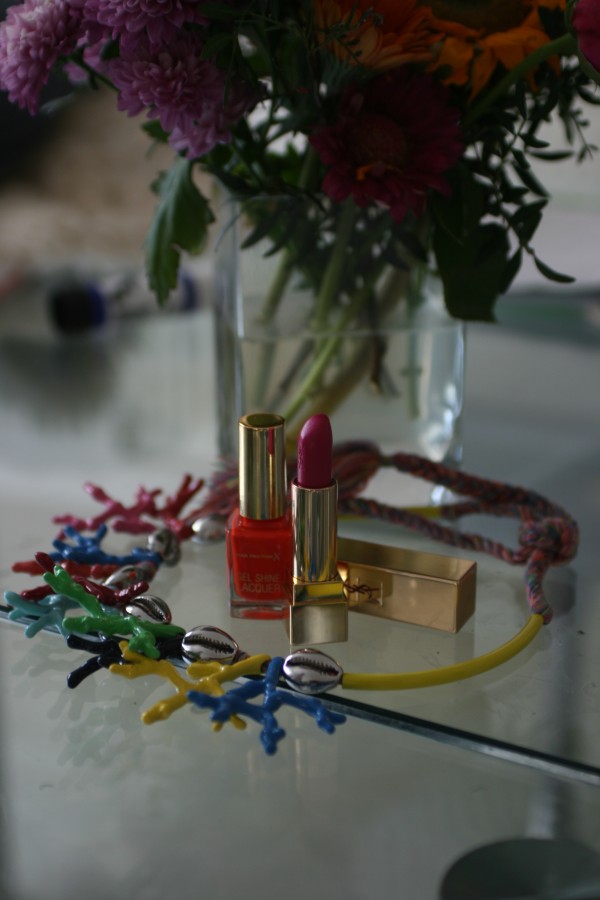 necklace –  ZARA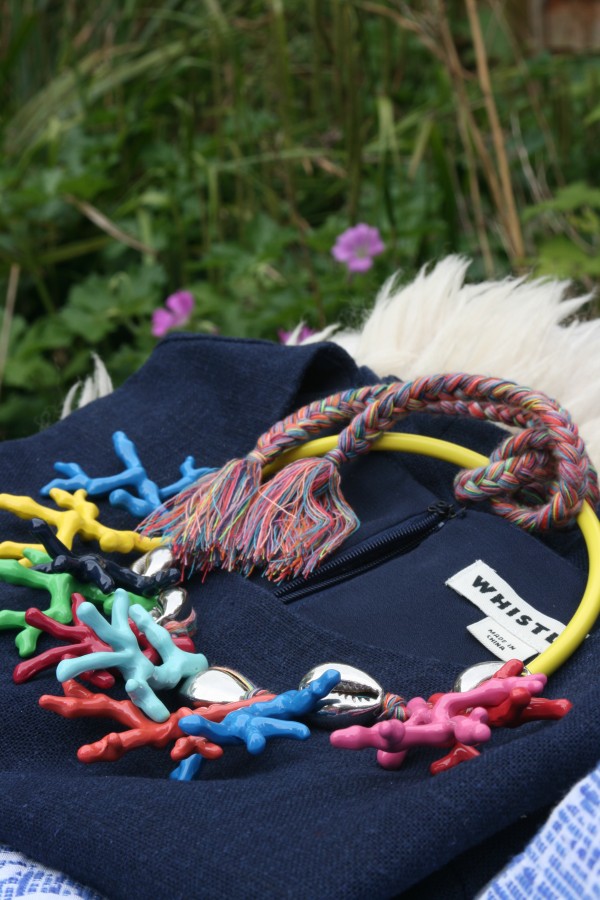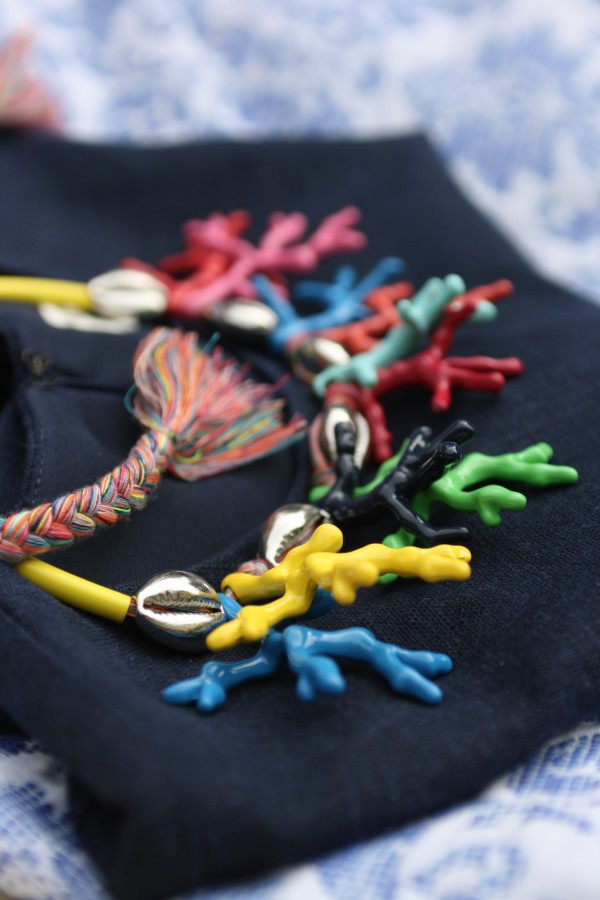 Scared of brights??!! Have a think about neutrals with colour. There's lots to choose from and this bag ( below) from OASIS is two bags in one!! it's reversible.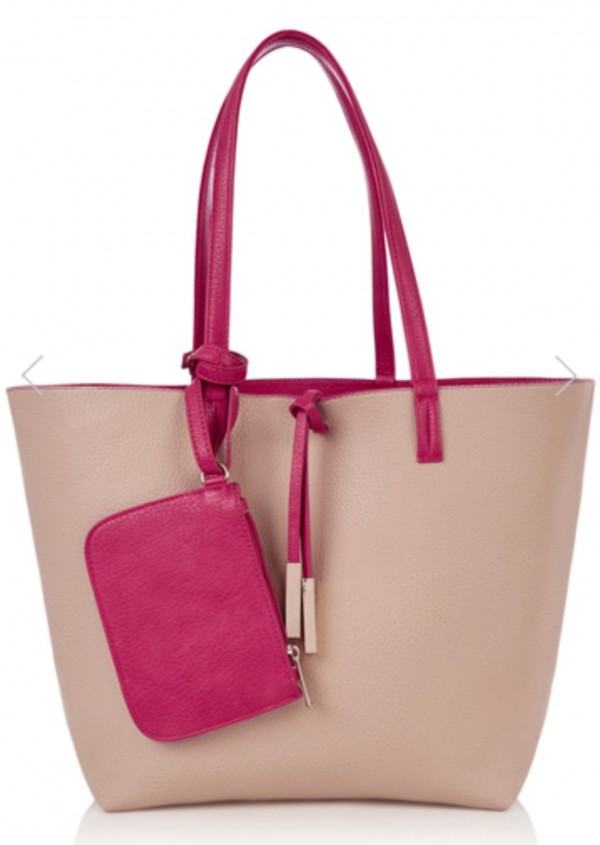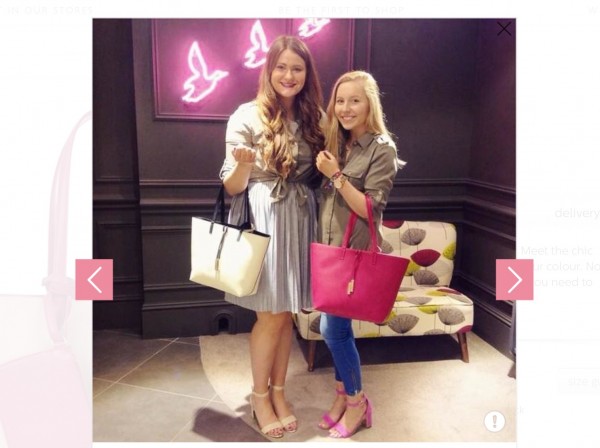 reversible totes  – OASIS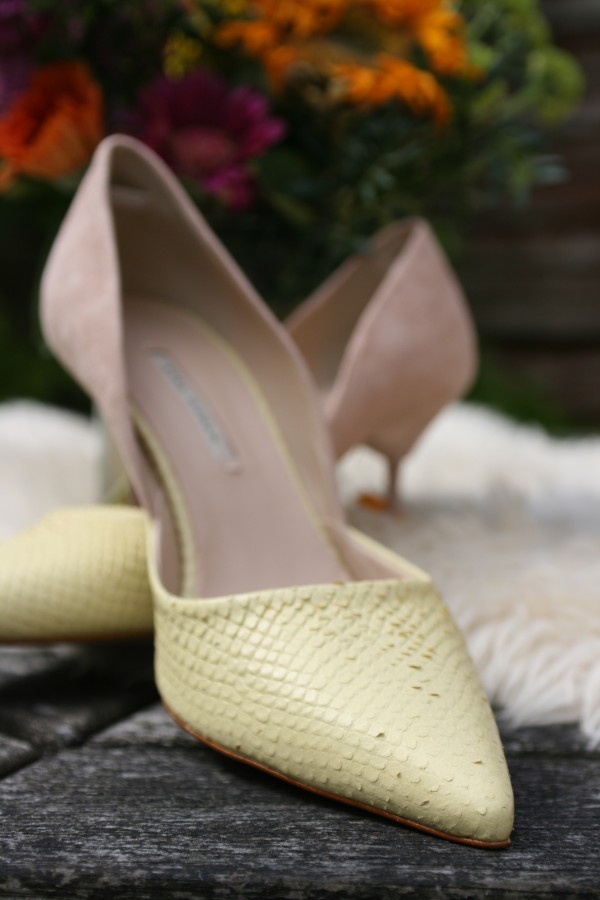 (real leather and suede)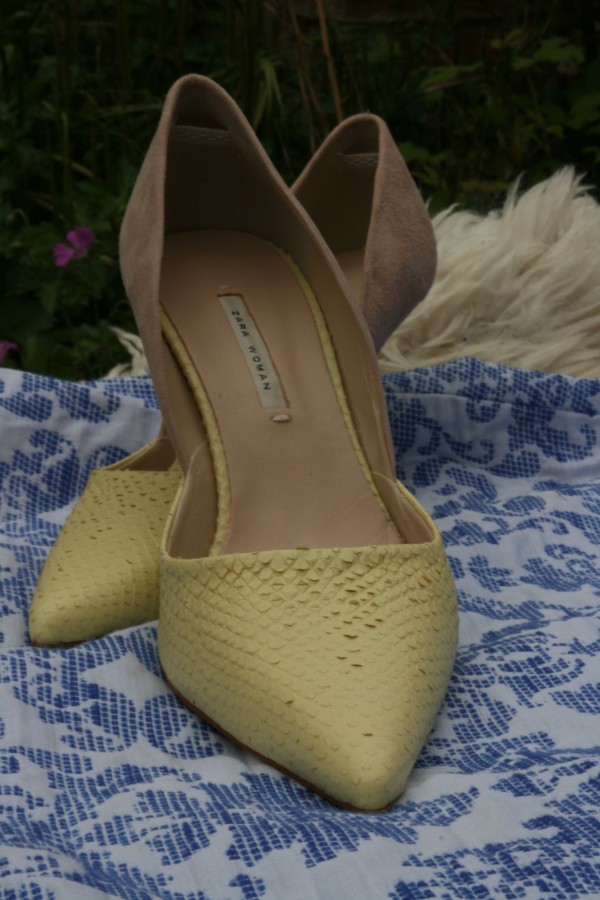 Lemon is lovely with navy or china blue and white prints.
When you've worked out the colours you feel your best in then this is where the fun begins. In this turbulent weather we've been having of late I have found accessories the easiest and usually the most cost effective way of introducing a bit of zing!! Have a think about block colour too. A bright, fun cotton knit with your usual jeans can lift a chilly wet day; if you're looking to invest then give a coloured spring coat a go; a coloured pair of trousers if you're brave will look confident and stylish while an unexpected pop of colour for your choice of shoe or bag can bring life to your look.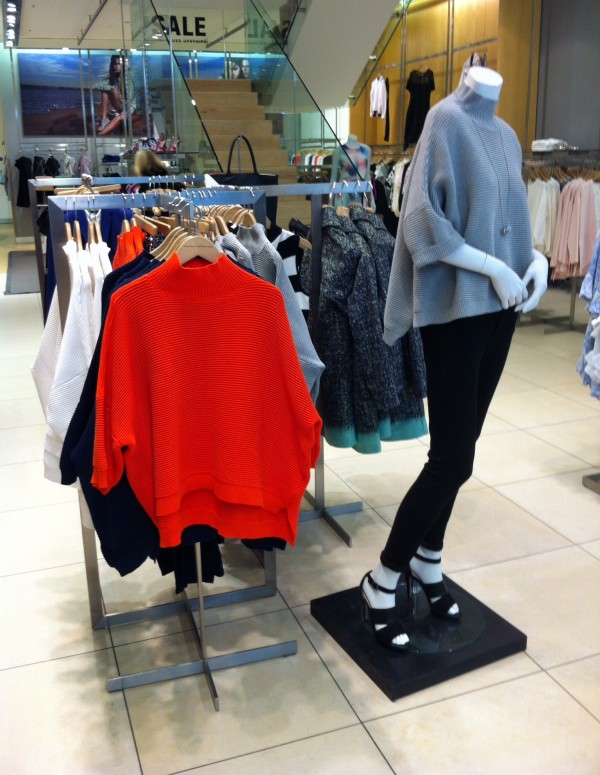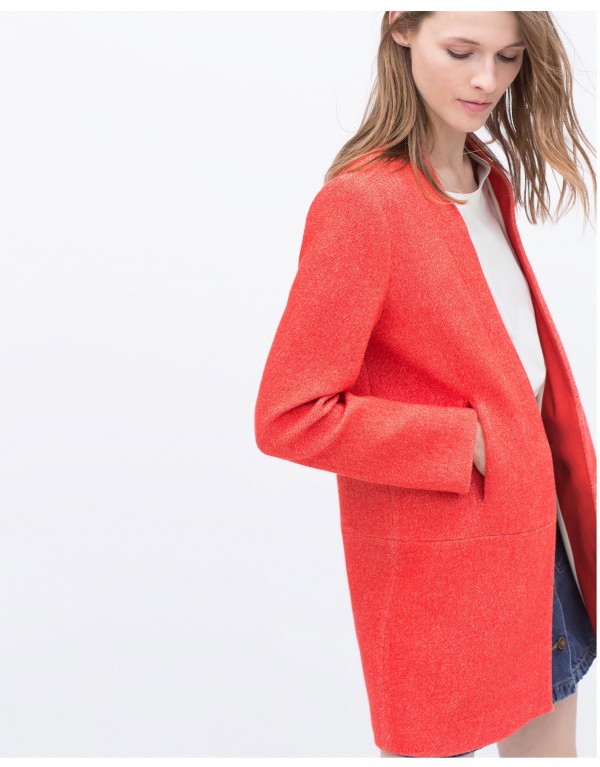 spring coat  – ZARA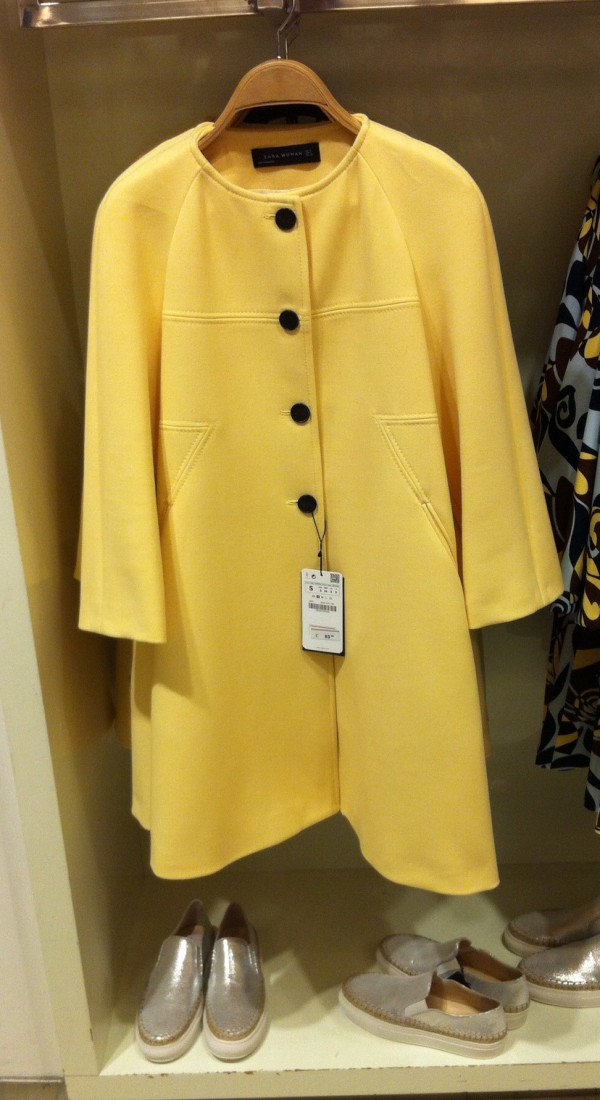 Now just to show that I will wear bright colour (OK I've still grounded it with classic wash denim!!!!) Please excuse the funny little selfies while out and about shopping in TOUCHWOOD.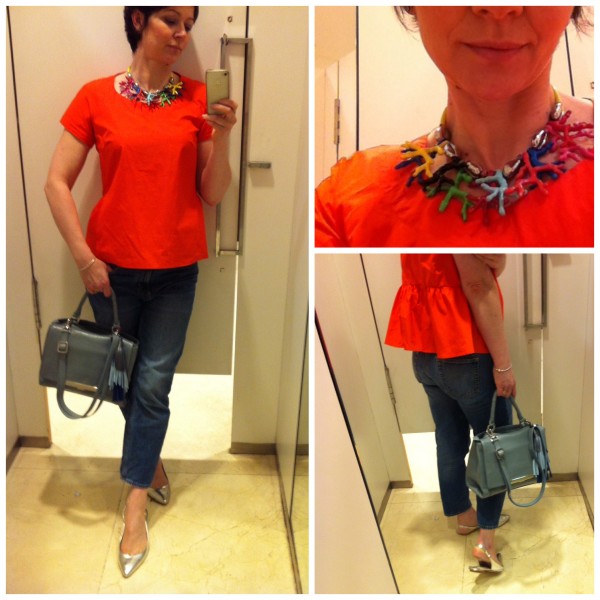 If you still feel lost with what colours to mix together then take inspiration from mother nature who never gets it wrong. Think of the wonderful combination of blues, greens and purple in a peacock's feather; cast your eye over the subtle shades in a romantic rose or take time to admire the mix of reds, pinks and oranges in a sunset.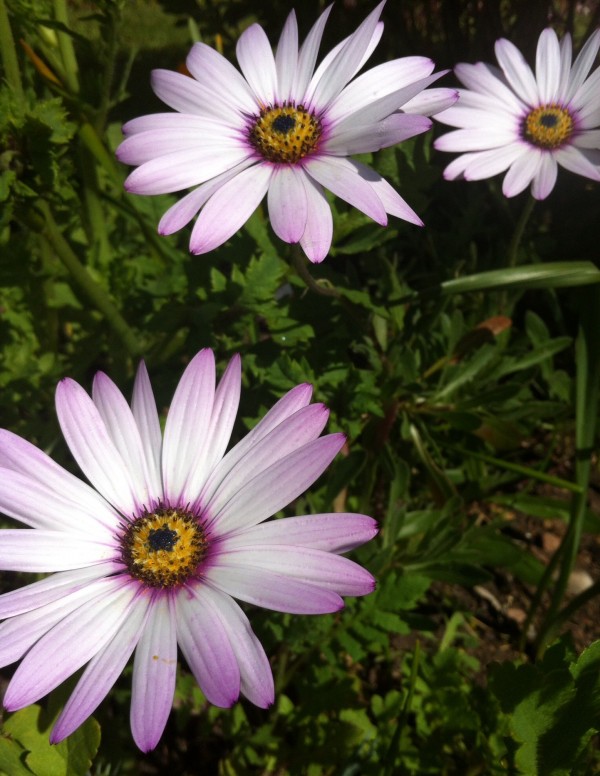 PS. Metallic shoes and accessories are great in an outfit made up of lots of  high colour. My silver sling backs are an old favourite from last summer from BODEN but there are other silver shoes out there. I found these fabulous flats in the ACCESSORIZE store in TOUCHWOOD. I can only do leather or canvas shoes in the heat of the summer months but these little lovelies were leather lined so felt comfortable on and at £25 ( but were on offer at £5 off) they were a fun find.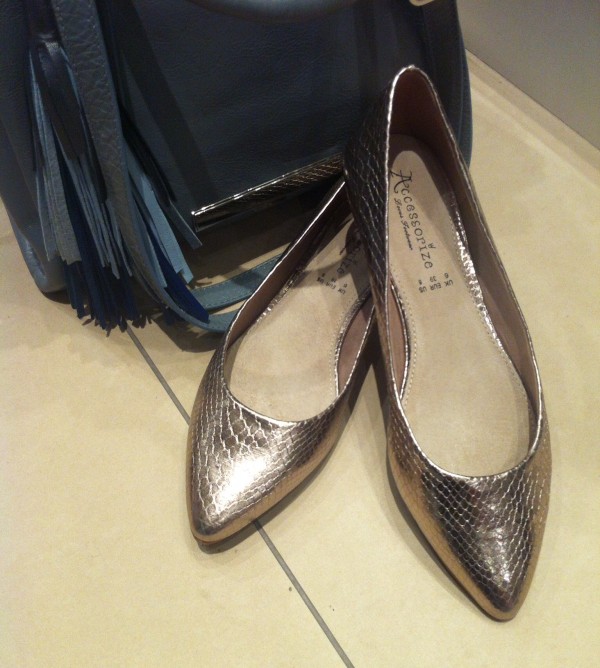 shoes – ACCESSORIZE
(available in store in TOUCHWOOD)
Thank-you for reading