LIKE A SWAN ON THE SURFACE!!!!
I've been like a swan on the surface but paddling away like mad beneath! I've shopped 'til I've dropped! If I'm honest I've been really disappointed so far this season by what's on offer on The Great British High Street. Designer labels will always be in a league of their own and this is an area that I will leave to lust after. So, there has been a LOT of returned garments!! A Plethora of styles have looked super tempting online in their glossy alter egos but in reality have sadly left me cold. Is it because of the strong 70's influence in fashion this season? Don't get me wrong, I like the "look" but it has to be on the smarter end of the spectrum for me to pull it off. Tailored separates paired with crisp flared trousers as opposed to the "festival" and "boho" vibe that only looks great on holiday or on sun kissed young free spirits! So what's a girl to do? Or rather, what's a grown woman to do! What have I bought so far this Spring? Probably not what one might expect! I was brought up not to say anything unless it was something nice so I will name no names but my favourite retailer and my "go to" for affordable and up to date style has failed me so far. It's been a good thing in the long run as I have had to practice what I preach and seek style for elsewhere. I wanted some new basics. Jeans, pumps, tops…. you know? The usual!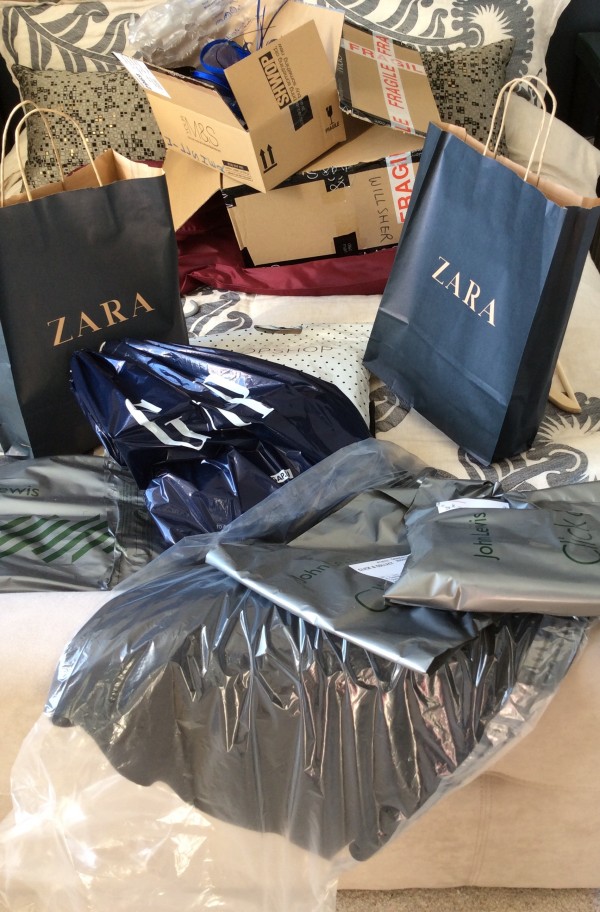 SO BACK TO BASICS
I know, I know, I know!!! spring/summer 2015 is all about the flared jean, but guess what? Those bags were full of failed attempts! I don't know about you (have you tried flares yet?) but I have found them harder than skinnies to get a flattering fit. I wonder, on reflection, if it will take a while for retainers to find their groove with this new shape that has been in retirement while the skinny and boyfriend jean has reigned supreme. I soon lost the will to live as every pair I tried were frumpy, unflattering or shapeless. Obviously if i go high end price points here I might be more successful but I don't like investing too much money into a trend. I will pay out for quality wardrobe warriors but not a fad and anyway I have a few pairs of flares in my wardrobe that have stood the test of time because, lets face it, the 70's isn't anything new to us fashion veterans. So my buys include a pair of skinnies! TOPSHOP has won me over with their BAXTER skinny jeans in washed black finish (£40). A high cotton content "real" denim pair of jeans. They feel like the jeans we used to remember that were made with out all those wierd none denim components that added stretch so they fit the masses. For this reason, they won't be for everyone. I love them so much I bought two pairs for fear of being without my new fave jeans! The washed black finish makes them more versatile for now as they are way "cooler" than jet black; can just as easily be dressed up or down and take being paired with high colour and neutrals alike. If you love your stretch then try H&M's new "BODY SHAPING" skinny jeans – link. At £39.99 they are more expensive than some of their other styles but offer a superior fit and actually decent value for money. They are super soft; super skinny. super stretchy and come in three leg lengths too!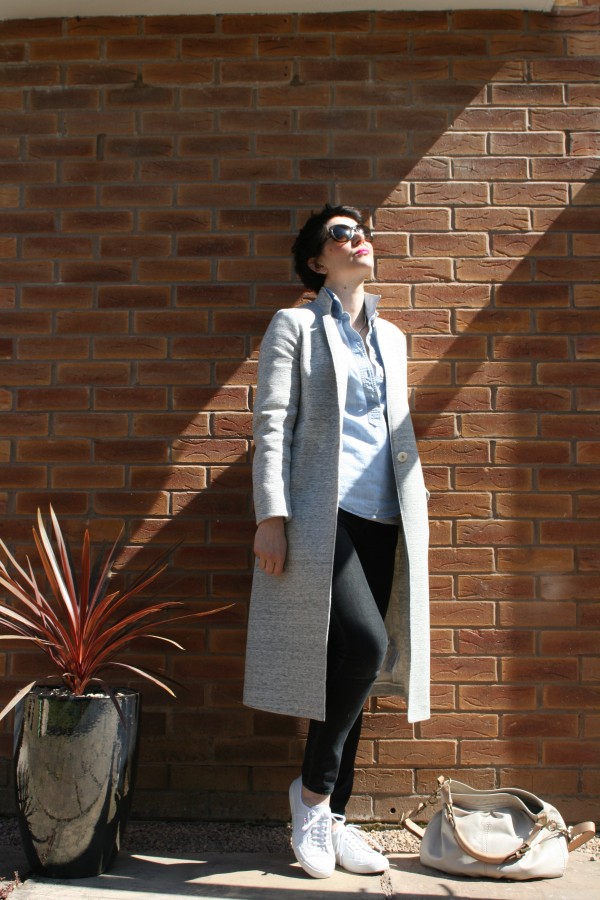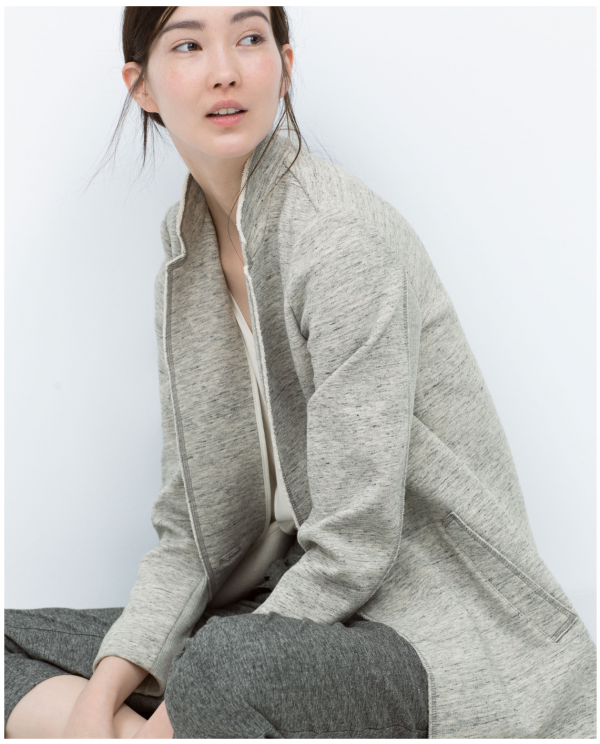 Zara coat as per previous blog post
TOPSHOP Baxter jeans
THE BATTLE OF THE BRETTON
How hard could this be??!! All I wanted was a white one with a cobalt blue stripe. I'll cut a long story short here and say I found it in ZARA. 100% organic cotton and a snip at £12.99. What made it a keeper apart from being white as opposed to ivory was the fit. It was fitted!! It gave me a waist and was perfect to tuck into skirts and trouser as well as flattering when worn loose with my jeans. It comes in other colour ways too. Not rocket science but a great little find never the less and rewarded me with the satisfaction that for the price I could complete lots of outfits in my wardrobe.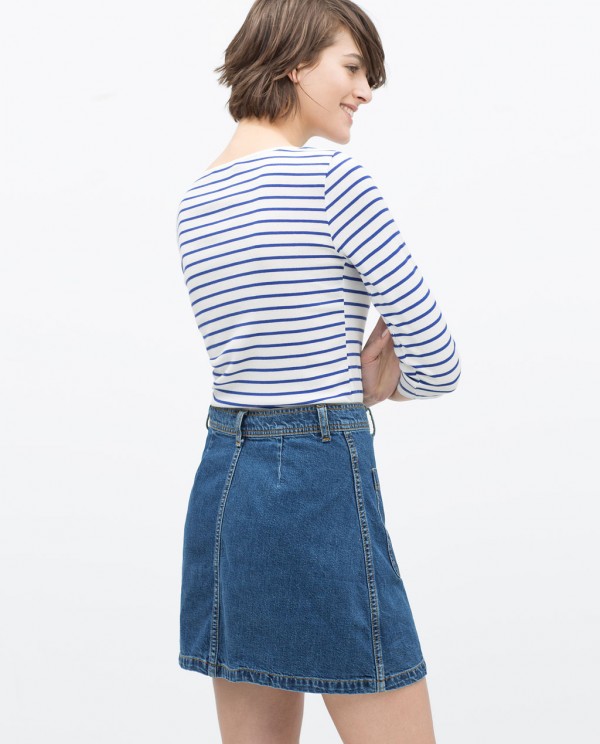 http://www.zara.com/uk/en/woman/t-shirts/long-sleeve/organic-cotton-striped-t-shirt-c401009p2523034.html
PUMPS OR PLIMSOLLS
Now here's the thing!! I LOVE my heels but I needed some flats so off I went! I tried Stan Smiths, Converse, various Adidas, Vans and Superga. I came to the conclusion that I liked the Italian styling of the SUPERGA pair best. I was thrilled to find a pair in leather and in half sizes at Office Shoes. Look at their website for all their other colours and finishes including metallics. Different brands suit different personalities so it's a matter of deciding if you steer towards America preppy; have a soft spot for sports lux or are in love with European chic!!!!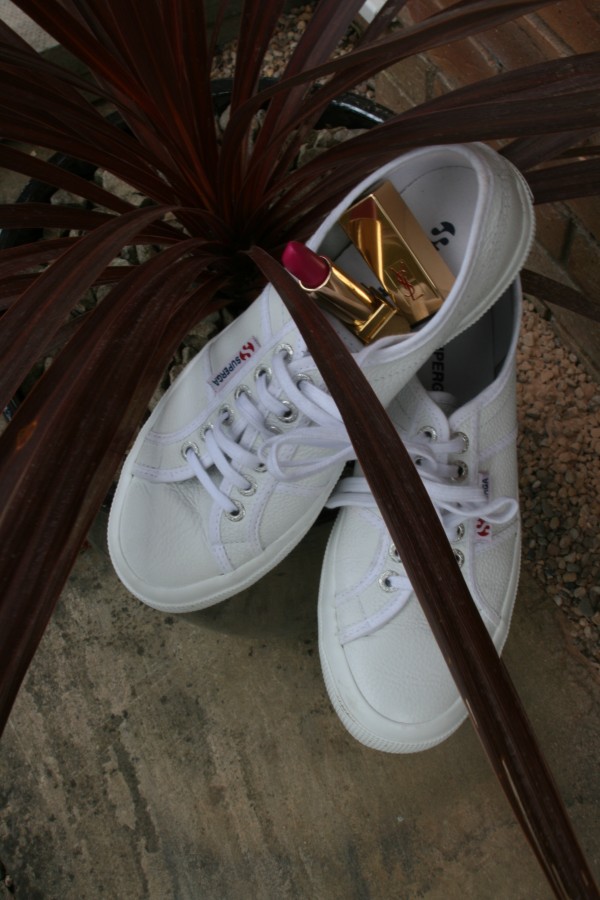 http://www.superga.co.uk/item/Brand_Superga2750Efglu_359_0_1203_1.html
I hope my funny little likes and dislikes; my obsessions with perfection and my mistakes are helpful in some way? I realise we all have different styles and requirements by I hope that my quest for a few basics on a budget has been an interesting read if nothing else.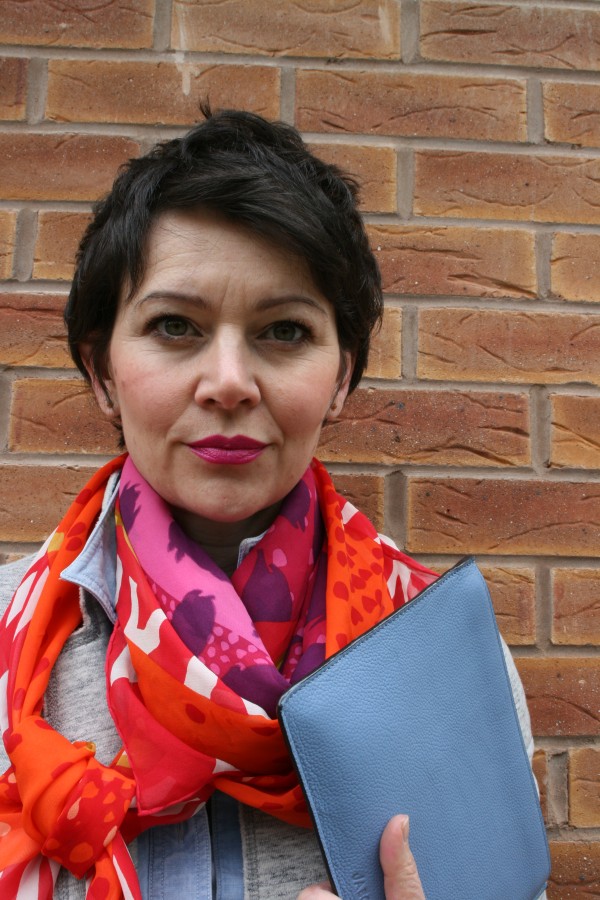 Note to self! Must add colour!! Next blog post to follow, how to introduce colour into your Spring wardrobe.