WHAT ON EARTH IS HAPPENING?
When I first started this post I thought I'd do a massive essay about this season's trends. I started then I thought, actually, what's the point? Scary thought! Have I lost my enthusiasm after all these years? Has the holiday been too long? Does any one read this stuff? Do they care? Do I care? Oh my I was spiralling out of control. Who am I if I don't love THIS anymore?
PANIC OVER!
I woke up with a fresh head on my shoulders this morning and I realised it's because (and I have been saying this for a while now!) ANYTHING goes! Those fashion editors at all the glossy magazines must have headaches from trying to make sense of it all. I'm not admitting defeat as I could make a list for you in black and white but it would be a list longer than my Tesco shopping bill after the school summer holidays with three (OK two small ones and one larger than average one!) men in the house! I'll start just so you see my point! There's a huge 90's revival bringing along with it new romanticism, frills, velvet, embellishment and chokers; there's weird shoe styles that will make your toes curl; there's still plenty of sportswear influences with Ballet themes being on top form and there's military spins on side stripe pants with pea coats galore. So you see anything goes. Wear an ankle boot (the sock boot holding strong); an over the knee boot; a fringed boot; an embroidered boot; a velvet boot; a boot with a block heel; a super slim heel or no heel!!!! Wear super slim styles or super oversized, really it's up to you. Seriously, if there was ever a time not to worry about what's in fashion, it's now! This is great news for some but confusing for others. Those that like rules may struggle and look back on decades that were clearly defined by their look with fond nostalgia. The rebels out there will flourish. They will throw caution to the wind and rub elegance in our faces by going so far as to mix there references up and give us looks to lust over! Will I be a maverick and mix it up or will I stay true to old school style?
JUST BE YOU!
The answer is just be you! It's not rocket science if you just try. Try something new. You never know you might just like it! Develop your inner mojo. Follow your gut. Ask yourself before you buy it, "will I wear it?". If you like what you see and a new style makes you feel good then by golly wear it! Some of the best style and ground breaking fashion trends have come from clashing references and juxtaposition. A bit of lace with a leather biker jacket instead of a band member T-shirt adds a feminine lilt. A pair of very high heels with masculine attire whether it be tailoring or a pair of boyfriend jeans will shake things up. Loafers with a floaty dress will take the sickly sweet from the look. Put black accents with white jeans and avoid the "captain's table" nautical predictable stripe! These style ideas are easy to put into practice. Opposites attract! Have a think? Have a go! There is no one in this world can say you got it wrong. I've said this before too – not everyone will like everyone's choices. They might not like it but if you do it well, no one can say, it's not good!
THE LIST THAT NEVER HAPPENED!
Yeah this list shmist! Didn't happen! I'm just going to keep buying and wearing what I darn well please. If it makes my heart sing I'll buy into it. If not, it's history and I'll leave it well alone. There is so much of this Autumn season so far that I know is not for me. There's some seriously ugly shoes going on and there's no way I'm going to spend my hard earned money on the trend! My feet aren't the most gorgeous part of my body at the best of times so the ugly shoes can go make their statement on someone else's feet!!! Just saying! I was brought up to not say anything unless you say something nice! So, those shoes…. you know who you are!!! (wish I could do a crying with laughter face emoji on my blog).
WHAT NEXT!
My list! All mine! It's what I do though, isn't it? I make sense of what I already have, add in a few bits and the magic happens. Pray tell me, what are those "bits" I hear you cry! I know you didn't but I can hope! Well, come closer!
THE LIST!
It's short and sweet. "Thank goodness", I hear Mr.W cry! Now that I did hear! All I need (emoji!) is a coat (Birthday present tradition will kick in, it's nearly October, right?); those blooming elusive basic (but modern and super exciting!) pieces of knitwear; a pair of weird (but elegant and NOT ugly) mid height work friendly court shoes; a pair of sock boots (buying into those!) and maybe; just maybe some sort of midi skirt action???  That's OK, isn't it?
HALF WAY THERE!
Of late we have been trying really hard on the photography for my blog. It's not easy on a daily basis as my boys aren't really into fashion photography (yet!) so poor Mr.W has been given the task. He does an amazing job. My photos are not Photoshopped unless we need to remove someone else's child from the back ground or a bag strap that blows across the image or it's so dark you can't see anything!!! It's as real as a photo can be. This explanation is to prepare you for the following photo which returns to the days when this all started and the shaky selfie in the mirror is back! Mr.W is back at work and I wanted to get this post out as quickly as possible.
MARMITE!
This is the first on the list. The new coat, not Marmite! I stalked this coat for at least a week, if not two. I had bought it in my usual size but it was HUGE! Oversized in not a very good way. Drowned is the best description!  The smaller sizes were out of stock. Eventually my patience paid off and I got the right size. This isn't for everyone but there's no denying that it's a beautiful thing for the money. The coat pictured beneath is from H&M and is 100% wool from their Premium Collection bought on line. I realise that it is oversized and that tailored clothing can be more flattering but I'm a sucker for a coat that I can throw over everything! There is nothing worse than trying to squeeze your jumper clad arms into slim sleeved outerwear which can end up looking bulky and awkward leaving the wearer uncomfortable, over heated and feeling "stuffed" into their clothing. Even if you don't like this coat it's a range that is definitely worth a look at. Their cashmere jumpers offer great value and quality for their price tag. I often take the time to see what this range offers as on the odd occasion their Trend Collection is Premium too so it's a great way of getting some "of the minute" fashion of decent quality and at an affordable price. I trust H&M too with their sustainability promise and trading ethics.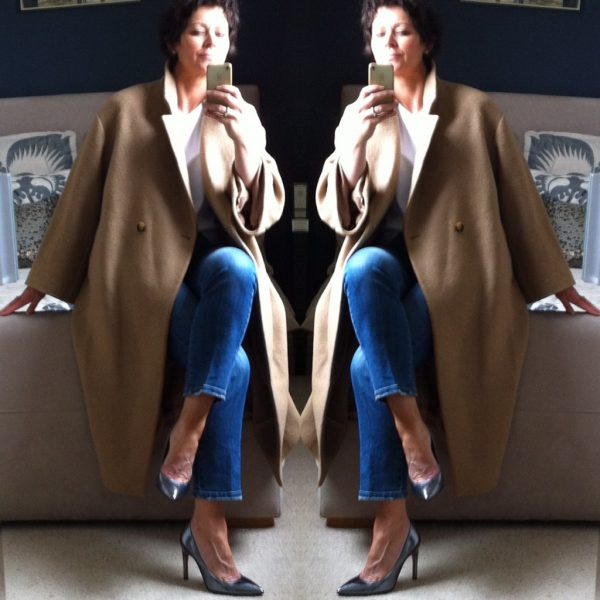 COAT – H&M Premium collection 100% wool and FAB-U-LOUS! (I don't know what's wrong with me this morning?!)
I've got a serious dose of the sillies!
FOLLOWS ON NICELY!
A step to the side? Not really. I think this just makes my point rather nicely. A brand you may or may not of heard of? ME+EM. Well, their new Autumn looks book landed on my mat and I just had to share this for so many reasons it is hard to put into words. They have used Daphne Selfie who is the oldest working model in the editorials. It just illustrates perfectly that fashion can be worn at any age. Things are changing and the fashion industry is beginning to realise that we are all very different and that age and size shouldn't matter. A stylish woman is a woman who is happy. A smile is your best accessory. Have a look if you get a minute. She is an inspiration and I applaud ME+EM for being brave and fearless at a time when few other brands are taking risks.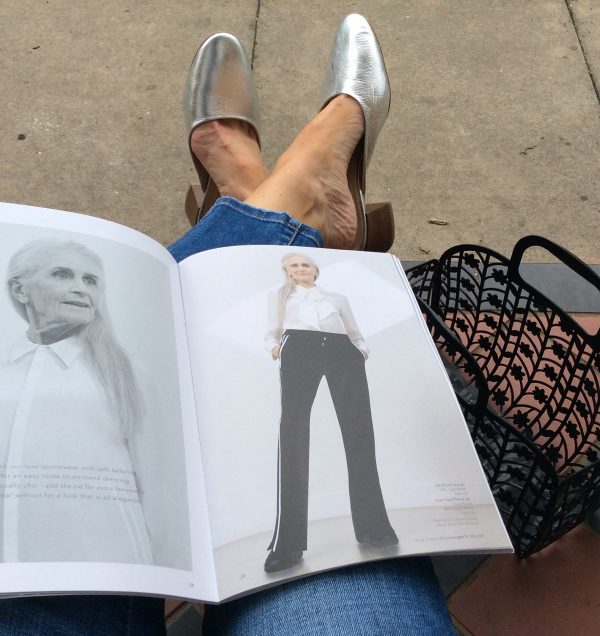 ANOTHER FAVOUR TO ASK!
I do hope that you get some enjoyment from my blog. I have a favour to ask! If you are on Instagram would you follow me please @solihullstyle? It's a place where I put pictures first and lots of extra stuff that might not make it to the blog. Thank you! x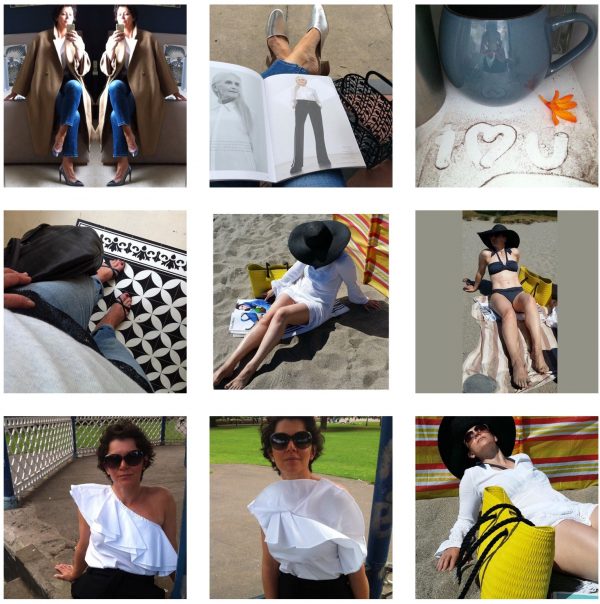 Thank you for reading as always. Full steam into next season then I guess! I'll keep you posted on anything weird (there's plenty of that!); wonderful and exciting stuff I come across over the weeks ahead. It's London Fashion week next week too so if you're really savvy you'll keep an eye out for what's happening next spring!