Sleeveless Coat
Nuts? – I'm converted; new trend? – not really as they've been around for a good few years now; can I get dressed without one? – definitely not!!! I have quite literally lived in this waist coat since I bought it a few weeks ago. The weather's getting trickier for taking photos as there's plenty of rain and the light indoors isn't good enough any more for taking selfies in the mirror. I had been desperate to get this coat "out there" so I was on a mission today. Where there's a will, there's a way! I roped in a poor unsuspecting, though very kind, life guard at the pool side into taking a photo. He said he had no great photographic skills but I think he did rather well. It was me that was more embarrassed I'm sure! It has quickly become apparent that this item won't hang around long in the shops. My size was out of stock in the local branch but it is now available on line. Everyone has wanted to know where it's from and jaws drop in amazement when I say where I purchased mine. Actually you won't believe me! It looks like a decent quality wool blend coat minus it's sleeves. Well it's not! It's made of a really dense fleece fabric. What a clever design team at New Look (I heard those jaws drop!) They've therefore managed to keep the cost down to only £29.99 by using this material. If you can't wear wool or find it itchy against your skin then you're in safe hands here! Joking aside, the fabric has made it feel really cozy and comfy. There's no excuses now for wearing that tired old fleece you keep in the car other than when walking the dog! Why I love it so much? It smartens up my jeans. That's always a winner for me as I live in jeans. I've worn it so far with my girlfriend jeans (my current uniform) and heels with various combinations of silk blouses and or jumpers underneath. I'm planning to ring the changes as I can see it worn with distressed jeans and sneakers or with cropped flared jeans and boots or with full length flares and high block stack heels or with……… you get my drift I'm sure! This sleeveless coat has worked so well for me at this time of year. It's perfect when the weather's a bit iffy but the shops are hot!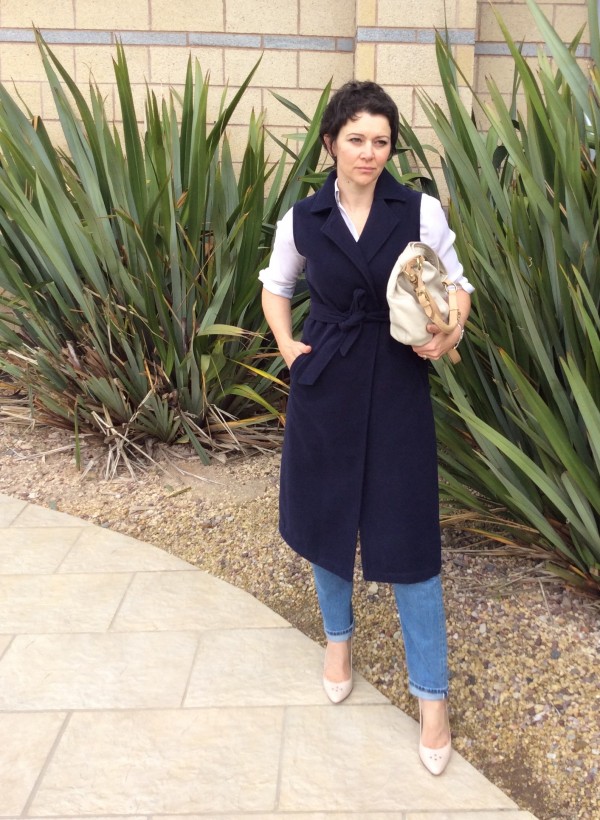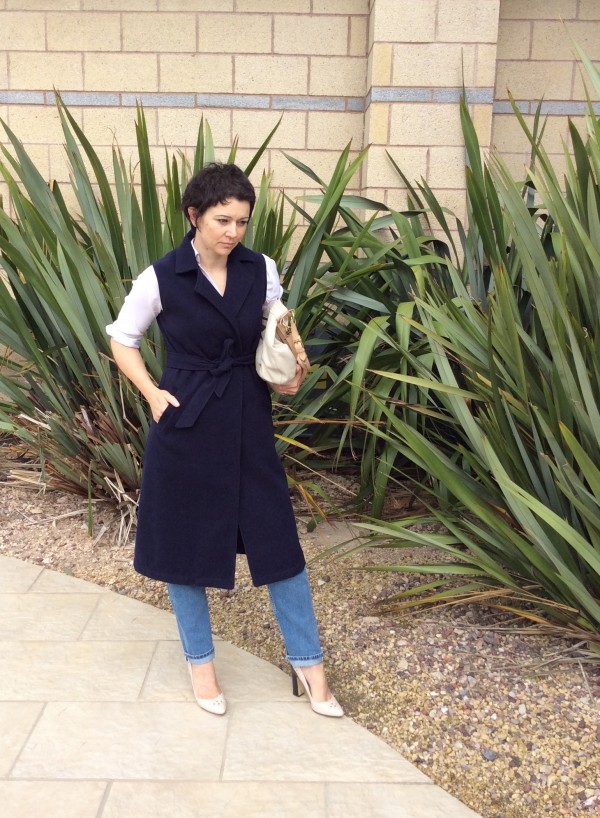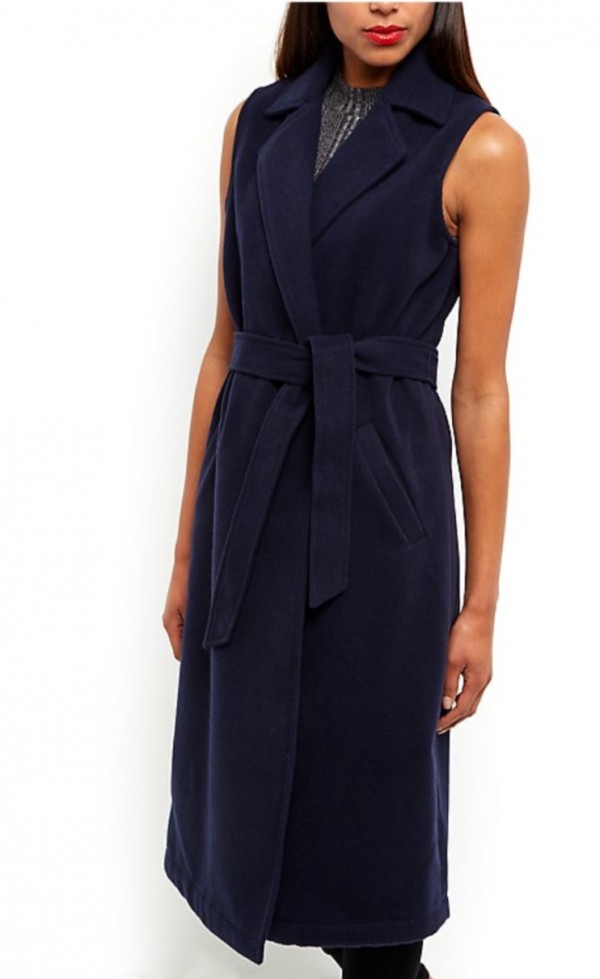 SLEEVELESS COAT – NEW LOOK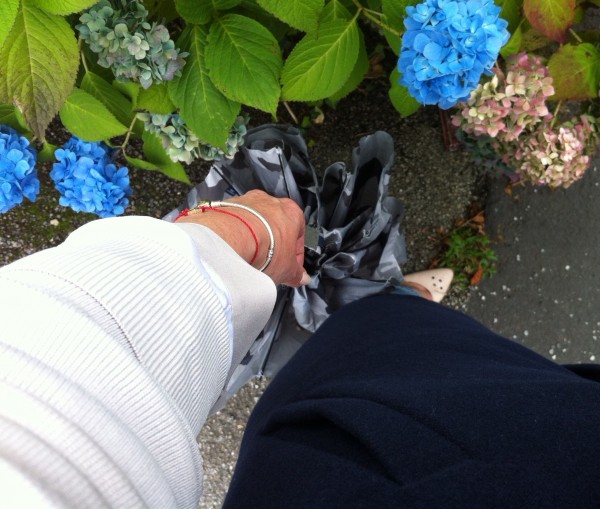 RIBBED SLEEVE JUMPER – REISS , SILK BLOUSE – THE WHITE COMPANY
Show case those sleeves. It you have the same colour layering garment underneath you can give these sleeveless coats a sleeve in a different texture. Maybe try a skinny rib jumper (very now!) or keep the contrast and the look of a waistcoat by wearing with a different colour beneath. The options are endless!
MIND THE GAP
My block high heels. I love this type of heel. They are more pavement friendly than stilettos. They feel far more secure when stomping up the hill on the school run while still looking perfectly at home paired with the slightly looser leg of a girlfriend jean.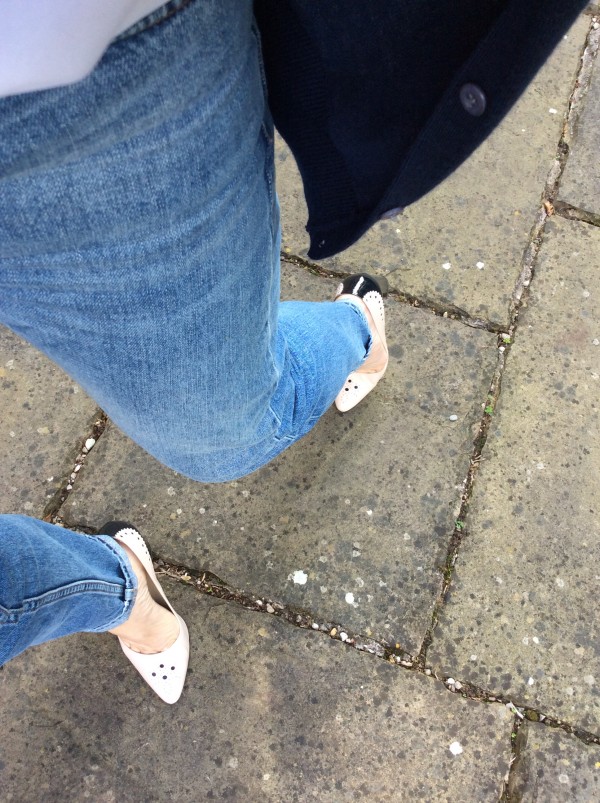 GIRLFRIEND JEANS – TOPSHOP  (similar here)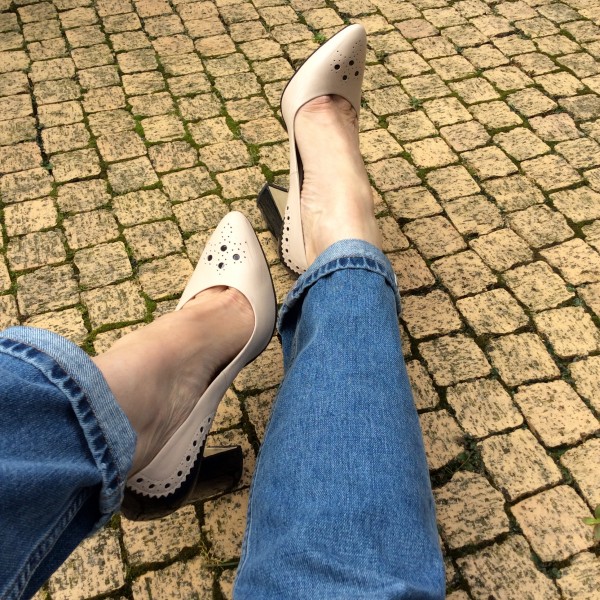 NAVY HIGH HEELED BROGUE COURT – HOBBS (old season)……
… but I like these
My shoes aren't new but with all things retro on the fashion radar there's plenty of block heeled shoes (and boots) available. As I walked back to my table after going to get a drink from the cafe I was flagged down by a friend literally shouting " that coat you were wearing, where's it from?" I told her! (did you hear her jaw drop too?)  "Noooooo" she said. "yes!" I said!!!
I'm going to keep this blog short and sweet. I could give you countless pictures of other sleeveless coats on the high street some of which are four times the cost of this little baby but the whole point of this post is how utterly thrilled I am with this one! It looks good (good enough for me!); it's in my favourite colour and it didn't cost the earth.  It might not be for everyone but then fashion rarely is. Take from this what you will, even if it's just something to read whilst waiting in the car to pick up your little people.
N.B.
Back to those sneekers. I'm a bit partial to a stripe or two or three if we're being picky! I love a good Breton top like the next mum. I love a classic too especially when it's black and white. These just seemed to have my name written all over them! (You can get your Adidas customized so this is possibly doable too!) They therefore suddenly became a "need". You know? I need those trainers because they'll be perfect for….. or is it just me who says that? I've mentioned them in this post as I plan to dress down my sleeveless coat and because the girl in OFFICE shoes said they didn't have my size in stock and that they couldn't get enough of them from Adidas to meet demand. With very little research, other than the obvious, look on the Adidas website maybe? I found my size. If you buy from Adidas they stock half sizes too and if you register you get 15% off your first order. I'm nearly always (if it's available) a size 5.5 but in these I kept the size 6 after trying both sizes. The rubber toe cap makes them feel a bit rigid around the digits.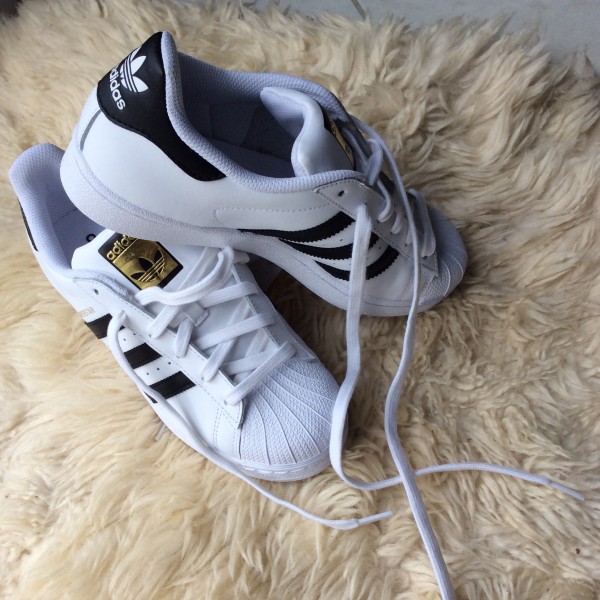 ADIDAS ORIGINALS – SUPERSTARS
TRIAL RUN
This sleeveless coat has been a trial run for the kind of full on winter coat I've been looking for. Your requirements for a winter coat might be very different to mine. What you're looking for in a coat this winter will depend on a multitude of different factors from budget to style; from length to fabrication and from colour to practicality (boo, hiss to that!). For me? I'm looking for the next thing. A style I haven't got. Yes that does exist! Basically I was after this sleeveless coat; a little more oversized to accommodate layers and with sleeves. I've enjoyed the ' V' neckline and found it to be very flattering and easy over other pieces of clothing. The tie belt looks right for now and gives me a waist. There's a bit of a tradition in the our household (self made) that I get a pair of boots or a coat for my birthday. It has a lot to do with the time of year. This year is no exception and it's a coat! Thank-you Mr. W ! I think he has just about registered the ZARA bag in the spare room? What did you all expect? He's hardly going to get me a talc and soap set and get away with it is he?! No doubt this coat will feature in some future blogs (sorry Mr. Life guard) some time after my birthday! It's a while yet so I wanted to get it "out there" too. I've scrolled past this coat so many times on the ZARA website and never noticed it. Why would you? The pictures make it look like something… I was going to say " your granny would wear" but my granny was more stylish than this! Any way my point is that the pictures don't do it justice. It's 45% wool and it's not that awful scratchy wool blend fabric that's really cheap and hard. It's super soft and rather elegant and stylish. It's oversized in a good way with drop shoulders so it'll take wearing layers underneath. It's definitely worth a try if you can find one in store. I'll throw this on over everything. As the price of coats go, ZARA has redeemed itself here.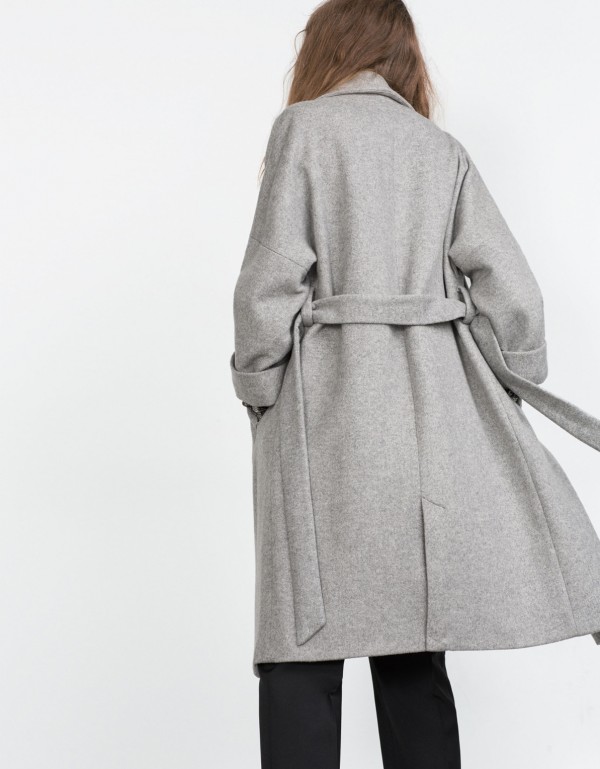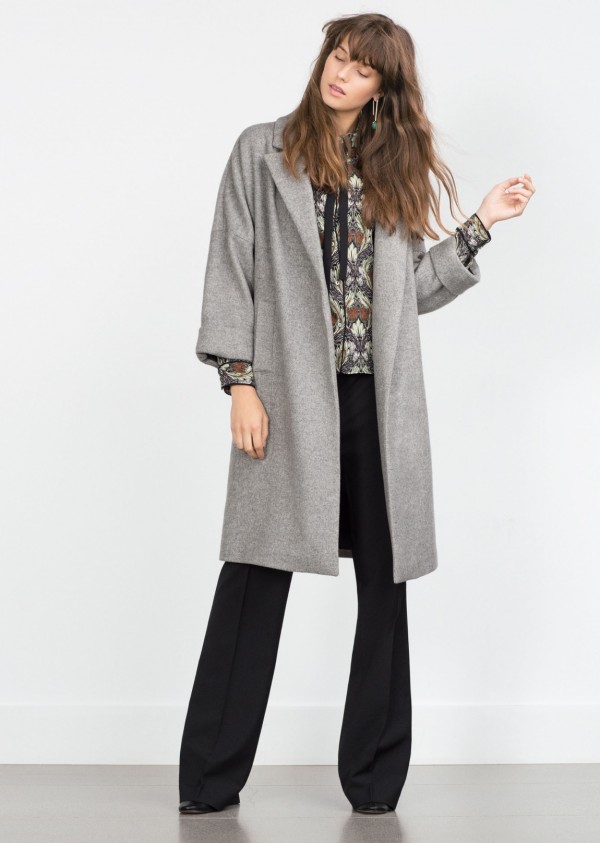 MAXI COAT – ZARA
Thanks for reading!!!