MY HOLS!
Before I went on holiday I posted a few outfit ideas on Facebook including a few things that I find helpful when packing to go away. Here's the thing. What I wear on holiday can be very different to what I'd wear at home for normal daily duties. My day always entails a school run so there's no way I'd wear denim cut offs then. Holiday, however, is a whole other story. If the sun is shining and everyone is on holiday mode then I'm happy to wear a little less than normal. I'll wear no make up (except Ultrasun factor 50) and let my hair dry naturally. Anyone who knows me knows that I don't actually like my photo being taken and the thought of a swimsuit shot fills me with dread but it's the world we live in now with social media that means I have to throw my inhibitions aside and try to smile when my insides are turning! I love wearing blue on holiday. The colour of the sea and the sky. I love my denim shorts and I don't enjoy buying shorts! I bought them at least a size too big to give them at nice relaxed slouchy vibe and give them a bit more length down the leg. The problem with this was that a loose top felt wrong for me. Too sloppy! This year with the wrap blouse being mahoosive I found something that worked. It balanced out the volume in the bottom half and felt more current and feminine than an over sized T. It's slightly cropped proportions weren't a problem with a one piece swimsuit underneath! We were on our hols in Cornwall so the weather was typically very British with scorching sun one day and torrential rain the next. On the best days we headed to Portminster Beach in St.Ives. Last year was all about the bikini but this year I felt the need for a one piece. I'm not sure why? Maybe it was subliminal messages from fashion trends and other blogs that put this little multi-tasker into my radar? Maybe it was that I've gotten so used to layering this season with our changeable weather that having an item that could be worn as a top with shorts as well as under shirts made more sense than wearing a bikini? Who knows but it took me a while to find the right one. I wanted a plain back swimsuit without too many straps that would leave tan line. Not that I'm into tanning. I tend to factor up in the sun these days. So, the outfit came together through a love of blue and filling in the gap between my blouse and my shorts!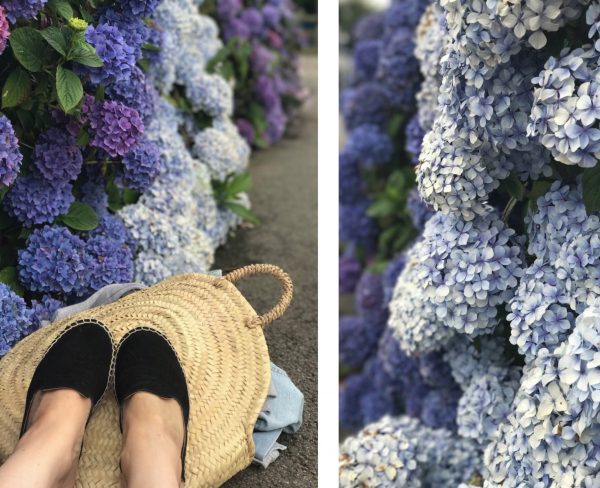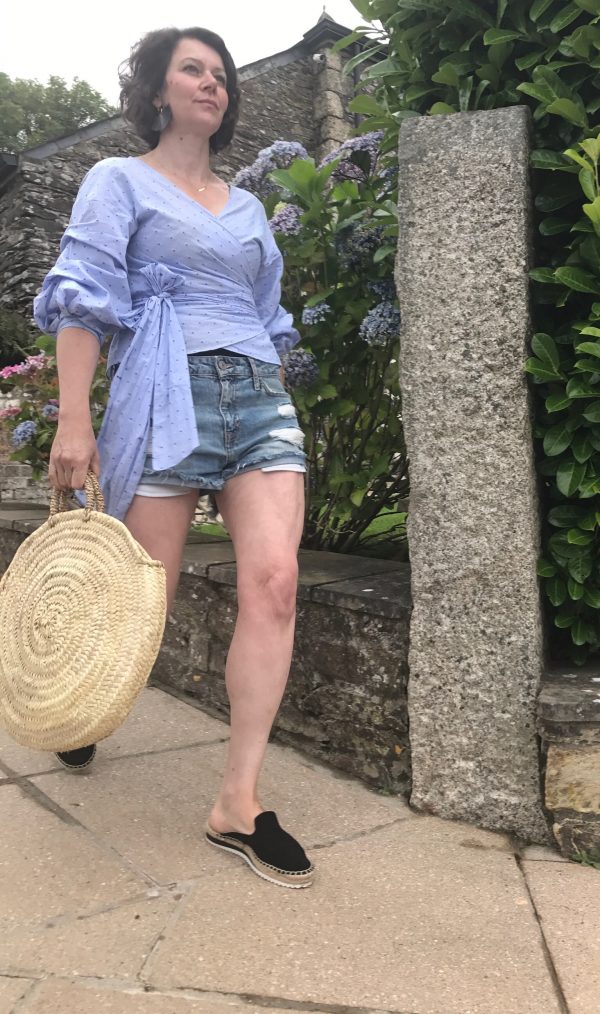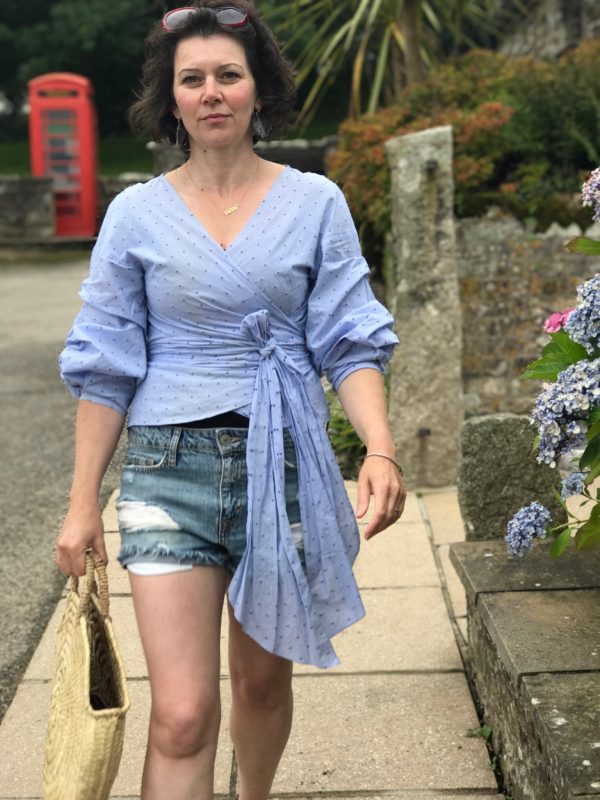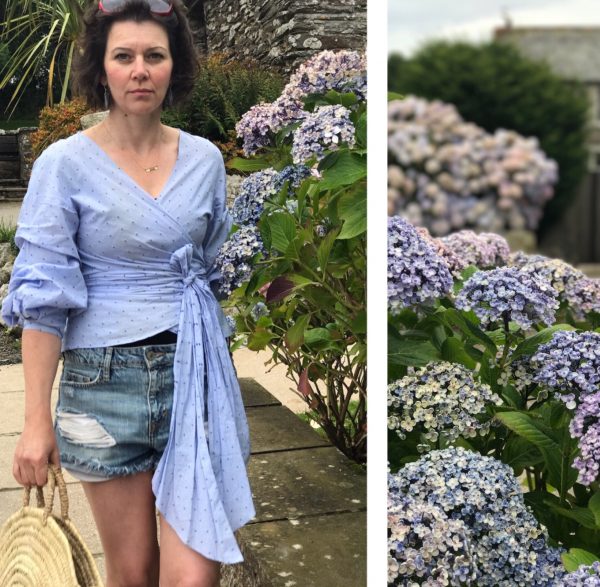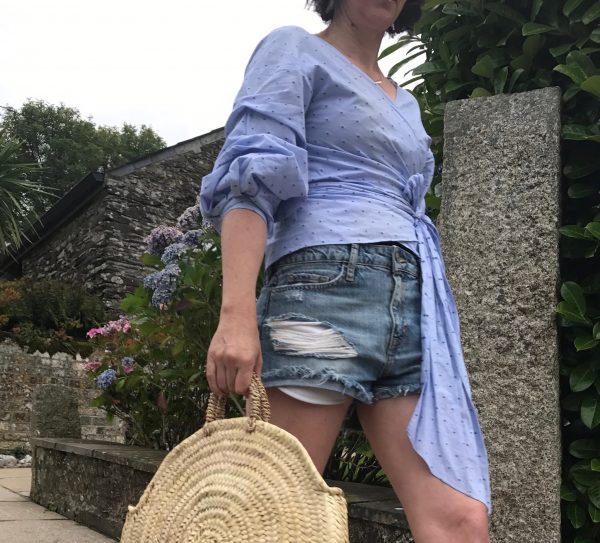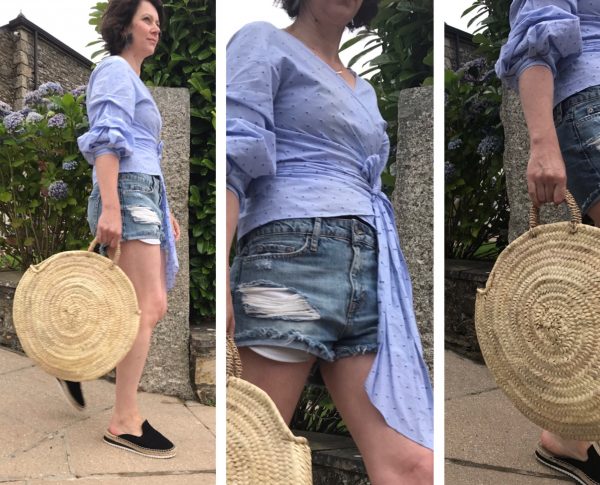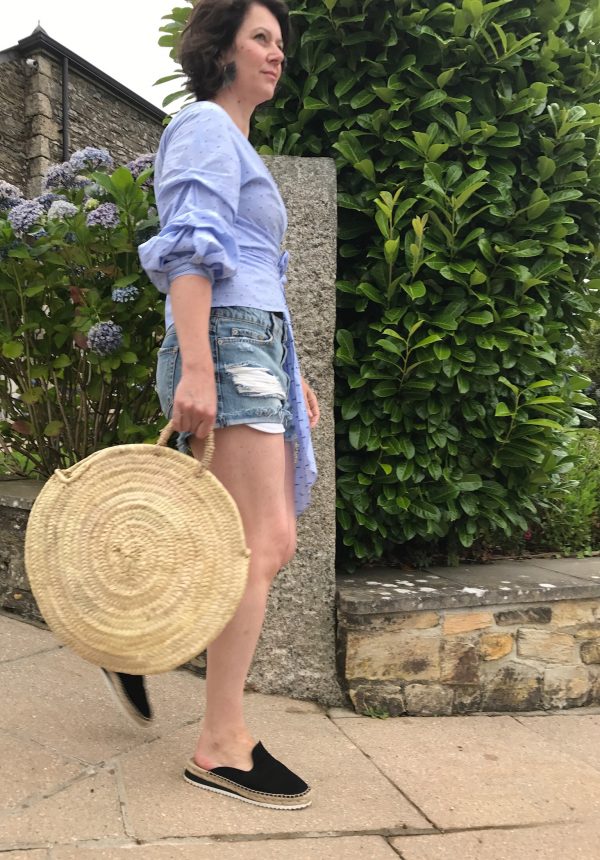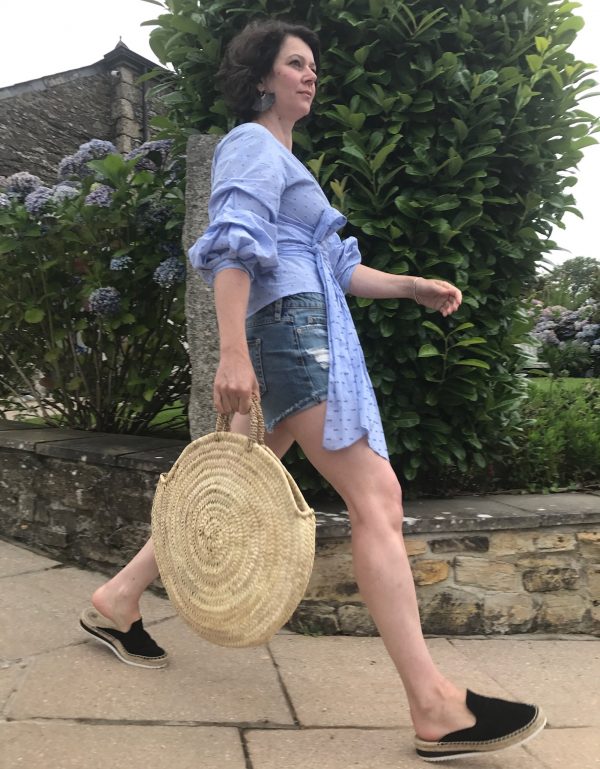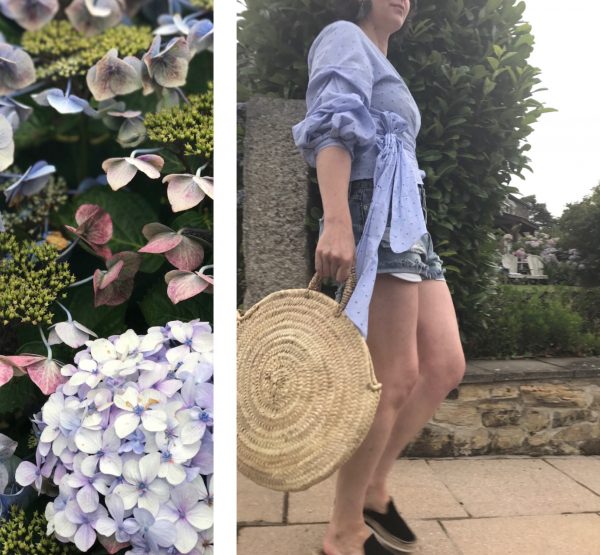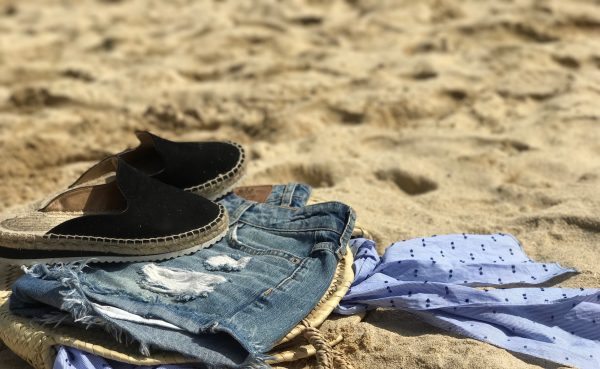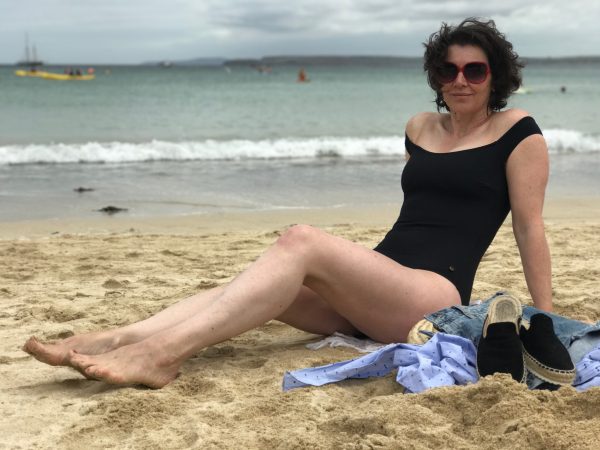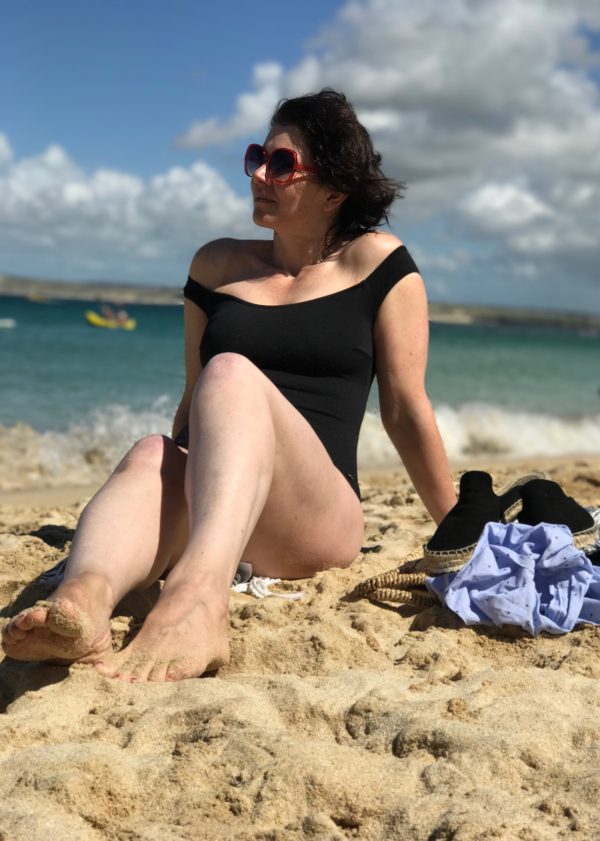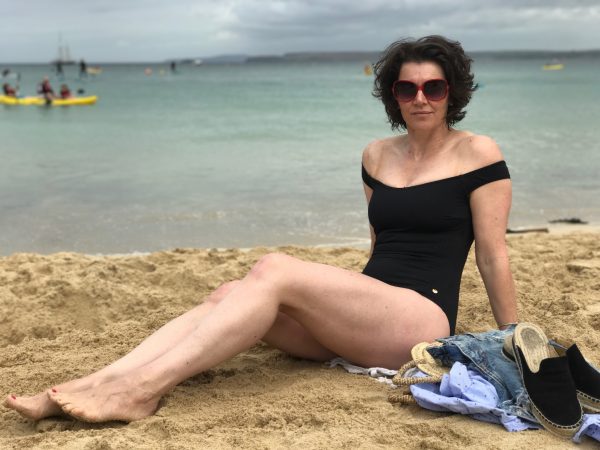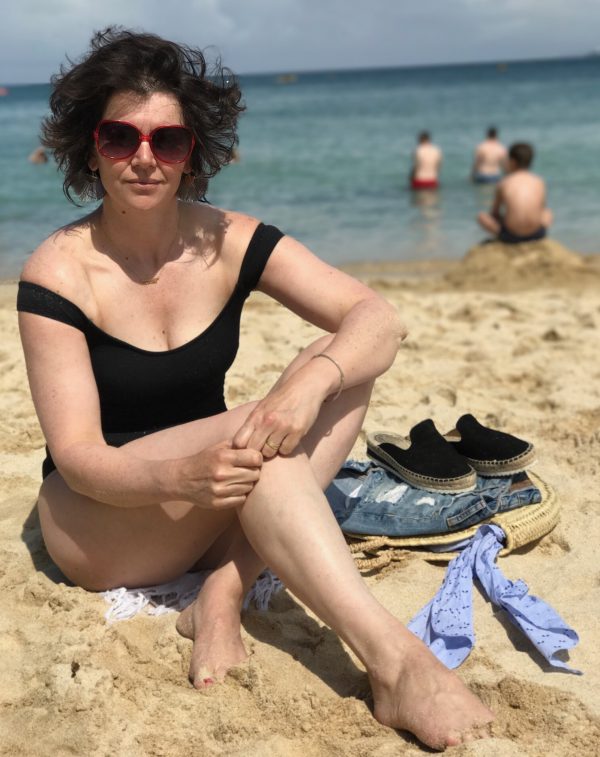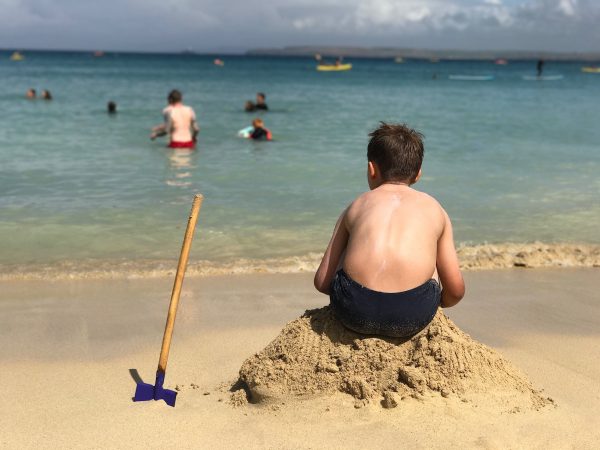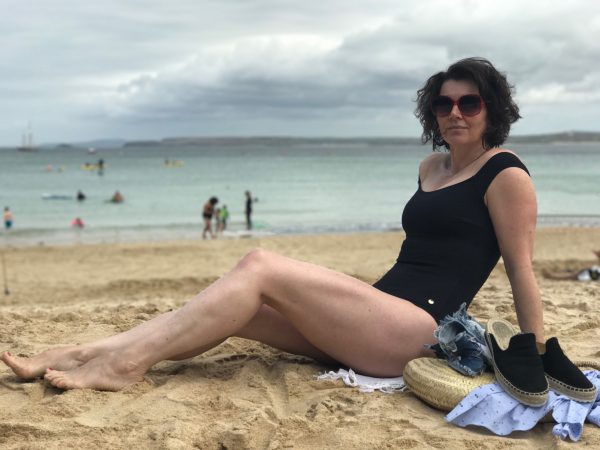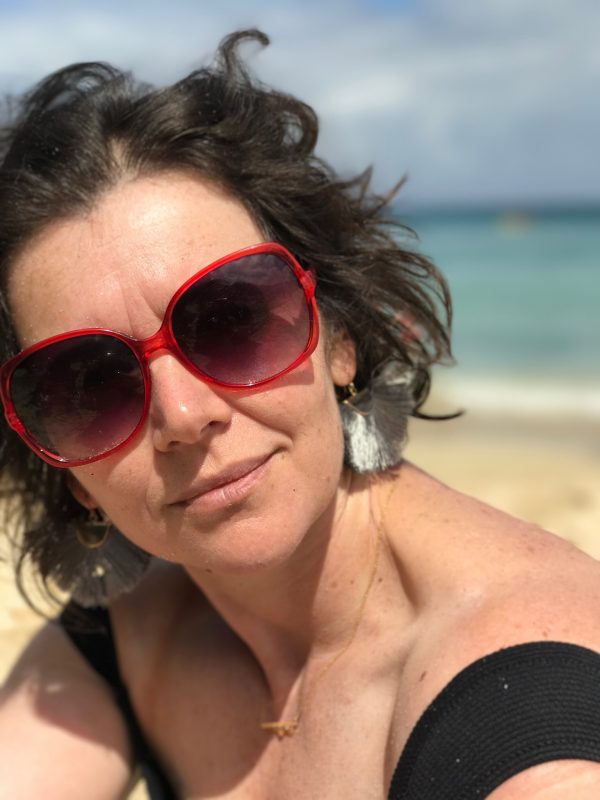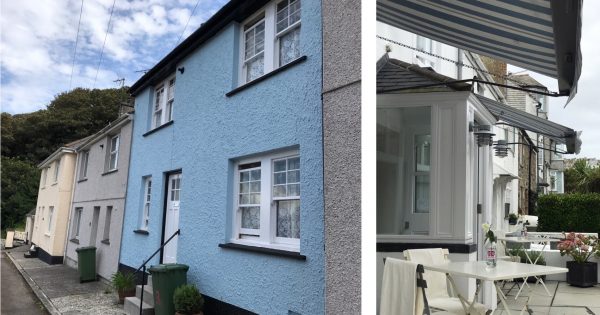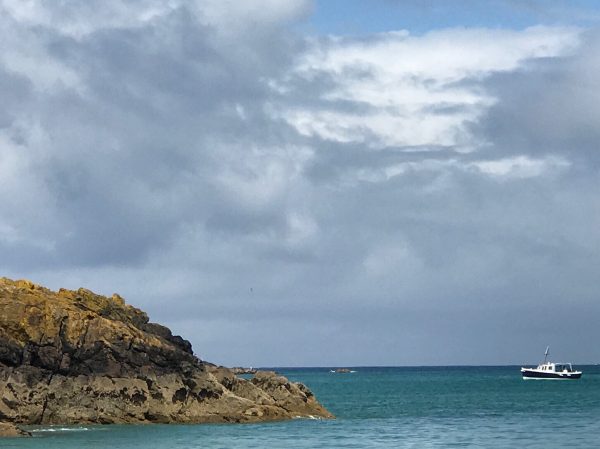 BLOUSE – ZARA (sale but try new season or H&M)
DENIM SHORTS – (old but widely available)
BARDOT NECKLINE SWIMSUIT – WHISTLES (sale but some sizes still available at Whistles stockists online)
MULE ESPADRILLES – DUNE (sale)
ROUND BASKET – BOHEMIA DESIGN (current)
EARRINGS- TOPSHOP (current)
NECKLACE – WHISTLES (sale but I'm pretty sure it's still available in store?)
SUNGLASSES – TIGER
Hydrangea pics on location at Tregarton Park St. Austell
seaside and beach pics on location at St.Ives and Portminster Beach St.Ives
Thank you for reading and I hope you've enjoyed the post. Portminster beach was idyllic and one of the most beautiful British beaches we've visited. We were camping near St.Austell and were by no means glamping! The kids loved it and no one wanted to come home! On a personal note, after all this is a personal blog. I'd like to thank my long suffering husband for taking the photos that are of me. I don't know how many times, I'm sure he could tell you, that I walked down that path! I'm sure he's sick of telling me to "smile" because I'm terrified in front of the camera but I'm desperate to get it to be worth looking at and to show the details I'm trying to highlight. Whether it's an earring; a neckline that can be off the shoulder or on; a bow on the correct side of the photo or a cute shot of my son on his sand mound in the distance!  So, Mr.W, "thank-you!"
PS: re swimsuit. I found it true to size. Often I find with swimwear that I need to size up. Not with this one. I'm wearing a size 10.
Oh, and by the way, if you read my post about buying holiday sunglasses? My £4 Tiger shades lasted the hols and came back in one piece!!!