GOT ALL THE GEAR!
My wardrobe is always evolving and each season I take note of what I was missing to make my fashion life run more smoothly! This year was no different and I got to reap the rewards of my efforts! In the sales at the end of last summer I bought this rash vest featured below from SWEATY BETTY. A brand which is well known for it's stylish and fashion trend led sportswear. I do love their styles but sometimes the price tag is a bit, err, well, ouchy! The sale rail made this little life saver do-able. I like to protect myself in the sun but I still like to enjoy swimming and getting into the sea with the kids, though this rash guard doesn't offer any insulation unlike a wet suit, it does stop my shoulders and back from burning in the sun. It's one of the best things I've bought and I'd wholly recommend thinking about having one in your swimwear repertoire. BODEN does them in season and various other swimwear brands too. Even though the thought of actually surfing scares the heebie geebies out of me as I'm such a chicken, I still felt like a bit of a surfy dudette in it! Another holiday hero was my OBAG. Gosh I love it so much. Loved it even more this year than last. Filled with sand; covered in suncream or holding the whole families wet swimming stuff, it remained un-phased and easy to clean at the end of a day of fun in the sun. I could put it down anywhere, on sand (particular fun with it's Obag beach bottom!); on wet grass or at the side of the pool. This year I was gifted some different coloured rope handles. In the picture towards the end of this blog you can see the pic from last year on the left and my bag in the same spot on the right this year. It shows you the versatility of the product whilst also illustrating the fact that it then worked with this seasons' holiday outfits. My bag now matched my espadrilles so I was good to go!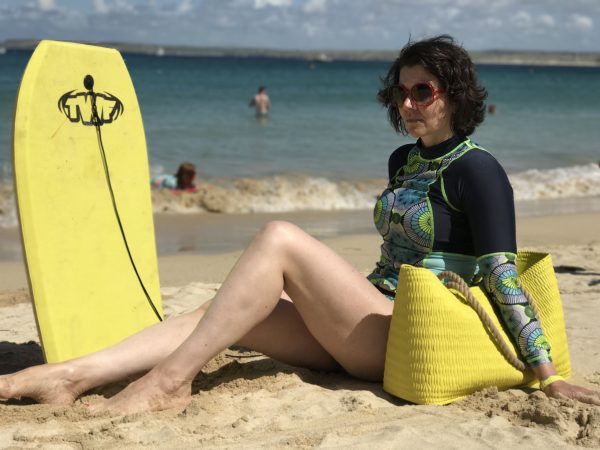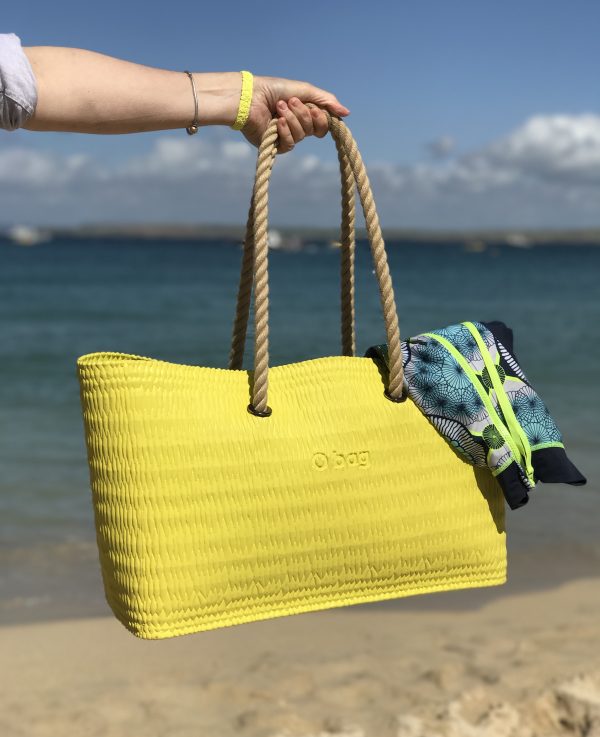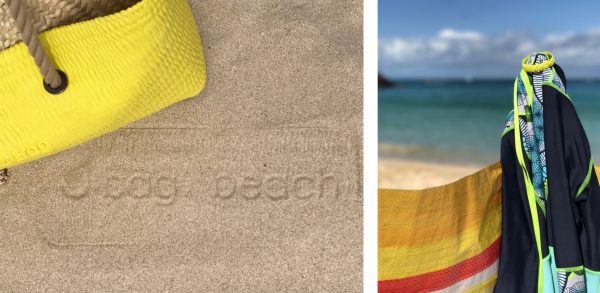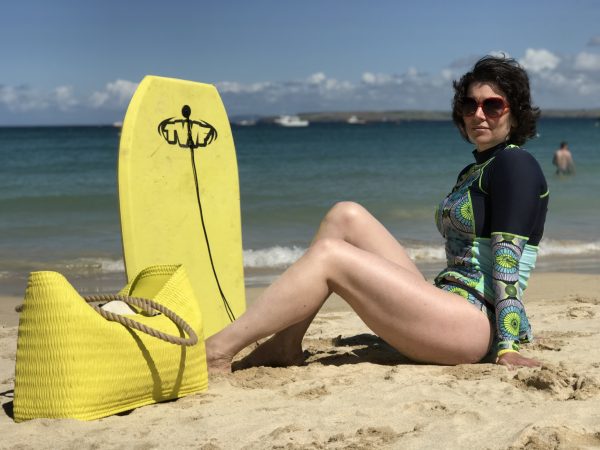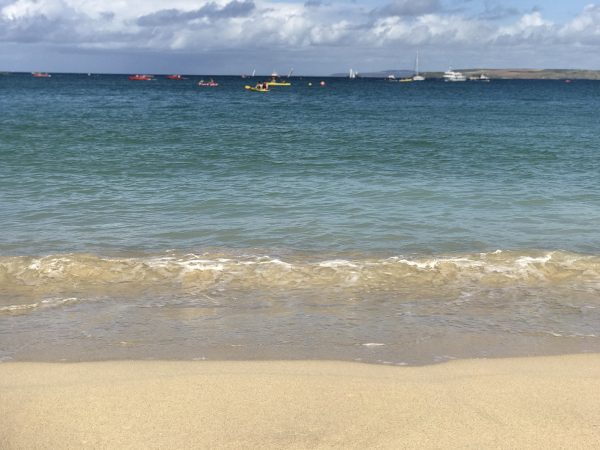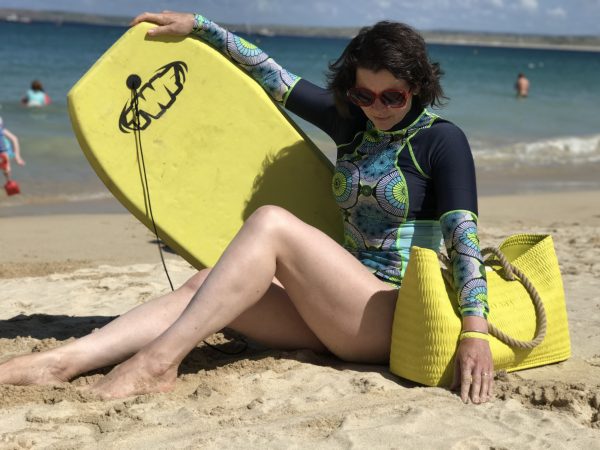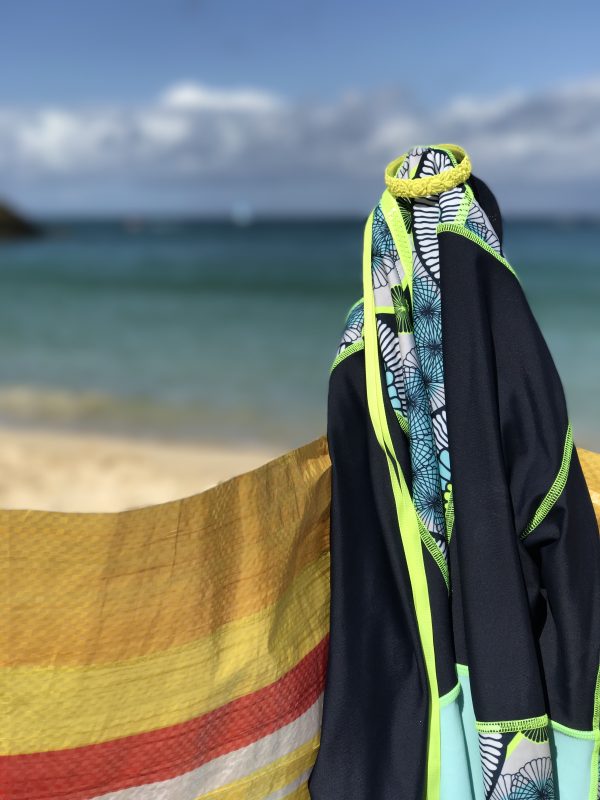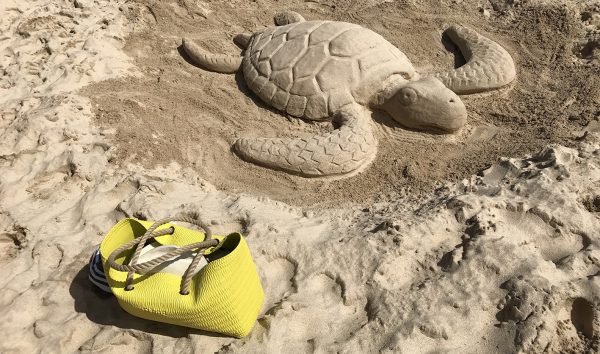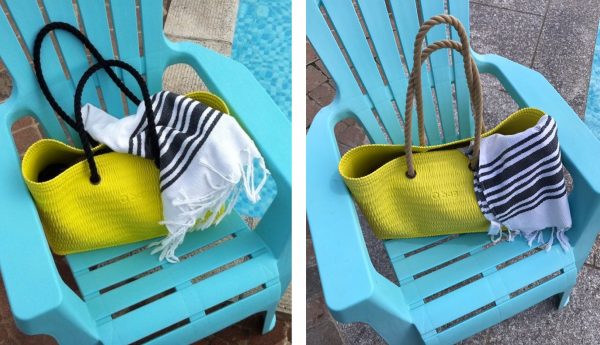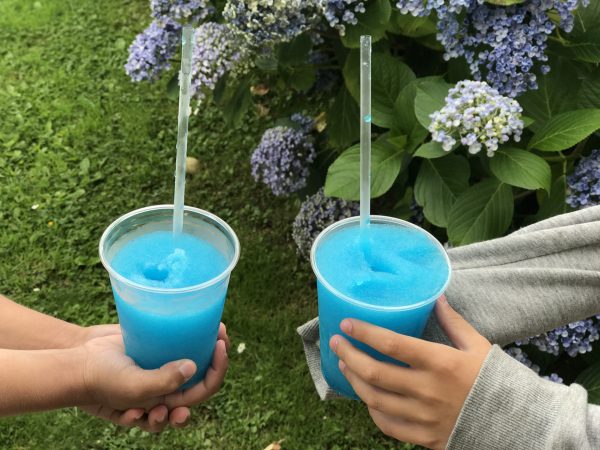 RASH GUARD – SWEATY BETTY (sale last year but similar here and matching swim bottoms here)
NB: I'm wearing a size small rash guard and a size medium swim bottoms
BEACH BAG – OBAG (Obag Beach classic here)
(long robe handles in black here and in natural here)
SURF BRACELET – OBAG (slim flower bracelet here)
SUNGLASSES – TIGER
Pics on location at Portminster Beach St.Ives
Pool side pics on location at Tregarton Park St.Austell Cornwall
I hope you enjoyed this post and thank you for reading. I think it really pays to think about what was missing from your wardrobe each season and buy accordingly when you're not panic buying. None of my pictures are filtered or photo shopped, the only changes we might make is to remove a child or holiday maker from the background. All freckles and blemishes are my own! Stay safe in the sun! Every good day by the sea should end with a sleep in the car on the way home; ready salted crisps and a slush puppy! If you're 8 and 10 anyway!
BTW, The turtle sand sculpture was the work of Mr.W all by his lonesome while the kids played in the sea! Once it was finished my youngest decided to stake his claim on the art work and stand next to it with his chest puffed up; arms crossed and proudly announcing to all the astonished passers by that it was his!!!