BIKER BOOTS AND DAY DRESSES!
The clue is in the title. I LOVE my biker boots. I bought them to wear watching the boys play rugby on Sundays just to feel a bit more fashionable really. I spend a lot of time watching my kids and I just got sick of wearing the same dirty old boots! I now have a problem though.. I love then that much that I want to wear them all the time! With black jeans on Sunday is fine and does what it needs to do to keep out the elements. Anyone who stands pitch side in an open field now it's got so cold will understand the clothing choices we just have to make. The rest of the time though I've been enjoying dressing them up! I like some femininity in my outfit when I'm wearing a style of boot like this. I wouldn't wear combats or blue jeans. Obviously that's a good look too…just not on me! I've worn mine with tailored trousers and a smart coat. I love the juxtaposition between biker style footwear and tailoring. Slightly unexpected. The obvious other choice would be to wear them with dresses and skirts. It's far too cold now to wear mine with bare legs and a midi dress….come spring I'm in! I wouldn't wear a midi with tights and ankle boots…it's just not for me. I do get the idea of opaques and shorter dresses and ankle boots though. I've always loved it on other people but never taken the plunge myself. For some reason I woke up one day and decided just to do it! I'm glad I stepped out of my comfort zone. Knowing what suits you and what you're going to wear can be a very good thing….it's our comfort zone. Today I stepped out of mine, to not do anything by halves, it was bright red too!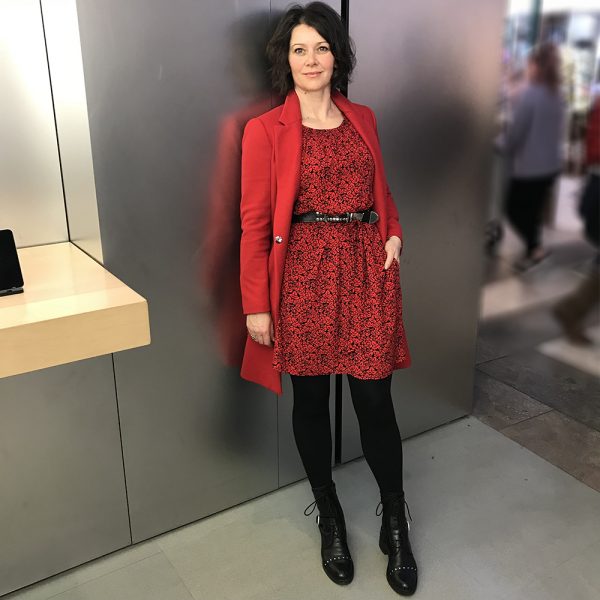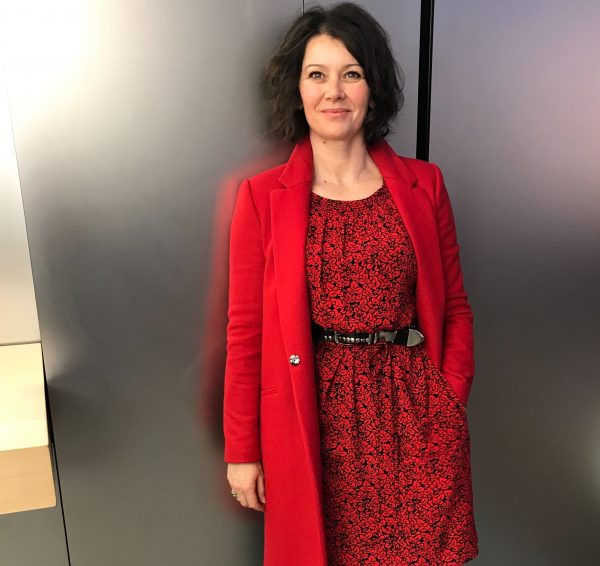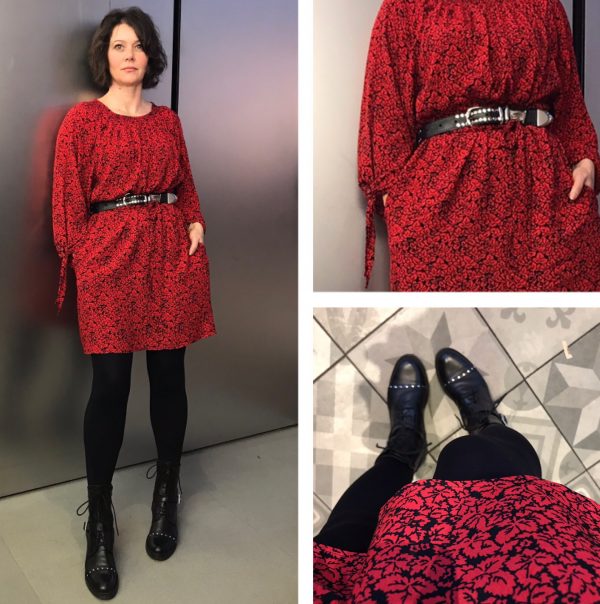 DAY DRESSES!
You all know I'm a fan of dresses. They make getting dressed super easy. They are an outfit all in one. The high street is a wash with options depending on your budget and your style. I'm a fan of ALLSAINTS for day wear with a bit off edge and there's 30% off at the mo for Black Friday. Gap is fab too online for unexpected bargains. My dress was from Gap (previous season but similar online). Every shoe brand has done the biker boot too…short for time? Check out Zara or Topshop for budget friendly options or go all out at designer level if that's your bag. Add your own leather belt to make a high street find look more expensive and to add your own personality. Mine is a vintage Levis studded belt from a car boot for £3 so wasn't expensive in itself but adds interest and ties in the boots. I never thought I'd be in a shorter hemline again but you know what…. I don't care as much what people think as the years go by and I'm enjoying challenging myself out of my own comfort zone.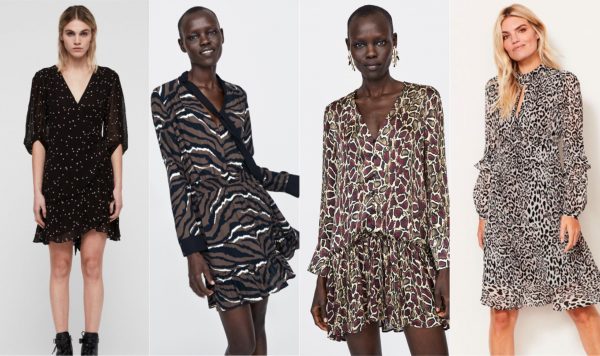 Far left ALLSAINTS; middle two ZARA, and HERE; far right SOSANDAR available in red too but limited sizes
Well I hope you've all survived Black Friday. There are still some deals floating around and some may continue through Cyber Monday. The shops have definitely gone all glittery and Christmasy! Scary how quickly the winter season goes. There are sequins everywhere! I hope you enjoy the festive season ahead and I'm sure I'll pop up with a post or two.  If you enjoy my musings and like seeing more regular updates then I'd love to see you over on Instagram. I'm looking forward to 2019 with lots of exciting new ventures on the horizon with more opportunity to meet people and talk personal style and fashion.  Thank you for all your support this year. I've seen my little brand grow and develop in these uncertain times so once again THANK YOU XXX