COS IT'S MARMITE!!!
On my last day of freedom before school was out I decided to treat myself to a little jolly to Birmingham and enjoy some retail therapy without the little people in tow. Having two boys has massive bonuses as they play together really well and I can get windows of opportunity where I have moments to myself where I can sit and write like this. The down side is that they HATE shopping and especially looking at clothes!! There is only so long they can make a bag of pick and mix last! I'll stand and wait for them in the APPLE store for nearly an hour. I get 5 minutes in ZARA to take something back, then 5 minutes in TOPSHOP to do the same and get told "I've done two things so it's not fair!!!".  When I visit Birmingham I enjoy visiting the stores that we don't have in Solihull. One such brand is COS. It might actually be a name some have never heard of. It's the style of clothes that I love to look at. The sort of designs that look more like works of art as opposed to items of clothing. I guess I might be alone here but being creative I've always loved design in all its forms and if I could wear it I would!! I remember having an Art Deco hair brush when I was about 5 that I loved so much for it's peacock coloured enamel, that I was desperate to wear it!!! COS clothes are like origami; like wonderful feats of architecture; like nothing I've ever seen before on the high street! For theses reasons, it's a brand that's not for everyone. It's a look that takes a different mind set to carry off. It's only going to work if you're willing to not care. Not in a scruffy  " don't care" but in a "I'm too cool to care". It's not obviously sexy but there are pieces that are just pure damn genius that I couldn't give a hoot if my assets aren't showcased to their full potential!! There are definately styles that don't suit me as they fit in all the wrong places but if you're over 5 foot 8 and long and willowy then fill your boots! There were sadly lots of volumous structured pieces that just fell from the "shelf" above my chest and made me look like I was expecting my third. So, I admired from afar!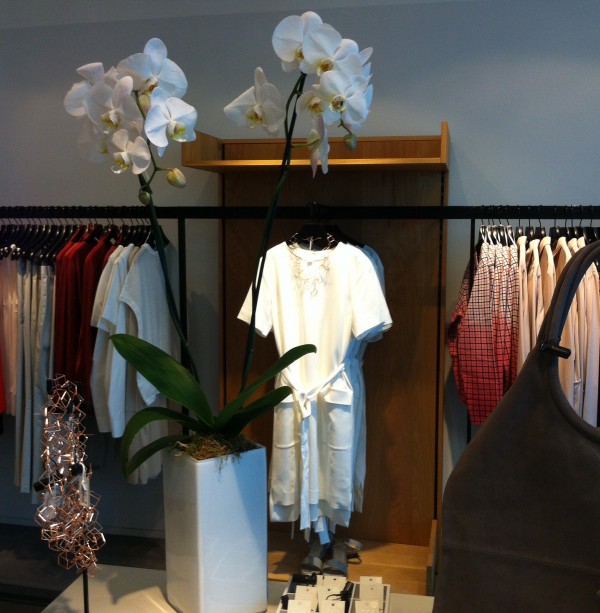 THINK OUTSIDE THE BOX
Have you ever bought an outfit for a special occasion only to NEVER wear it again? Have you got a COAST frock lurking in the depths of your wardrobe that at the time cost a small fortune but it was a CLASSIC that won't date? but it has!! Well, thick outside that box! It doesn't exist any more. There is so much great design now on offer that occasion dressing can be cool. Dressing up beautifully designed clothes means that you can now literally dress from beach to bar with some clever styling. You can wear your clothes to death if you buy well and are willing to not keep things for "best" any more. Buy,wear and move on! There are some stand out items at COS that with the right shoes and accessories could do the job nicely and with edge, style and flare. Some serious fashion forward style points could be gained and watch the other guests look on with envy. There will be no one else dressed the same as you as they won't have the b****!!!!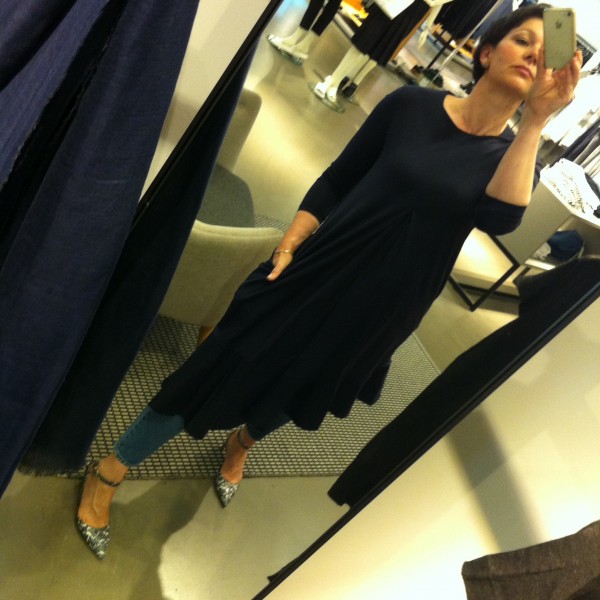 Doing a Leandra Medine (Google her and you'll get it!!) in dress over jeans combo!!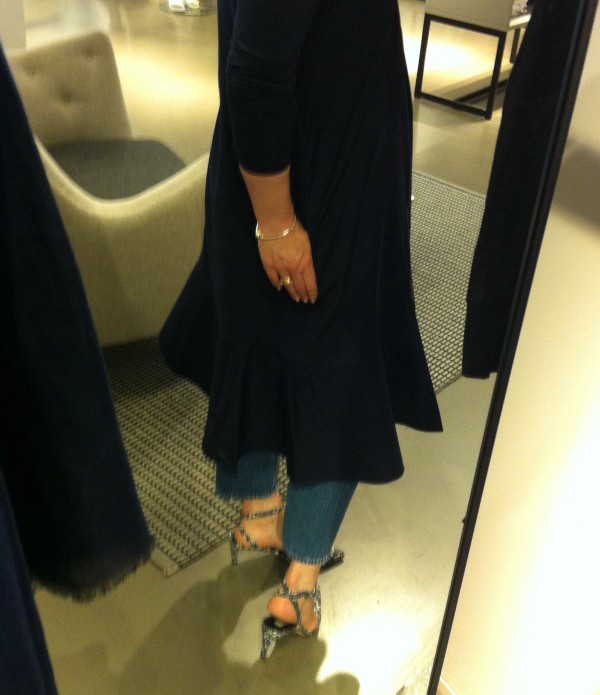 Please excuse the photos but the light is not great in the store and I had to move to try to show the shape.It's a great basic jersey dress with the added drama of a structural silk flounce on the hem. Take this fluid jersey dress, add flip flops and throw over your cozzie for poolside cool. Take the same dress to dinner with killer heels and lots of metallic accessories. Finally, the added bonus is that having sleeves it will take you through to Autumn with long boots and layered knitwear. Now that's a work horse! ( it's not the best shape on me with the chest issues but on some one else….)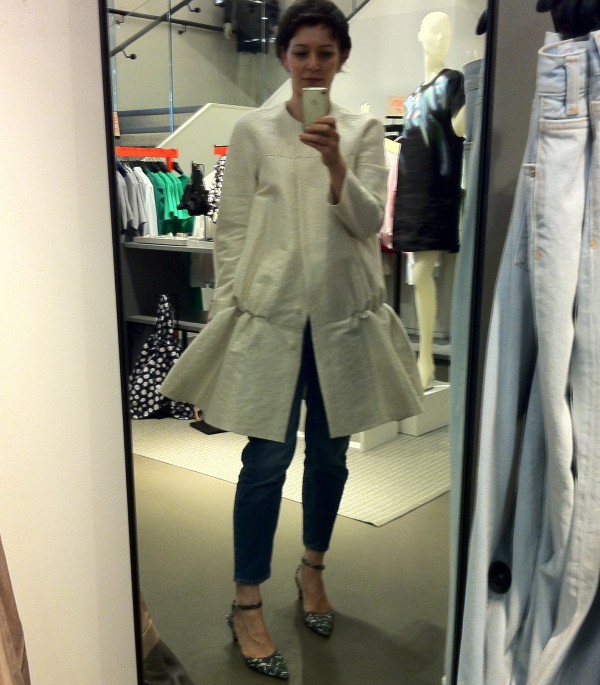 It's a statement!! Imagine it really dressed up for a night out!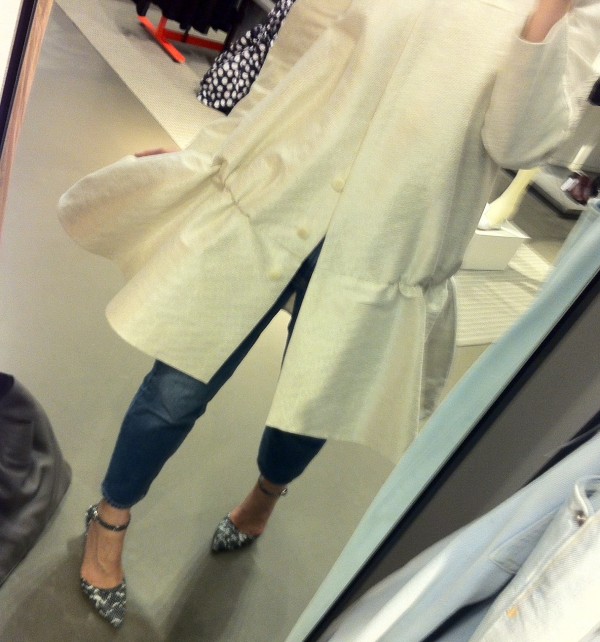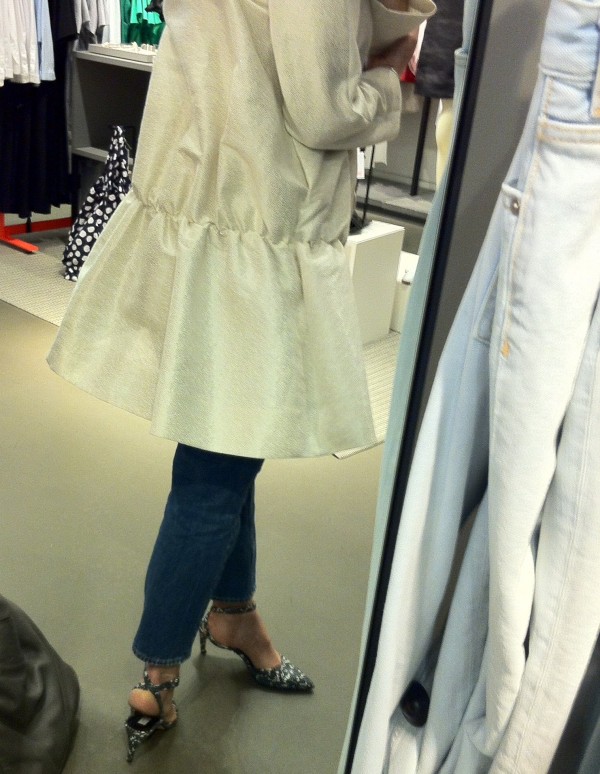 doing a twirl!!!
COAT – 70% off in the sale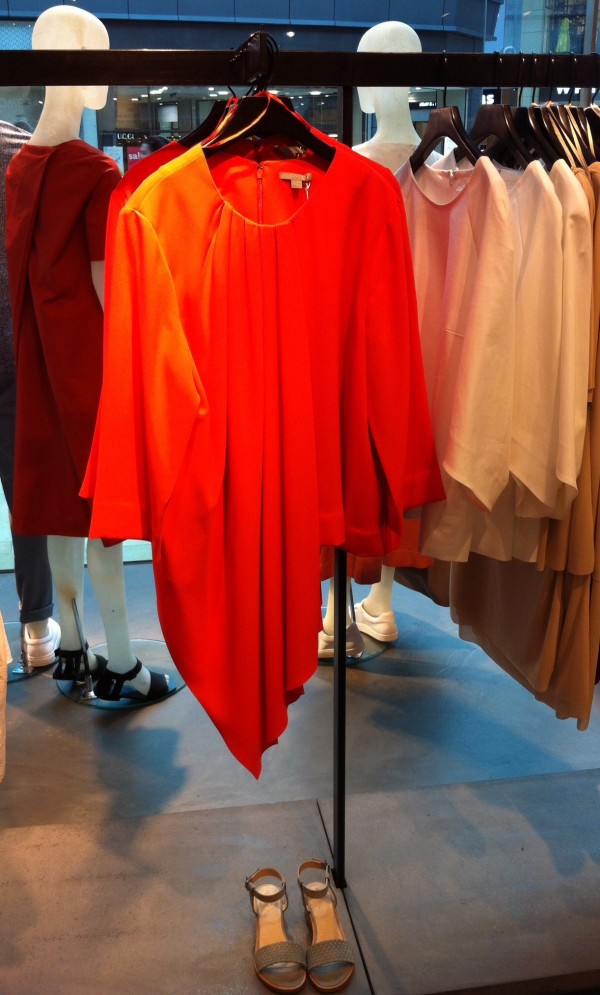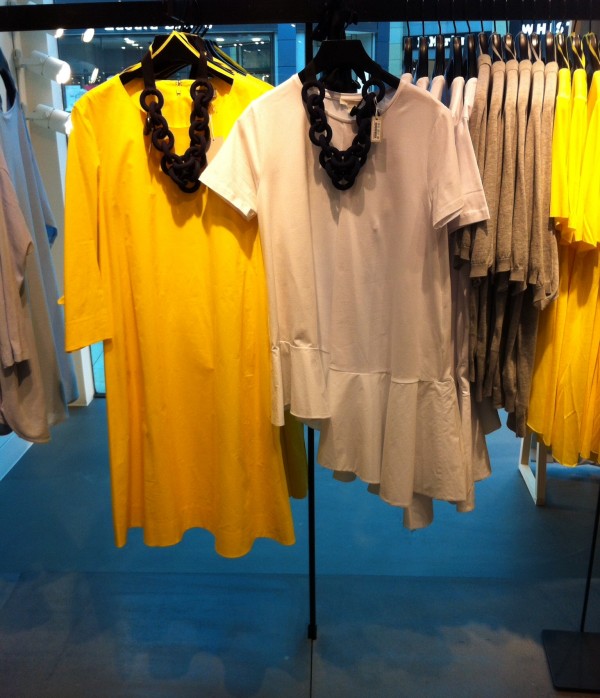 STARTLED RABBIT IN HEAD LIGHTS!?
If the whole thing just scares you then don't panic as COS is full of more traditional basics in wonderful fabrics. Super tees in fluid lyocell, modal and viscose blends. Lots of silks with interesting hammered finishes; jeans and jersey pieces.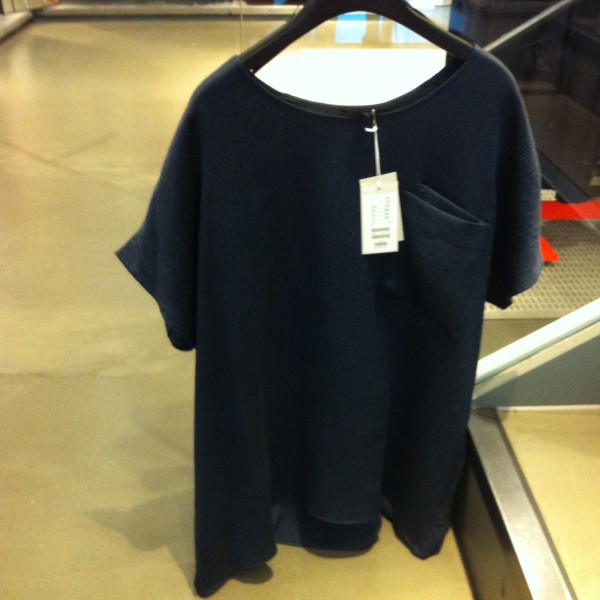 hammered silk tee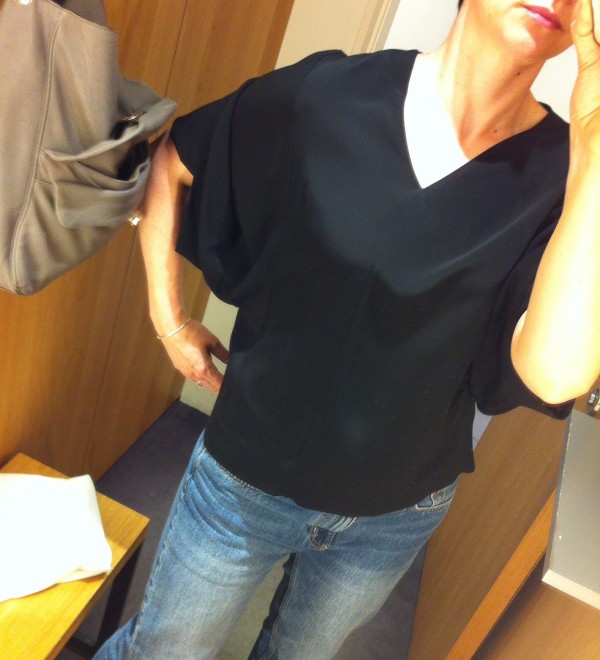 I hope you can see the details on this blouse? It had all the COS trade marks but had a lovely drape that was more flattering if you've got curves.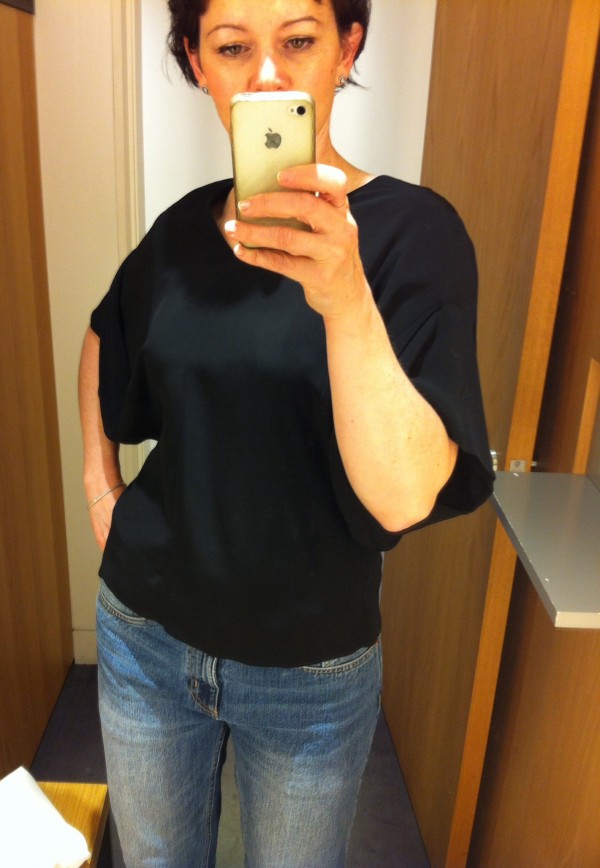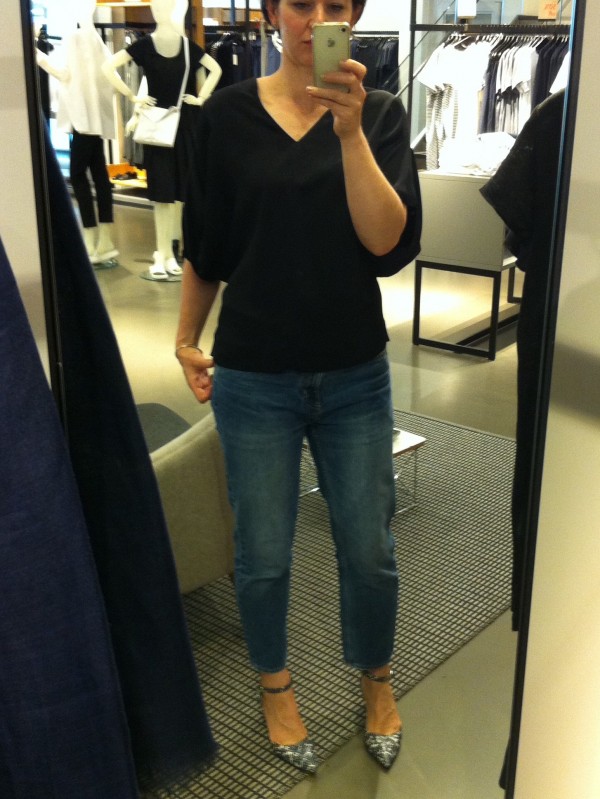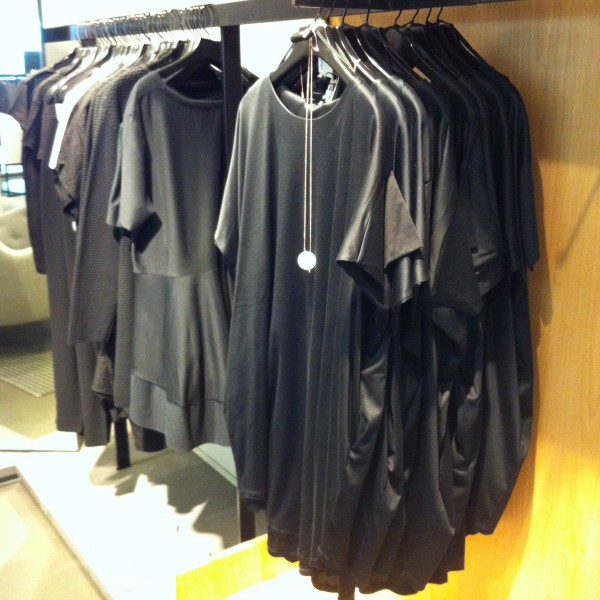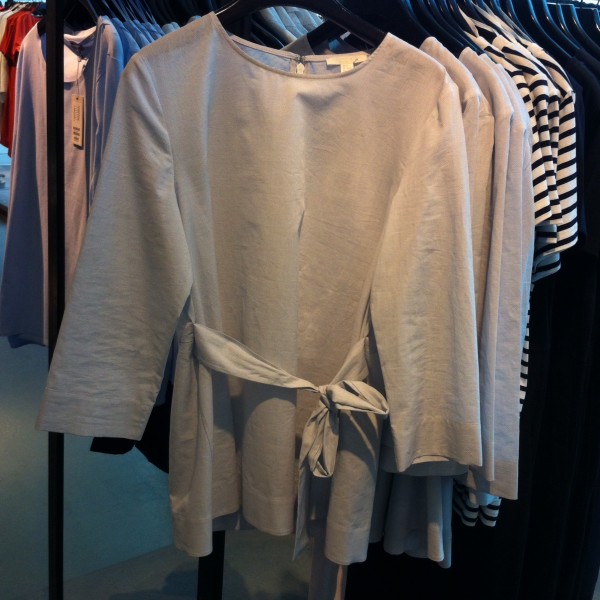 A classic ( that's less likely to date!!!!) belted cotton blouse that would look great with jeans and some stand out accessories.
The accessories have the same philosophy of either being stand out pieces or subtle every day utility essentials. I could have photographed every thing in the COS store but if you like to browse then have a look on line.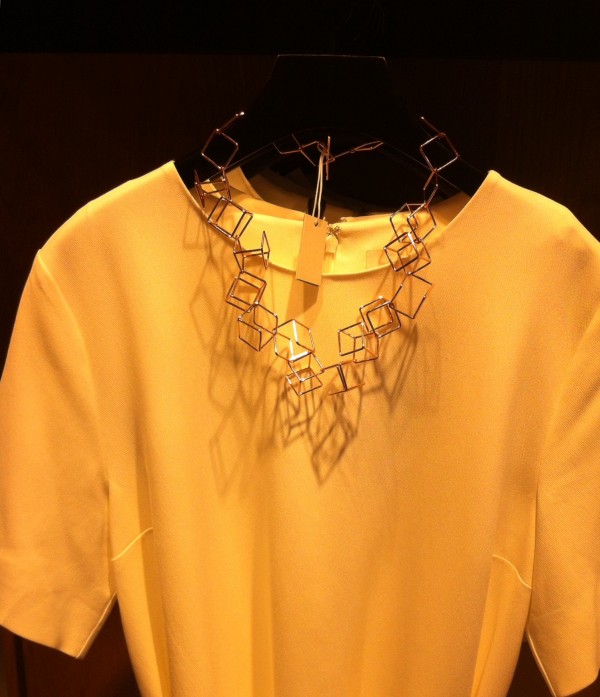 I hope you've enjoyed my tour of COS? Though a little fuzzy and out of focus in places!
With the summer holidays in full swing I'm not too sure how much blogging will be going on but hold onto your hats as the new season will be upon us soon and I'll be back will some more outfit inspiration and shopping tips. Until next time……..