BAD HABITS DIE HARD
When I was younger my nickname was "Bargain Betty". It wasn't a bad thing, it's just that the thrill of a bargain was addictive. I found it hard to buy the clothes I really wanted that were full price. I loved a bargain. Sometimes this panned out all right but more often than not these pieces didn't get worn very much. I was young; I loved fashion and I loved having lots to choose from in my wardrobe. I couldn't afford to buy copious amounts of designer labels like some of my friends. I had to be more creative! I grew up with hand me downs from my cousins and jumble sale buys to give me the tools to play dress up with! I learnt a great deal in the process about building outfits; about proportions and what suited me. I quickly realised that the reason why that cream Chloe coat in the magazine looked "right" for that moment in time wasn't the fact that a cream coat was missing from my life but that the proportions of that coat were "right". The budget retro one I bought to copy it was clearly ALL wrong!! It would be the shoulders; the length; the fit;the collar; the cut……. nothing is safe from fashion.
I still remember my best friends mum saying to mine when I was about seven, "Valerie's obsessed with fashion!" To me this was a compliment and only fuelled the fire! As I have matured I have come to realise the mistakes that can be made with discount shopping; sale shopping and shopping at outlets on line and in stores. I shared this before. I still love saving money. I still love having lots of choice in my wardrobe and I love more than ever playing dress up! What's changed is that I know the dangers of a "bargain" and know the rewards of purchasing a full price item that I feel a million dollars in and will wear to death! So now when I go shopping for "bargains" I buy far less. I'll be ruthless! Does it REALLY fit? Would I buy it if it wasn't reduced? Does it make lots of outfits with items I already have? Is it a one season wonder? Do the proportions work? What do I mean about proportions? Well, it goes back to "that" Chloe coat analogy. If you're buying shoes for example, look at the heel. Does it look dated? Is the pointed toe too exaggerated so it'll look wrong in a few seasons time? Trust me that even a "classic" will date when it comes to shoes. I hope I'm making sense? I think you get my point? Even at Bicester the price of your bargain will be an investment so it will need to last the test of fashion time. A phrase I use a lot! The positive of outlet shopping and the main reason I still bother is the chance to buy something really beautiful. Maybe something that at it's full price you could only dream of owning. That brings me nicely on to Bicester Village.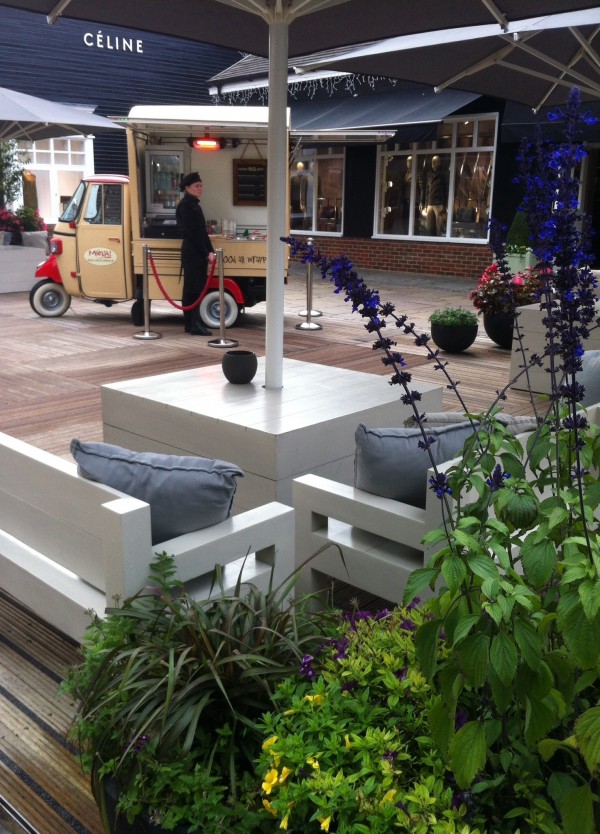 I'm sure you have all heard of and visited Bicester. If you go on a sunny day it's a treat in itself. I love going somewhere different. There's a great atmosphere here and lots of cafes and eateries. It's fun to just sit outside and people watch. Once you've parked up it rarely seems overly busy in the week as the units are outside in the fresh air. It's a place where you get the chance to see and touch beautiful clothes and accessories without feeling intimidated by staff. Literally anybody shops here and people are dressed in all sorts! It's fun, easy going and relaxed. Most items are refundable too if you change your mind but it is worth checking if you're unsure.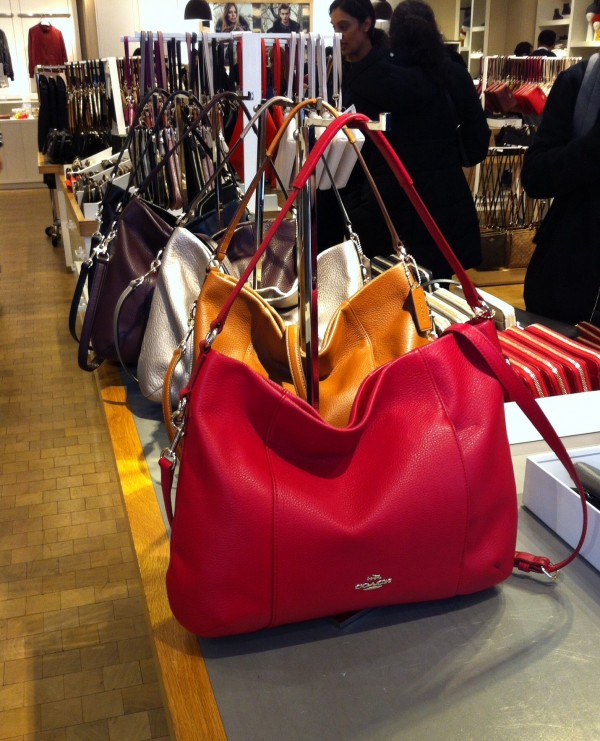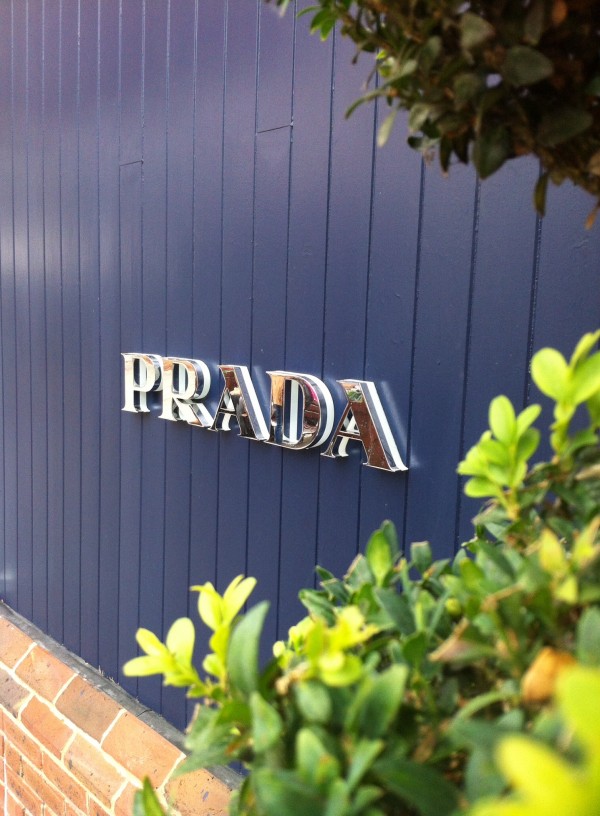 TIMES HAVE CHANGED
Bicester Village has changed quite dramatically over the years and now it's far more about the International customer. The high street brands have had to pull out. It's the buying power of  the visitors who come to snap up Todds, Coach, Burberry, Prada…… to name but a few, at a fraction of their usual retail price. Reiss, Ted Baker, The White Company, Clarkes, Kipling, Kurt Geiger and Jaeger ( full brand list available on the Bicester web site) are still holding on for dear life. Hobbs has left. I thought I'd miss the brands that have gone but I prefer Bicester now. Where else can you get your hands on all these amazing labels together in such a small space? Now I'm older and I buy less "fashion" and tend to shop for fewer better quality items I have found Bicester to be a bit of a life saver. I can't believe I've just said that? If I want something good I'll come here and find something REALLY good for the same price. How I've changed?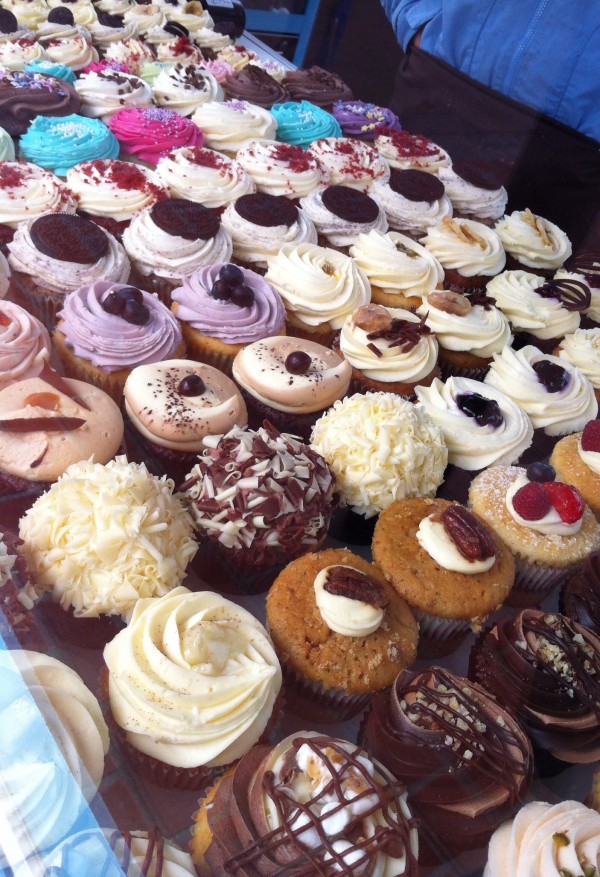 There are lots of interesting places to eat and drink. Don't panic! It doesn't need to cost the earth. There's still a Pret a Manger!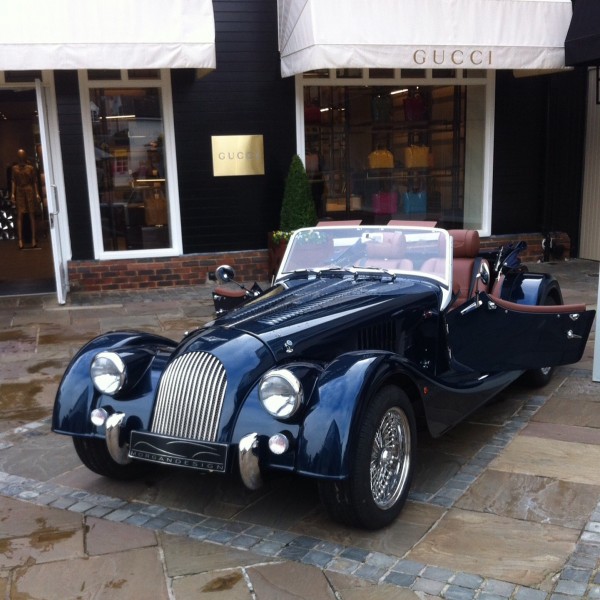 A FUN DAY OUT
If you're looking for a fun day out without expectations then Bicester is well worth a visit. If you register your details on their website then you can get extra discounts at certain times of the year and notification of any sale dates. On my recent visit I took with me a code for an extra 20% off certain brands which I did use. I don't like to post about my one off bargains as it's not hugely helpful to send you off on a wild goose chase for an item you won't be able to find, however on this occasion I'm going to share as firstly it might make you smile and secondly it will illustrate my point about buying an item that normally you wouldn't be able to afford. I bought a silk blouse in Ralph Lauren for £63 (£79.99 before my extra discount) which was reduced from £1299!!!! I wore it to an important meeting were my usual H&M wouldn't have cut it! If I've got some money saved or it's a special birthday then Bicester Village is where I'd try to spend it. If I was looking for a treat; something really special; something with the wow factor. I wouldn't come just to shop willy nilly, I couldn't justify it.  I wouldn't come with a list and buy just anything because it's reduced. Once you've tasted real quality it's really hard to settle for less but it's here that I can find something better for my money and find maybe one item that is just well, that bit different.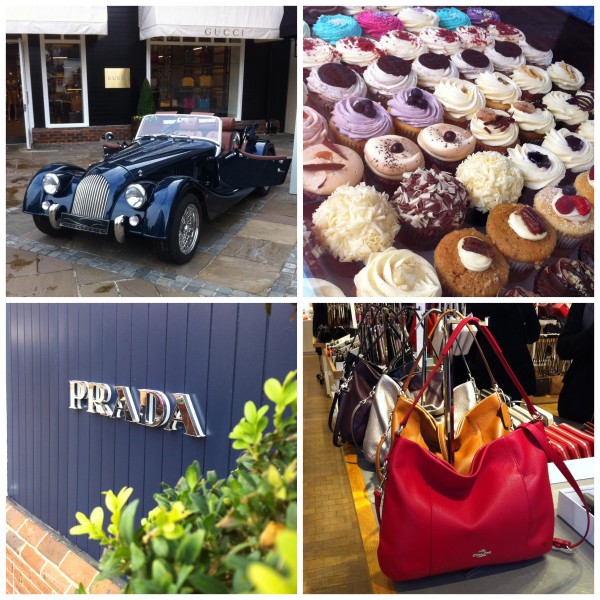 SHOP WISELY!
A NEW STORE
We have a new TK MAX at the Sears Retail Park in Solihull. I realise it has taken me a while to get to finish this blog but I've been super busy. This is great for business obviously but unfortunately my blogging time suffers. Please bare with me as I'm not a full time blogger but do my best to get as much information to you as possible! If you're already following me on Bloglovin then can I take this opportunity to thank you for taking the time to register and for your ongoing support and understanding. If you're not then please, please, please could you have a go! LINK . It will make such a massive difference to my blog and help me bring you better discounts, information and offers. Right, back to shopping! This new TK MAX isn't the biggest and as with all discount shopping you need plenty of time to rummage. If you hate shopping or find it frustrating trying to find something suitable then this might not be the store for you.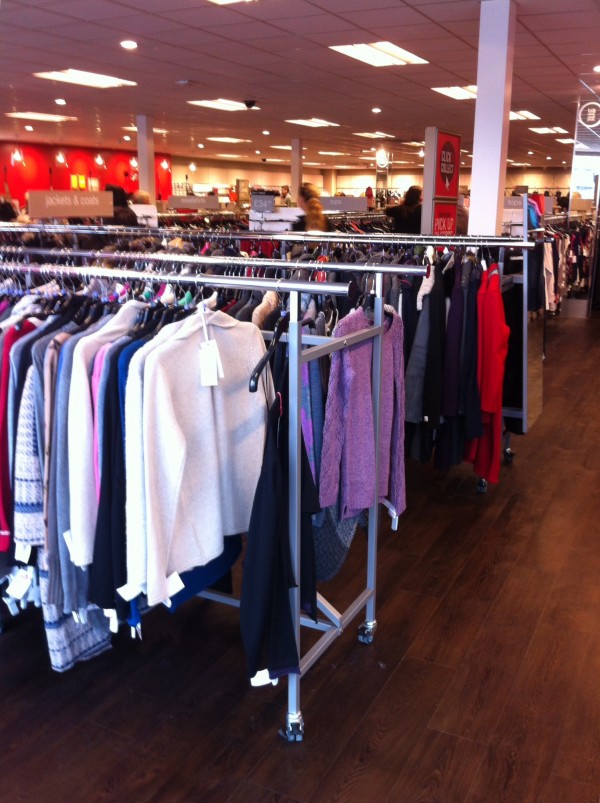 This picture is taken from the front window of the store to give you a sense of scale on the ground floor.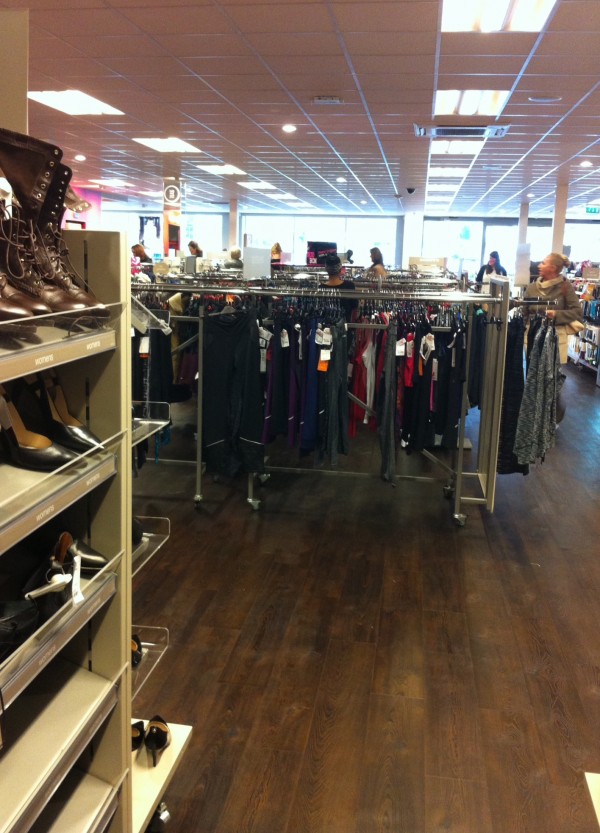 This is from the back of the store!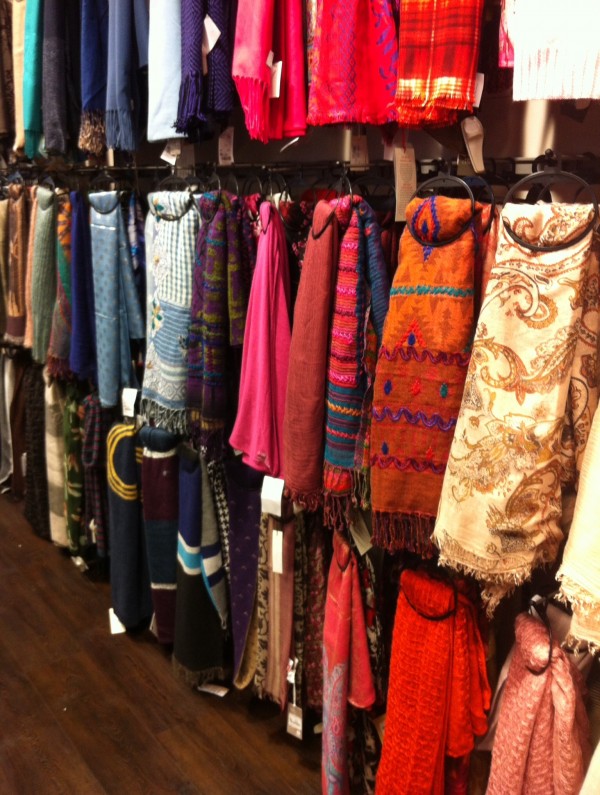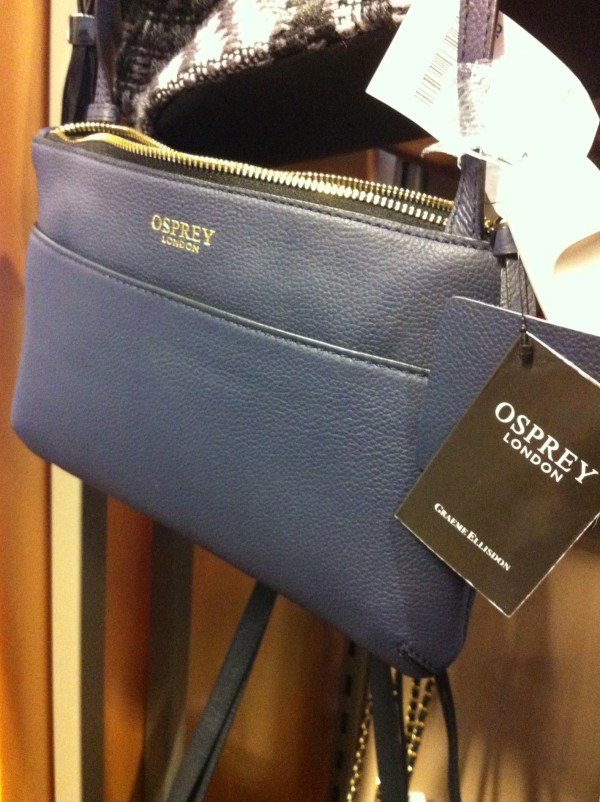 A Mecca for accessories. I love TK MAX for sunglasses in particular. I didn't see any in the new store but that might be a seasonal thing?
IT'S HIT AND MISS
I went to TK MAX  convinced I was going to find a bargain price piece of beautiful marl grey knitwear in my size! Needless to say it didn't happen! It can be a bit last chance saloon here. There are  a lot of items that have gone through the food chain to come out the other end still unwanted, often for a reason. A bit harsh? Maybe? I've got to be in the mood for this place but they do come up trumps sometimes. It just totally depends on what you're looking for. They are some great leather bags and it's fun to look if you're not under pressure.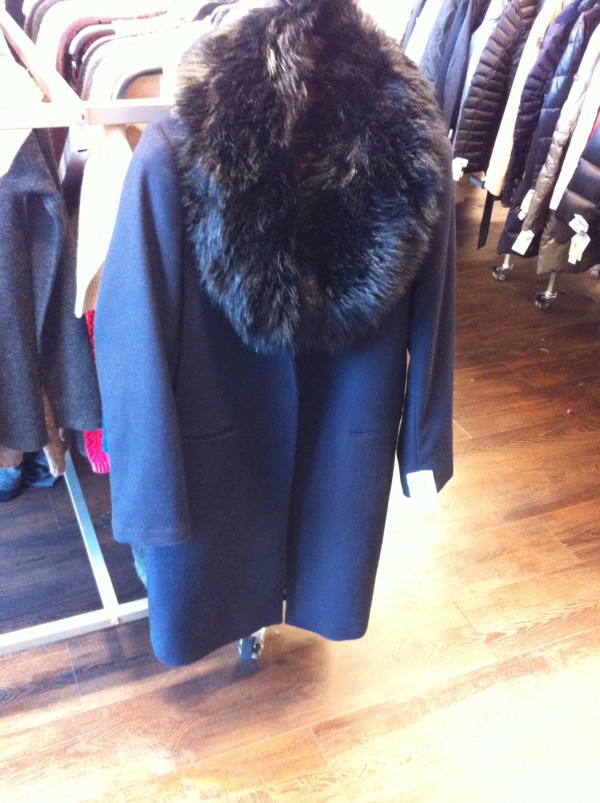 Don't expect this to still be in store. I'm just making a point. AGAIN! I know, but this wool/cashmere FERAUD navy coat would have been hundreds of pounds I'm sure at full price but in store a few days ago in TK MAX it was £99. I don't need another navy coat… but if you did….. ( see, I stayed focused!!!)
If you'd rather not rummage then look on line at their designer brands listed under "GOLD LABEL".
OPTIONS
There are lots of different ways to save money. As long as it really is saving money in the long run and not false economy. Buy what you really love. There will always be nice things to tempt you to part with your cash. So there's Bicester Village and  TK MAX. Outlets are popping up all over the country and Resorts World Birmingham opens today which boasts a massive Nike outlet for all you sports kit fanatics out there. Keep your eyes peeled too for outlet shopping on your favourite brand's website. Most have a clearance or outlet on their normal site. Ebay has a fashion brand outlet and I know friends who have found items on these to be cheaper than the outlet stores. I might be teaching you to suck eggs but before you buy anything, if you have time, always search for voucher codes. A little guilty pleasure of mine is to sit with a cuppa and trawl through SHOEAHOLICS. It's a designer accessory and shoe outlet site. Link below.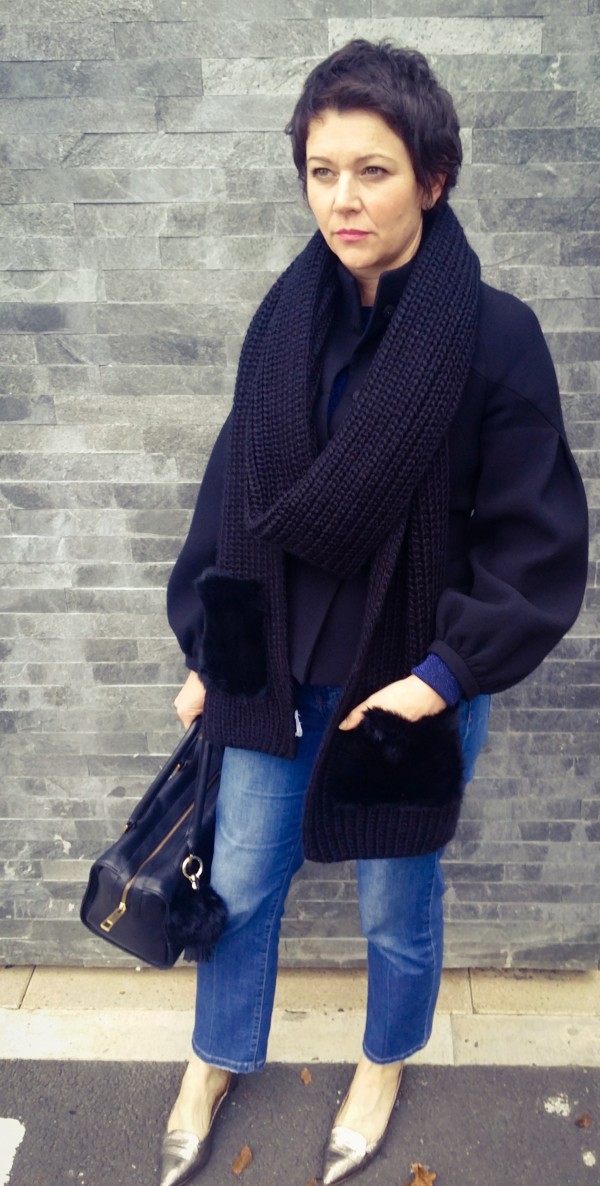 FUR POCKET SCARF – KURT GEIGER at SHOEAHOLICS
Please excuse the odd camera angle, I blame the six foot two husband! So I cut off my extra large head and teeny tiny feet for a better shot of the scarf !
was £60, I paid about £22 with a 15% off your first order voucher code by subscribing to the site.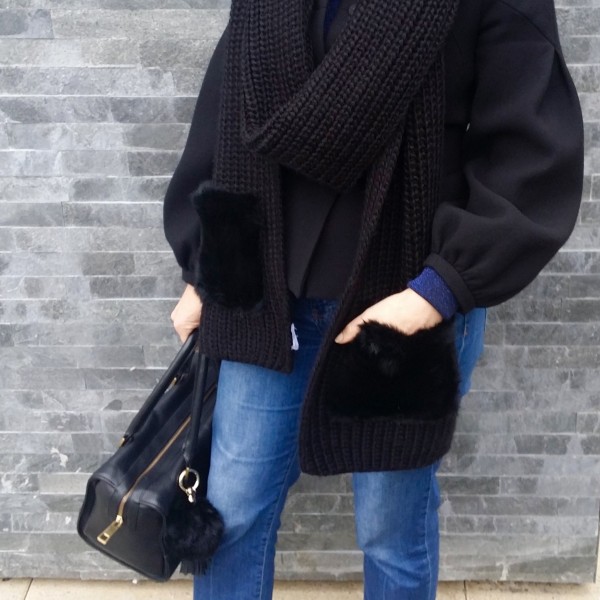 SCARF – as above
FUN FUR, FAUX FUR, FAKE FUR!
True to my word I wanted to do a quick post about fur accessories. They don't need much introduction and they do add some texture to dull old winter outfits. You know I'm not big on wearing colour so when I saw this scarf it just made sense. Going back to proportions too, I liked the how long it was. I could wrap it round to keep cosy or when it hangs loose it has a 70s vibe going on so you see, if felt "right" for now.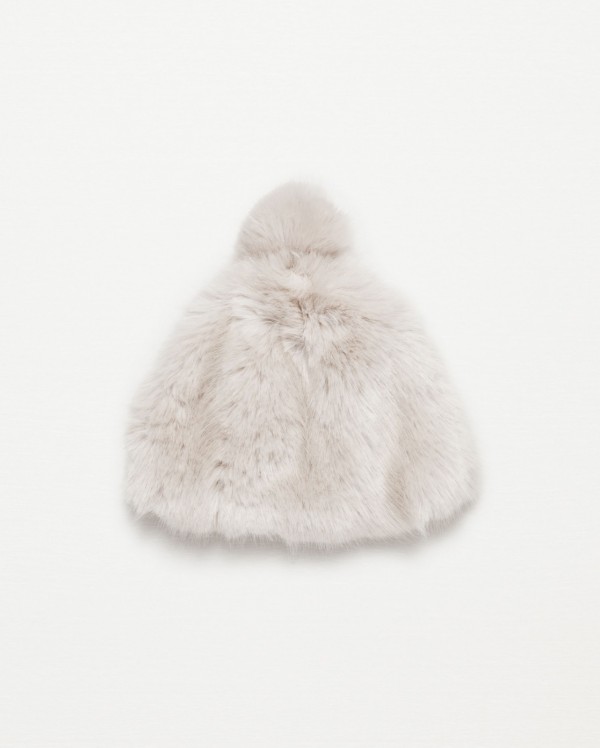 FUR HAT – ZARA £25.99
I tried this on and fell in love with it! I wish I'd taken a picture. It's a cute as buttons on.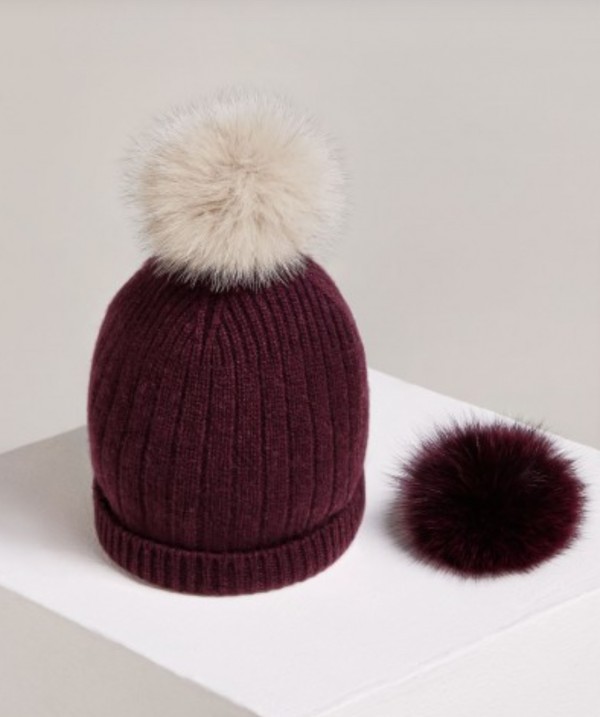 There are plenty of these oversized pom-pom beanies around.
This cashmere one is from ME+EM, not cheap, but look at it! £98
They have some beautiful accessories if you're looking for real luxury for yourself or as a gift idea.
POM – POM key bag charm £35 ME + EM (not pictured on this blog but have a look)
FUR SNOOD – M&S £29.50 Autograph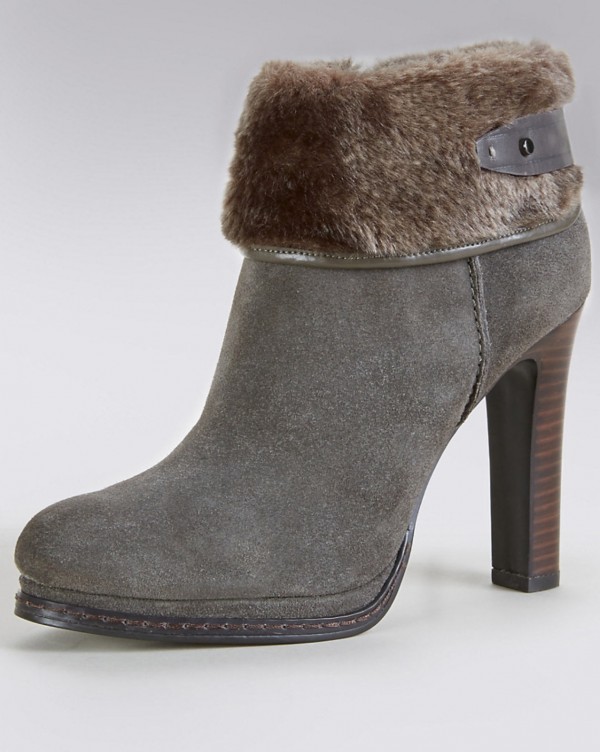 ANKLE BOOTS – M&S £85 Autograph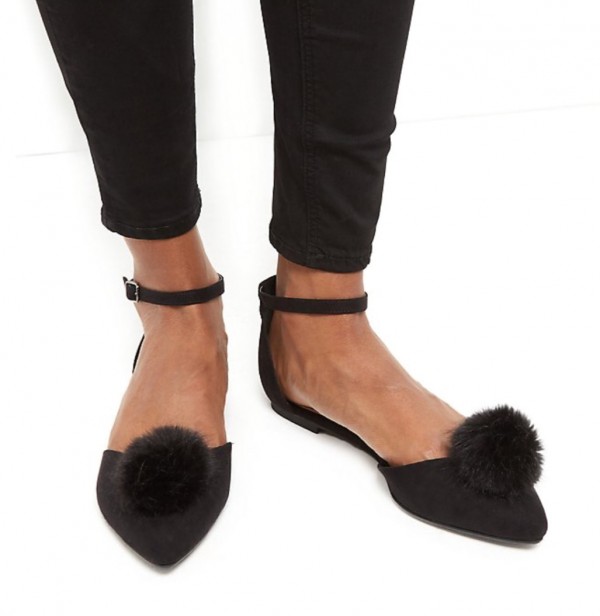 POM – POM FLATS – NEW LOOK £17.99 I'm not expecting great things of these quality wise but they are a fun copy of a seriously expensive designer pair.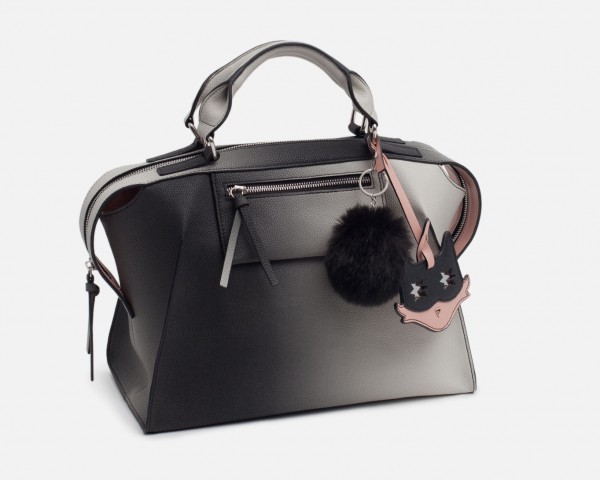 BAG – ZARA with fur accessories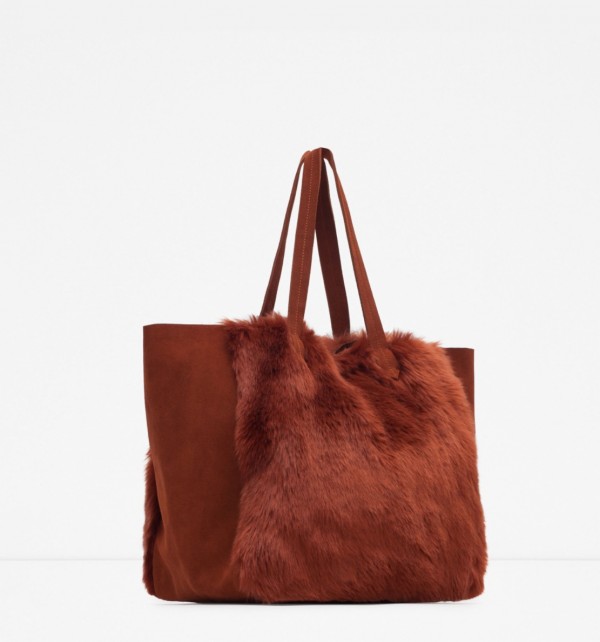 SUEDE AND FAUX FUR SHOPPER – ZARA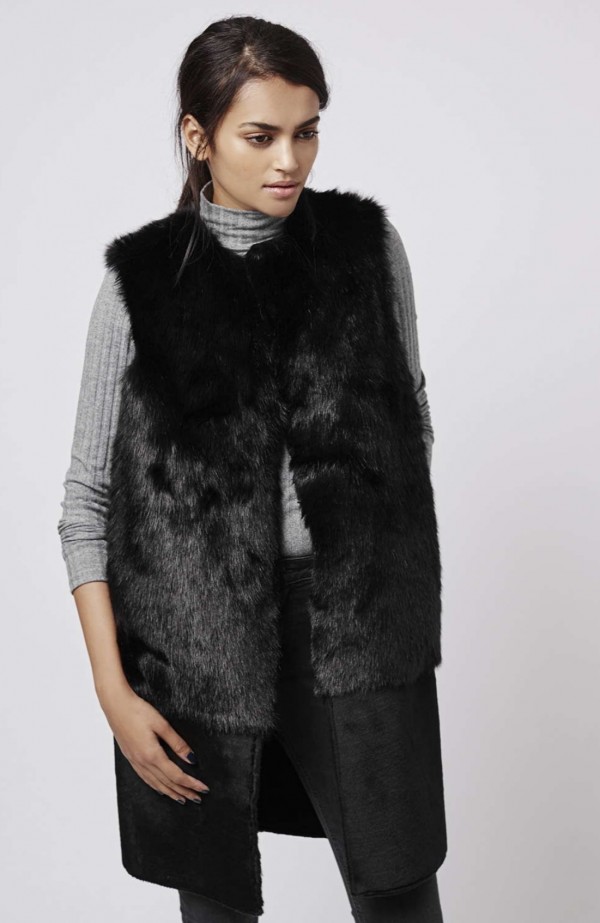 FUR SLEEVELESS COAT – TOPSHOP £75
If you're really brave then go full on fur!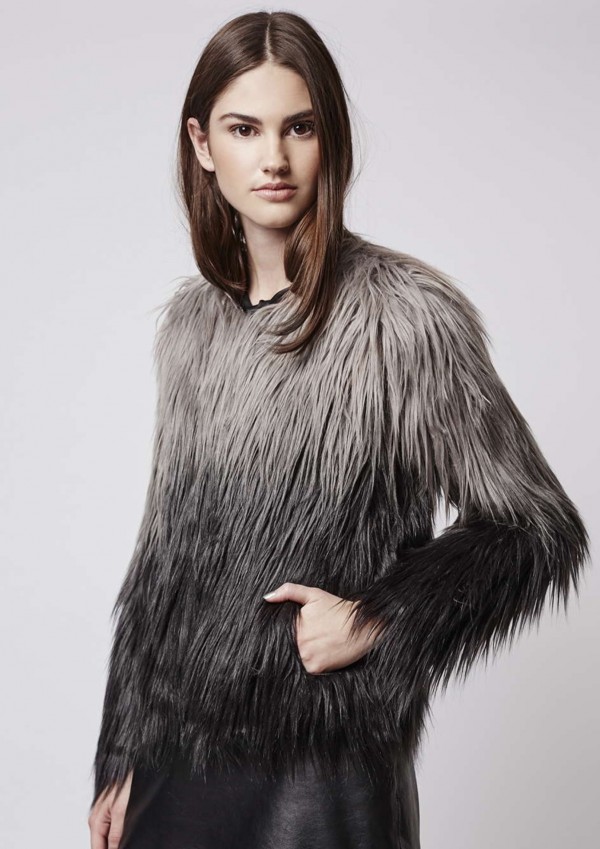 FAUX FUR JACKET – TOPSHOP £185
M&S and TOPSHOP have several faux fur jackets if you're in the market for one?
AN OUTFIT OF THE DAY
In the earlier picture of me wearing my new bargain scarf I'm also wearing as a simple layering piece of knitwear under my coat. It's a great little high street find. You might still have your discount card from H&M? If not I have seen the issue of GLAMOUR magazine still available in newsagents and supermarkets which has the 20% off at H&M card with it as well as a free NAILSINC polish. I believe the card is valid until the 3rd of November? I love mixing high street with high end pieces.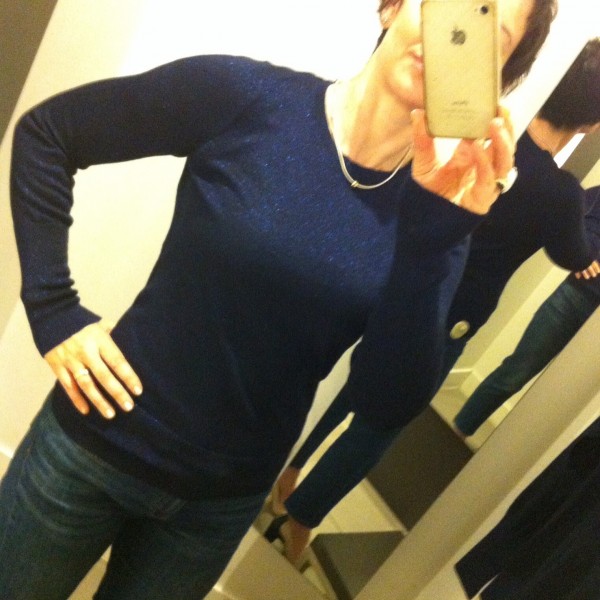 SPARKLE NAVY KNIT – H&M £19.99 before discount
As always I hope you enjoyed my blog today. A bit of a mixed bag. The mid season sales are in full swing so hold on to your hats and stay sale shopping savvy!