YOURS FAITHFULLY!
When it comes to choosing a handbag it will be come down to what your requirements are. One person will want high fashion and a means to up date their outfit; another will want to inject fun and personality or possibly colour into their summer wardrobe while another will want practicality and function over any of the former. You might be considering the purchase of a new work bag; a new baby bag; a new everyday bag; a holiday hold all or simply just a new bag because you love bags!!! You may want your bag to last for years and get better with age or may not give two hoots how long it lasts! Whatever the reason we are in a similar boat to all my other blogs about this summer's style. Once again the choices are endless and anything goes!  What is one person's "bucket" bag is another person's "saddle" bag. It's one of those again, where it's almost impossible to separate the styles from each other and put them into convenient categories. As always I have done my best to decipher the code and get to grips with a coherent list. What I've done is to high light the products that have caught my eye. I have stayed fairly true to the high street rather than go too high end here because, let's face it, who's not going to love every designer handbag they see and be bankrupt at the blink of an eye?  It would be just too easy to give you a list of Chloe, Burberry and Mulberry bags to drool over. I can't justify the purchase of one of these little beauties so I have kept this blog is the realms of reality.
THE BAG EDIT AND A FEW BITS BESIDES!
I know you all know that accessories can be a great way of changing your outfit from last season to this season without investing too much money. Handbags can be very expensive. I'm not a fan of faux leathers when it comes to handbags. I'd rather have a fabric bag or a real French style basket but now and then just to inject a bit of fun, colour or of the moment fashion into your wardrobe I'll let this rule slide a little. That's what so wonderful about the summer. It has a way of making you relax, stop caring about the silly stuff that's not really important and have a bit of fun, hopefully with some sun?! So the usually theory applies I guess? If you need your bag to last and be a work horse and you're not worried that you will be limited with choice when it comes to putting together your outfits then chuck as much money at your new purchase as you can possible stomach! If you fancy lots of choice and feel like this is your season to experiment with fashion then buy a few styles at a price your can justify. I've listed a few below but if you take your time to look on line or at your local shops there is something for everyone and every budget.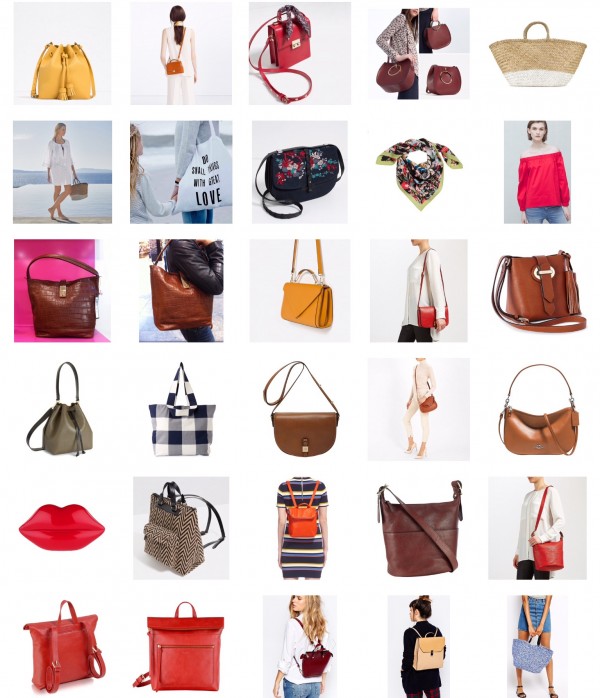 THE LOGO OR COTTON SHOPPER!
More often than not cheap and always cheerful! These bags have come into their own since the introduction of the 5p charge for plastic bags. I have one in my main handbag at all times and they are great for the kids extras; for days out and for the beach. They often have cute quotations on the front and give you that warm fuzzy feeling that you are doing your bit for the environment or giving a contribution to charity.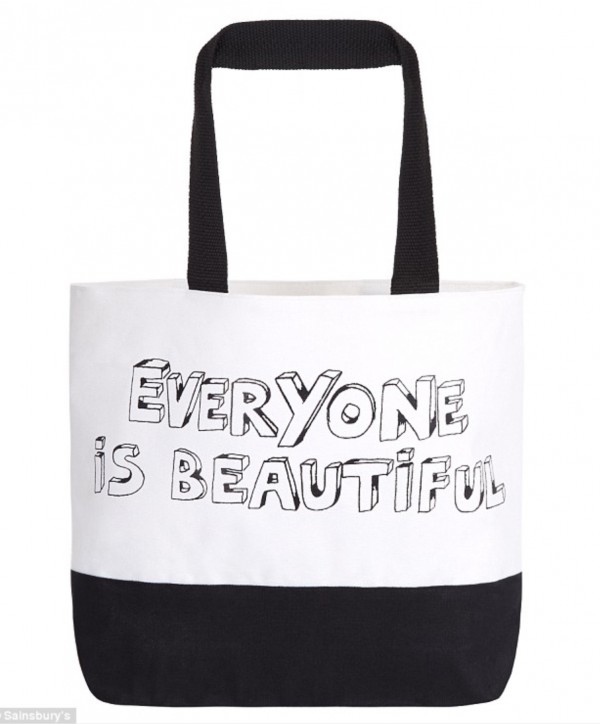 BELLA FREUD SAINSBURY'S SORTS RELIEF TOTE – £5
I am as yet unable to track one down but I shall persevere!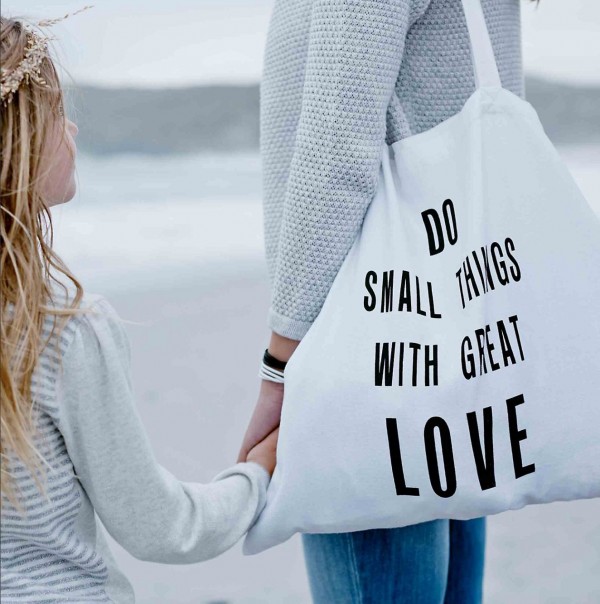 COTTON SHOPPER – The White Company £12
also available in pale grey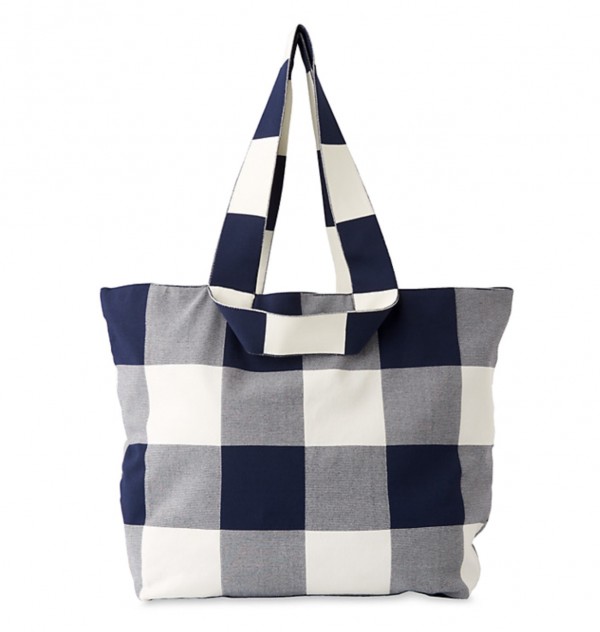 FABRIC SHOPPER – Whistles £75
BASKET CASE!
I spent all last summer trying to find one of these. A French style basket bag with a modern twist. A few along my travels came close but I never found "The One!" You may or may not remember my DIY projects where I tried to customise a basket to get the look I required. Well this year I took the bull by the horns and my determination paid off! I found a fair trade site that stocked all sorts of goodies! I bought the pom-pom French basket pictured below which I purchased in a shot. When it arrived I wasn't disappointed and it was actually even nicer in the flesh! I can't wait for the sun to use it. It arrived beautifully presented in it's own hand printed cotton dust bag. Just beautiful. I will now visit Bohemia Design often to see what new delights they offer! You can  get 10% off your first order with news letter subscription.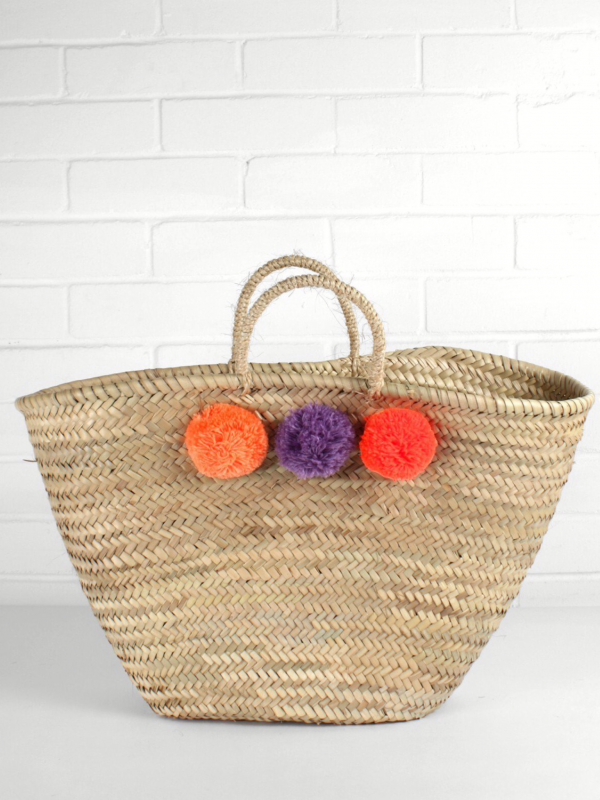 FRENCH BASKET – Bohemia Design £30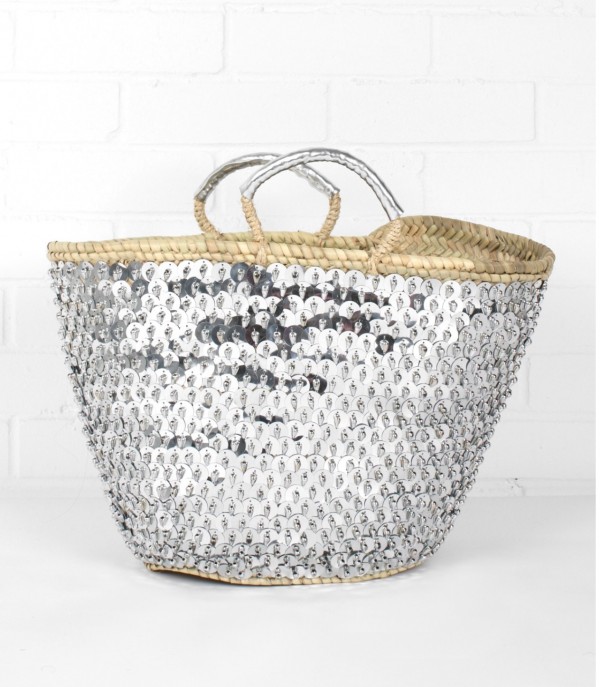 SILVER SEQUIN BASKET – Bohemia Design £39.95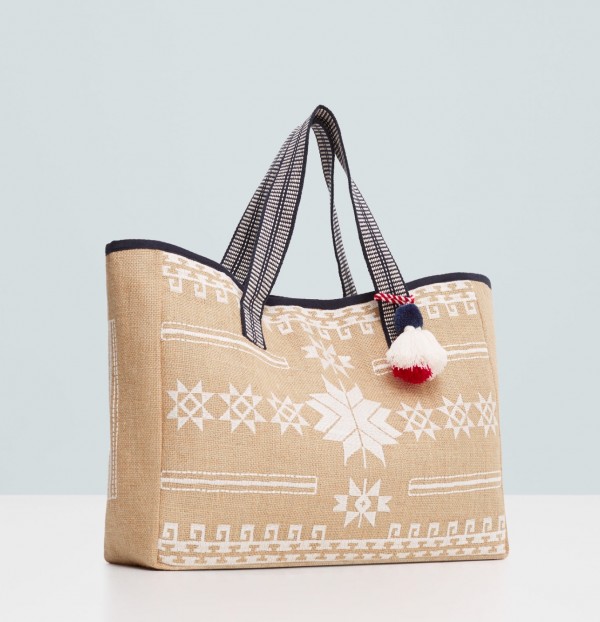 JUTE TOTE – Mango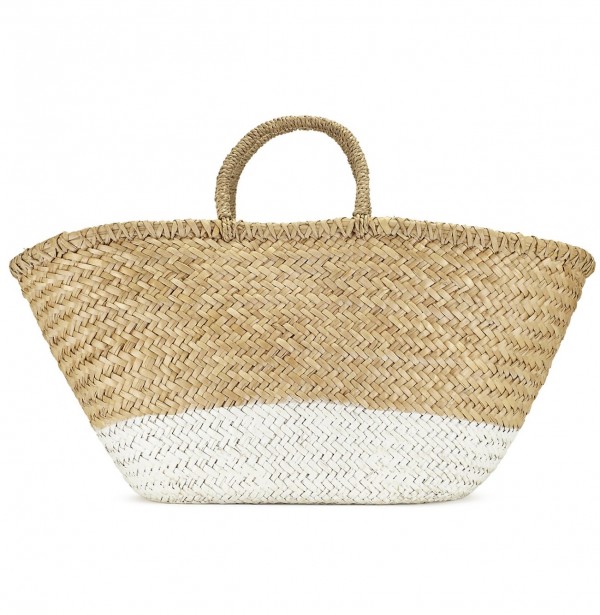 BASKET – The White Company
You could have fun dressing this one up to suit your outfit?!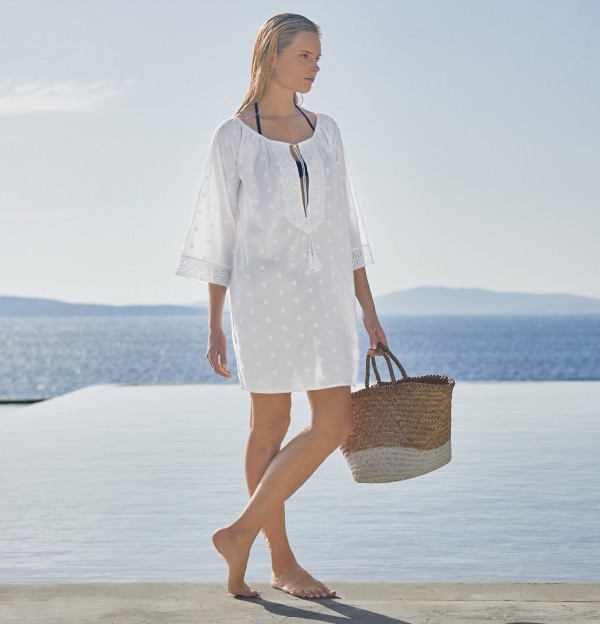 As above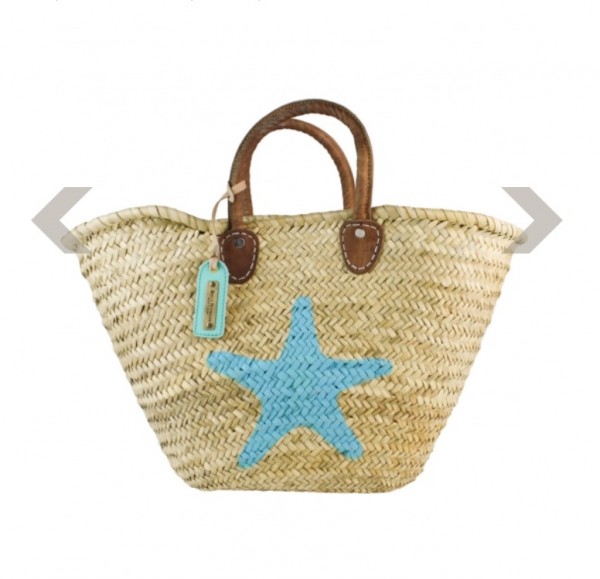 PRINTED STARFISH BASKET – Aspiga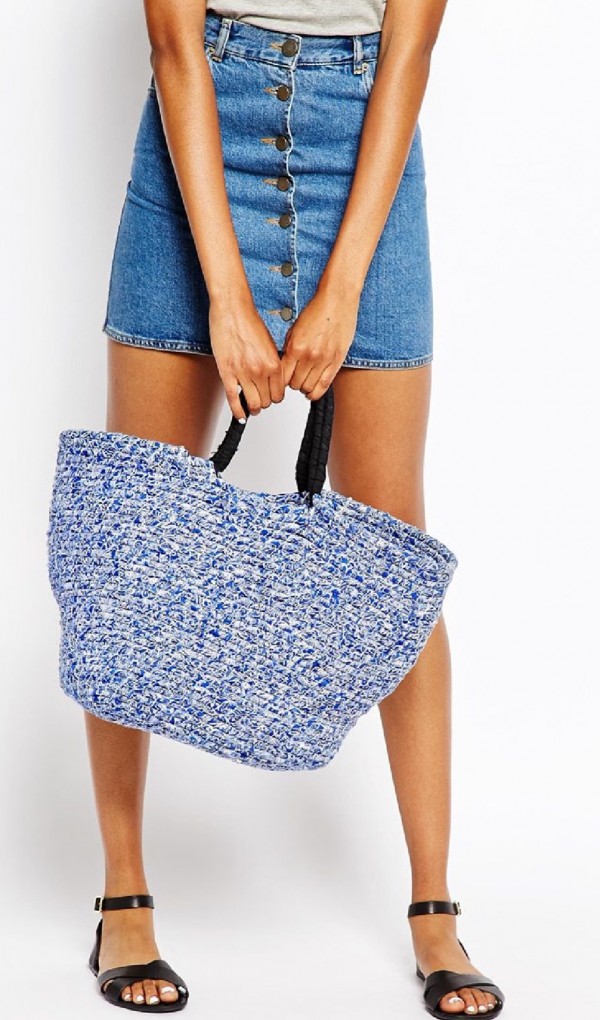 WOVEN BASKET – French Connection ( on sale at ASOS )
SADDLE, CROSS-BODY, MESSENGER, BUCKET….. ! OH, OR, SATCHEL?
I think that pretty much sums it up! Choose your camp and choose your colour!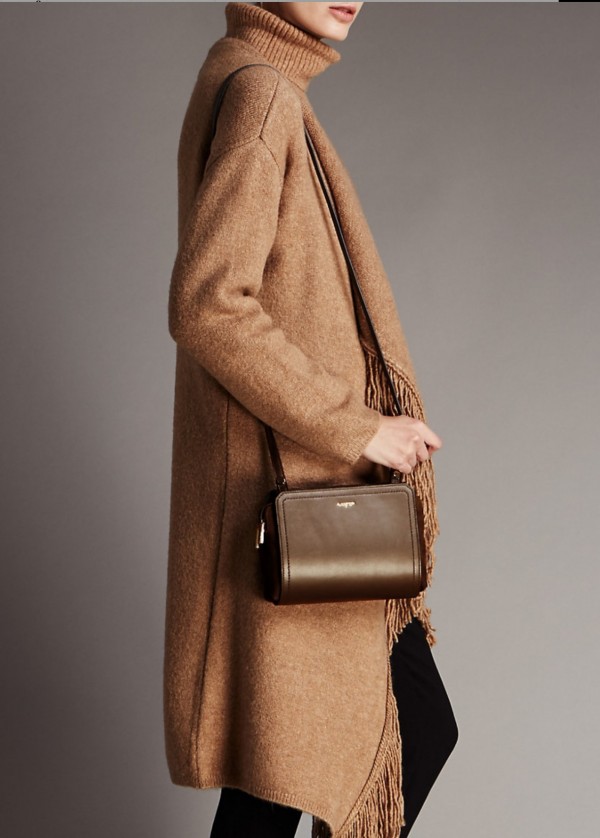 LEATHER ( khaki) CROSS- BODY BAG – Autograph at M&S £69
Also available in black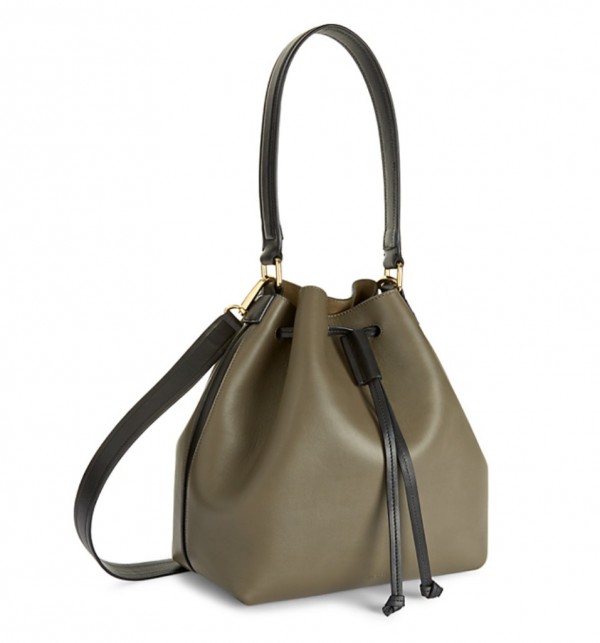 BUCKET BAG – Jaeger £199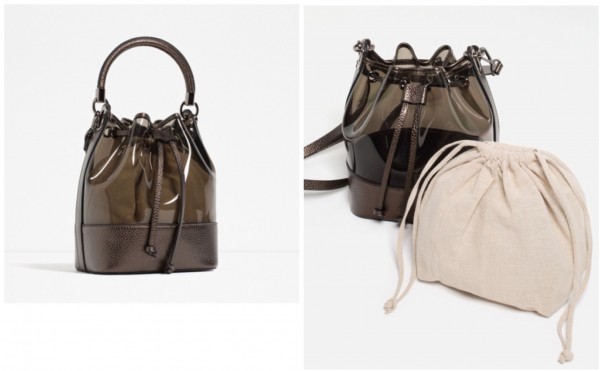 VINYL BUCKET BAG – Zara £29.99
I love this modern take on a classic and don't mind one bit that it's NOT leather!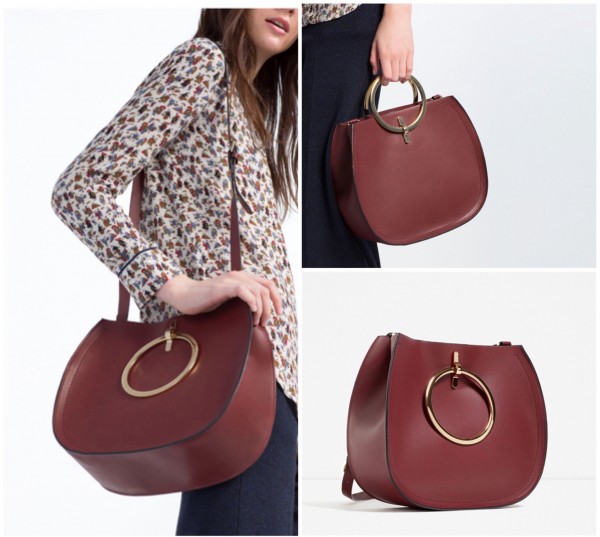 SADDLE BAG – Zara
THE RED BAG!
Now this was a difficult one! Do I put these bags with the next category ( colour pop!) or give them their own?  I decided to give them their own space even though they could have gone into the list above too! This blog wasn't easy either. There was plenty of head hanging into hands going on whilst writing it! I just hope someone out there is reading it!? Going back to the red bag list. I have no idea why I singled this colour out this season? It's just that it is on my radar as something I'd quite like to own!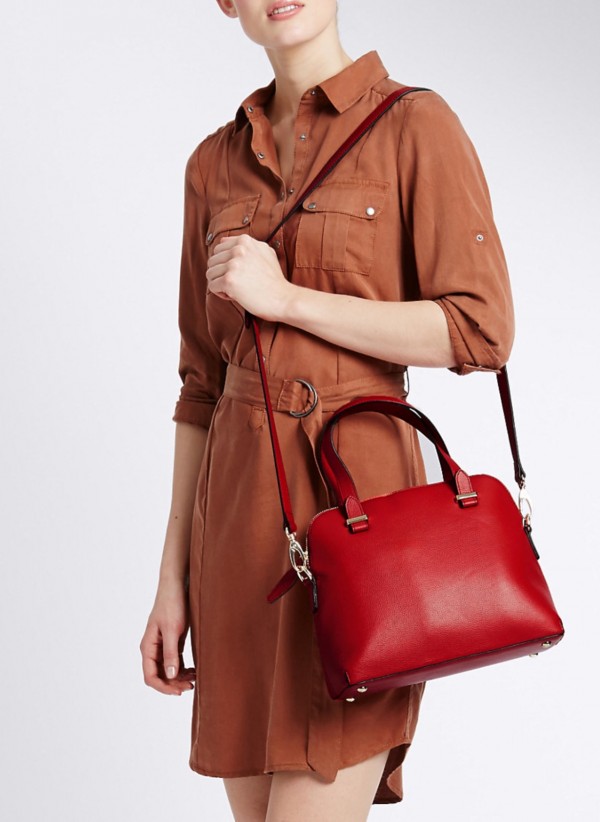 RED LEATHER TOTE – M&S
I've seen this in store and it's a snip at £69!
Also love the fact it has little metal feet to protect the underneath.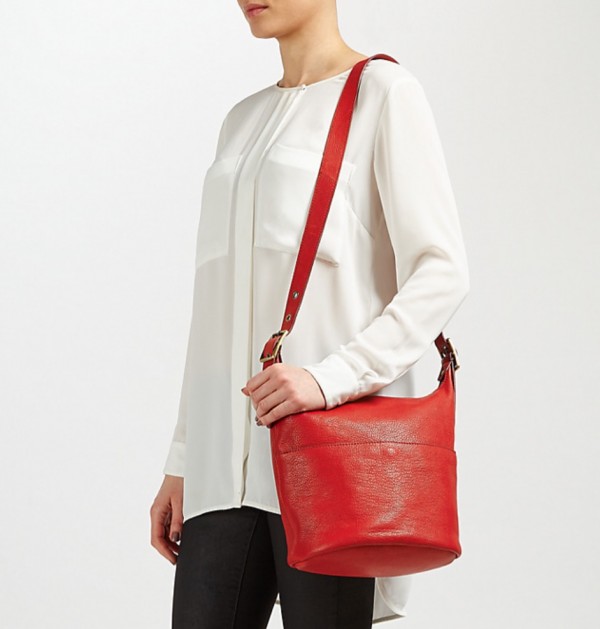 LEATHER MESSENGER/BUCKET BAG – John Lewis £89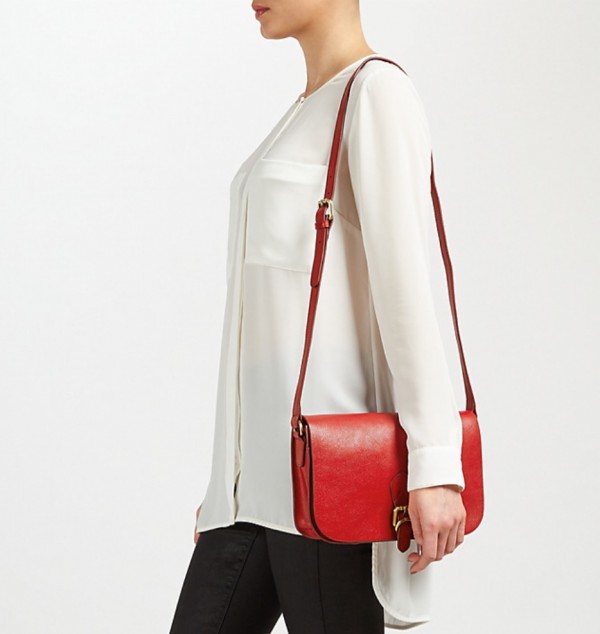 LEATHER SATCHEL/SADDLE BAG – John Lewis £89
COLOUR-POP!
That's it! Colour-pop! Pop away!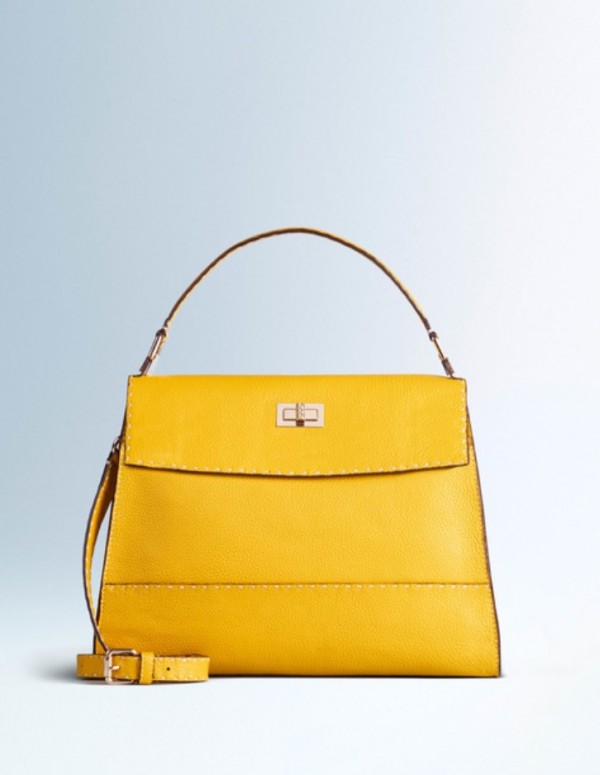 LEATHER TOTE – Boden
For some reason this link will only go to the tan version but just click on saffron when you get there!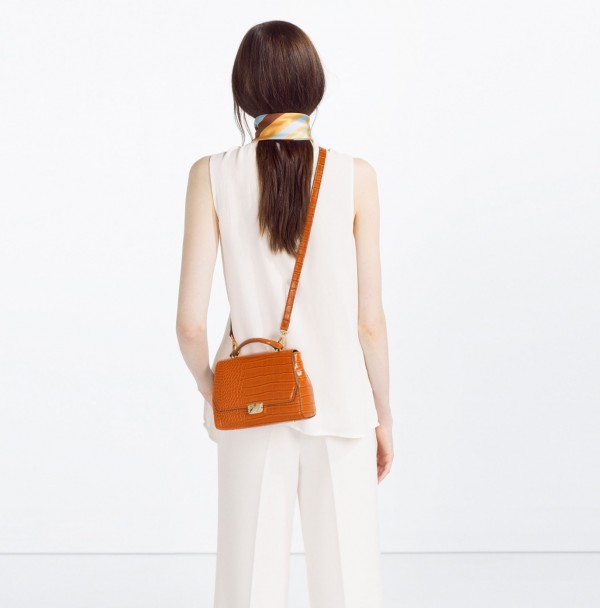 FAUX LEATHER MOCK CROC – Zara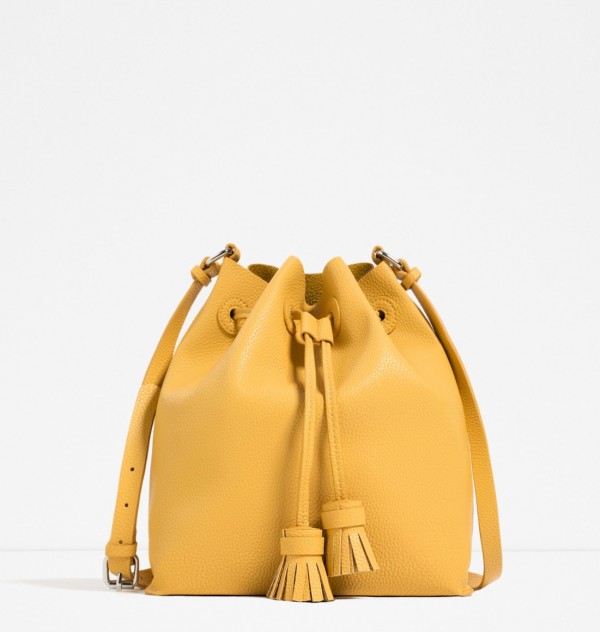 FAUX LEATHER – Zara £19.99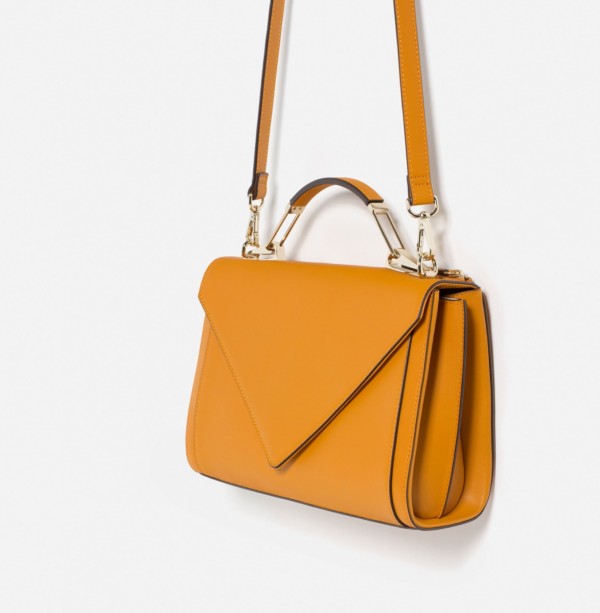 CROSS BODY BAG – Zara £39.99
CLASSIC TAN!
Versatile and classic – the tan leather bag. To me this bag just has to be leather. The sort of leather that gets better with age. The warmth of gold hardware against the honey leather works best in my eyes too. As I said before, leather bags are usually pretty pricey. On the high street I have always been impressed by Autograph leather bags; John Lewis's own brand and Jones The Bootmaker. This season was no different and each of these retailers have produced some surprisingly good quality leather handbags at really reasonable prices. If you want to invest further but don't want to go as high a price tag as Designer bags then Karen Millen offer exceptional quality leather goods too.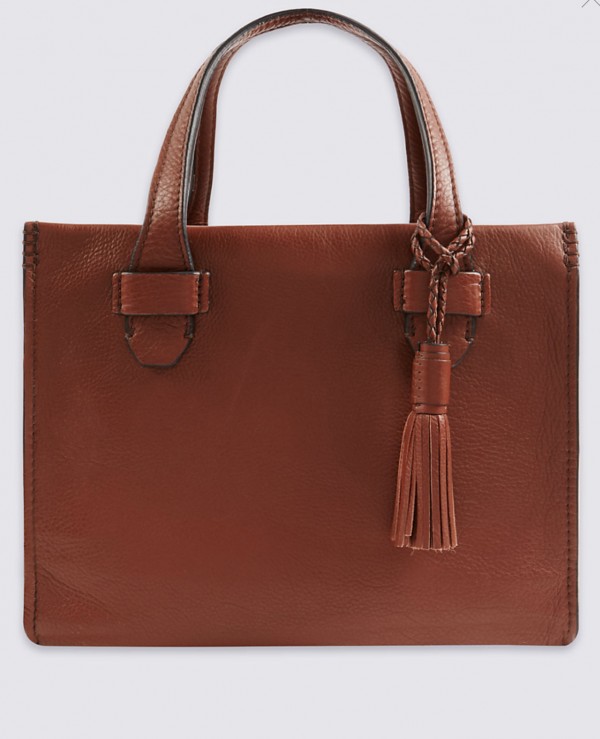 LEATHER BAG – Livia Firth and M&S £149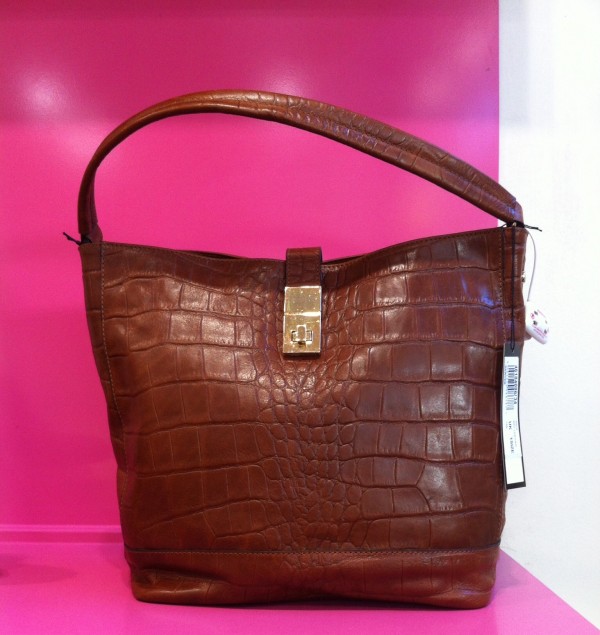 LEATHER BUCKET BAG – Jones
One of my faves!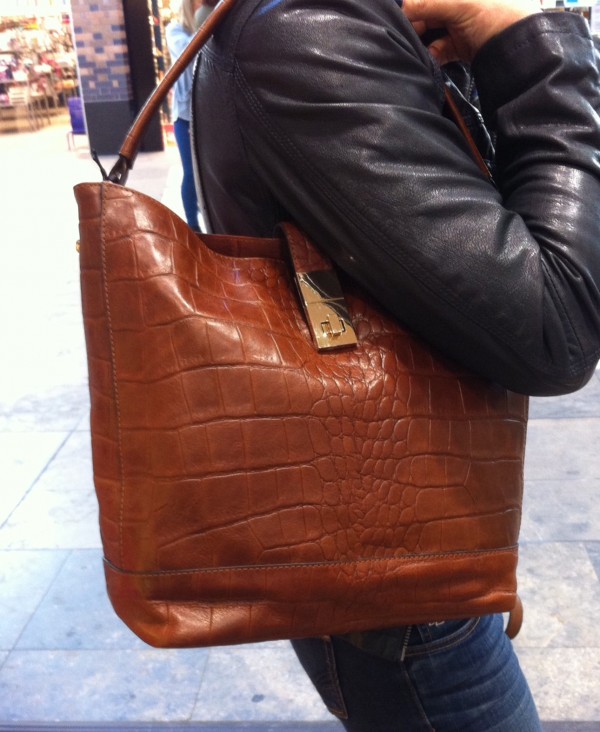 As above – modelled by my lovely friend!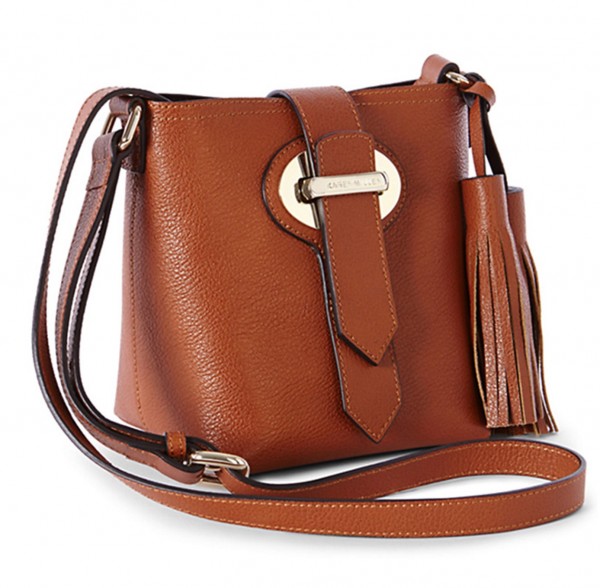 LEATHER CROSS-BODY – Karen Millen £150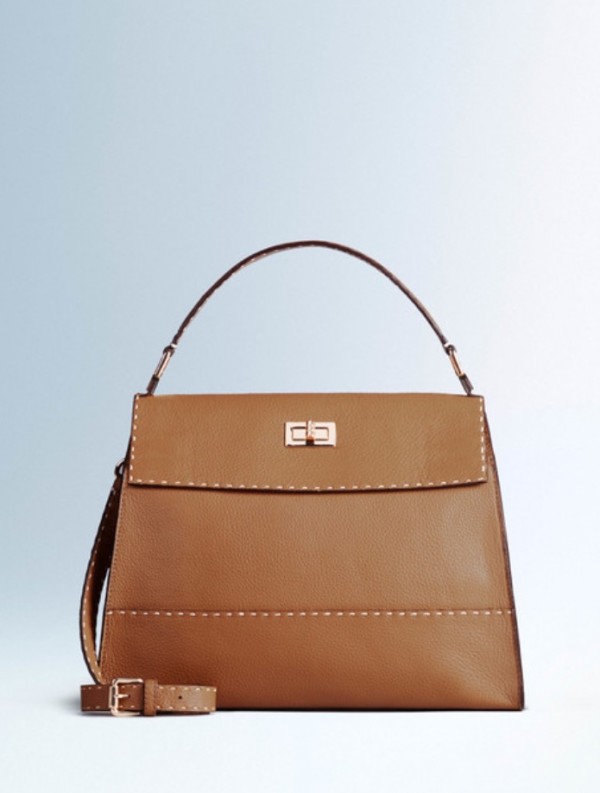 LEATHER TOTE – Boden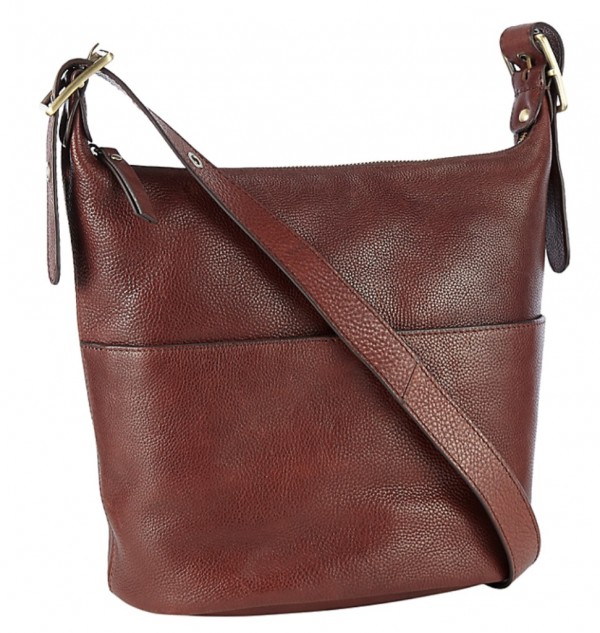 DARK TAN LEATHER BUCKET BAG – John Lewis £89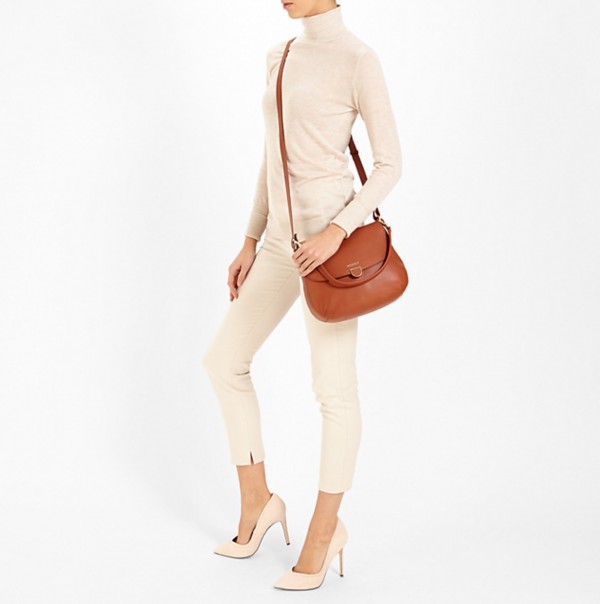 MODULA LEATHER SATCHEL – John Lewis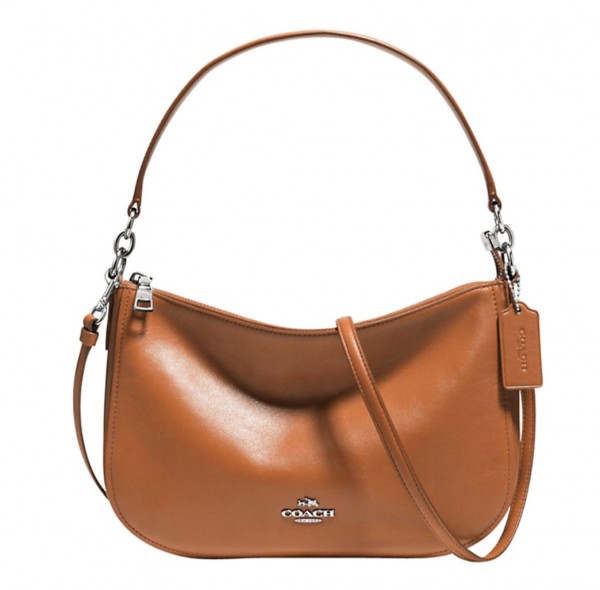 TAN LEATHER – Coach £195
TASSELS,  FRINGES, EMBELLISHMENT AND EMBROIDERY!
It's all there this season. Boho vibes and the 70s spin is still hitting summer style hard. If you love the summer of love and all things retro and care free then these frivolous designs are still going strong. A leather tassel is still a fun way of adding interest to you bag and this season the high street has embraced these little key rings and put them on tote bags too. I'd be cautious of fringes as I think they may be swishing off into the sunrise by next summer! The list here could go on FOREVER! There's clutches with pom-pom trim edges; totes with tassels and messenger bags decorated with masses of mirrors! Find your inner Bohemian!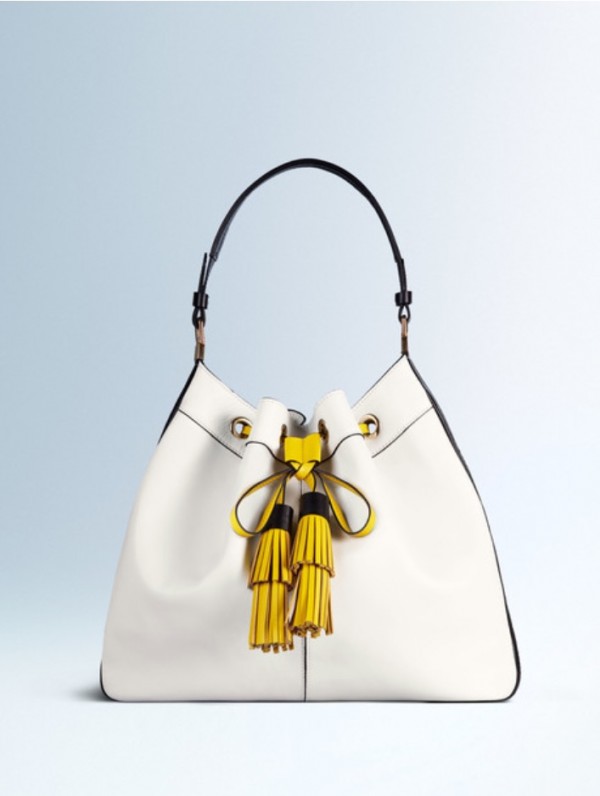 LEATHER BAG – Boden
Available in other unusual colour combos!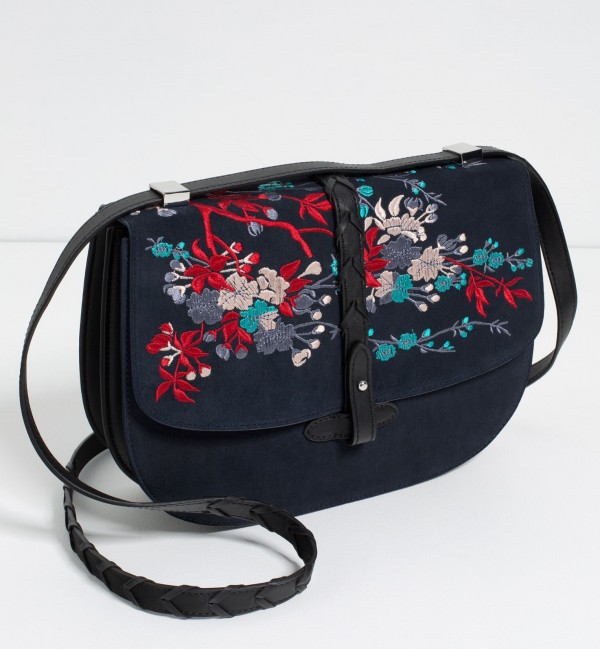 EMBROIDERED SUEDE SATCHEL – Zara
THE MODERN MINIMAL BACKPACK!
This style of bag has been here for a few seasons now. Practical in it's design but made more modern and fashion forward by paring down it's details and smartening up it's lines. I won't be investing in one any time soon but they are a look that is there and not to be ignored.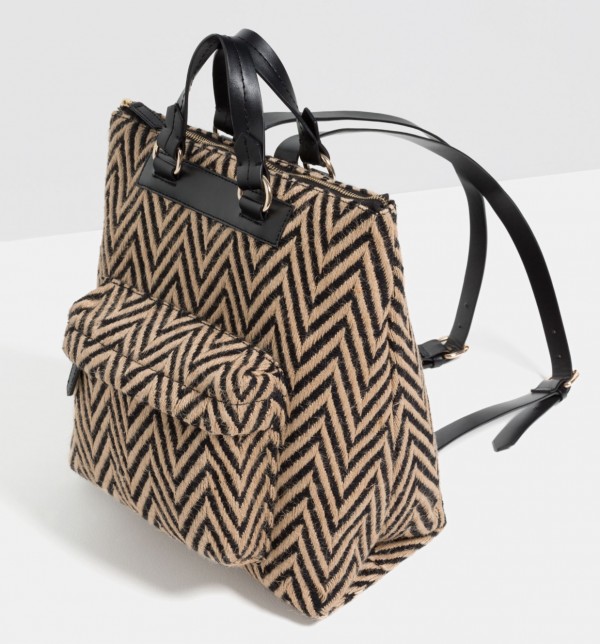 A slightly fancier offering from Zara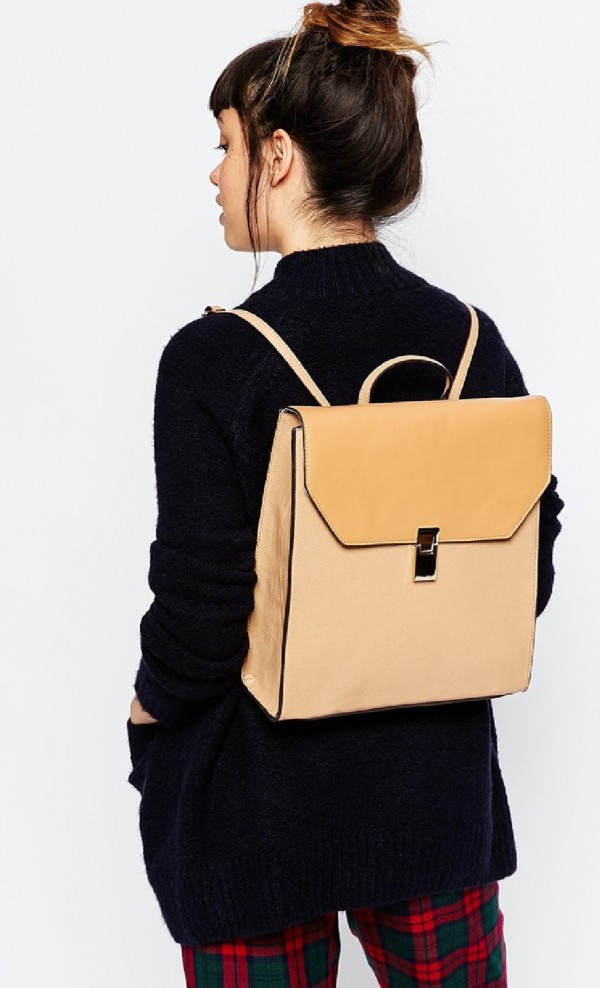 FAUX LEATHER BACKPACK – ASOS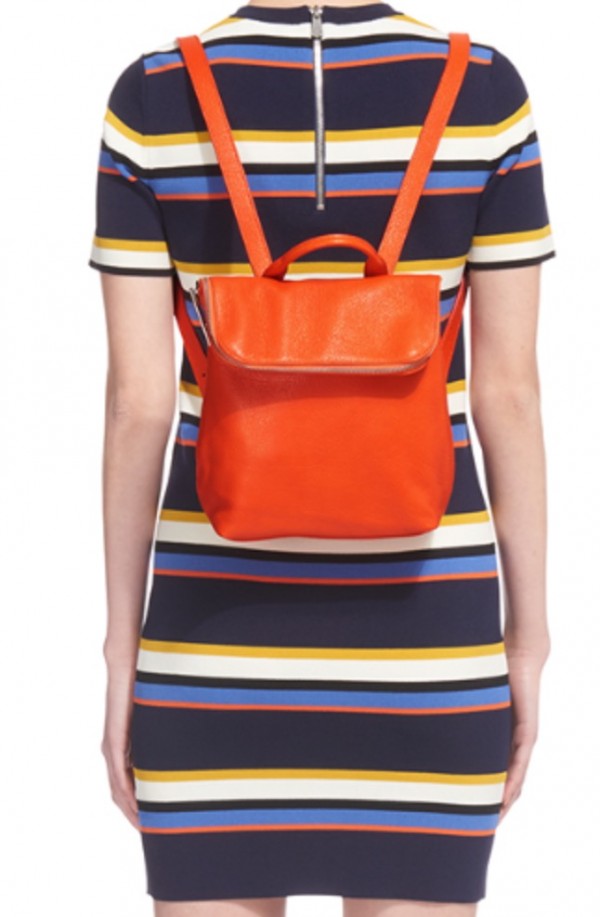 LEATHER BACKPACK – Whistles £180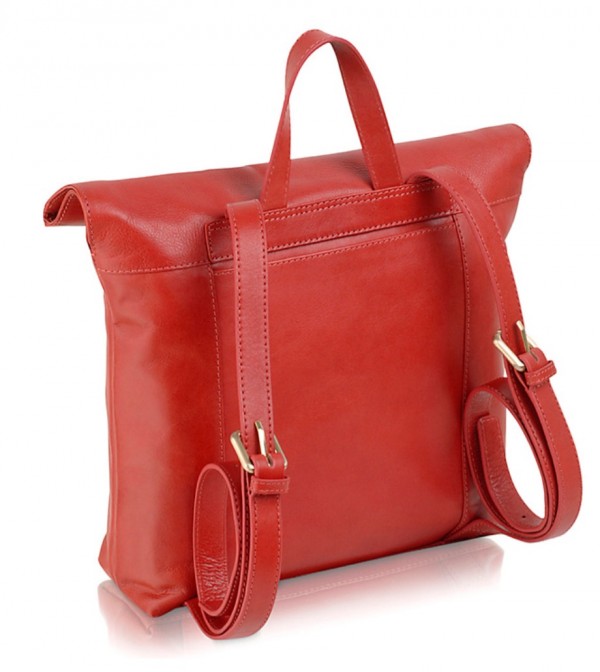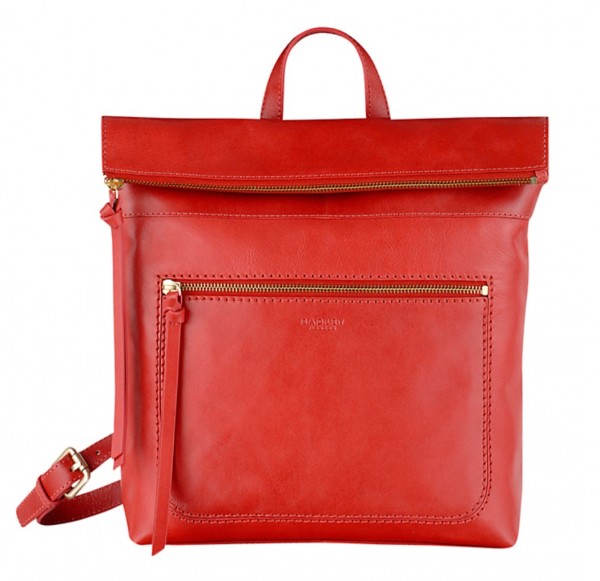 LEATHER BACKPACK – Radley at John Lewis (on sale) £209 now £130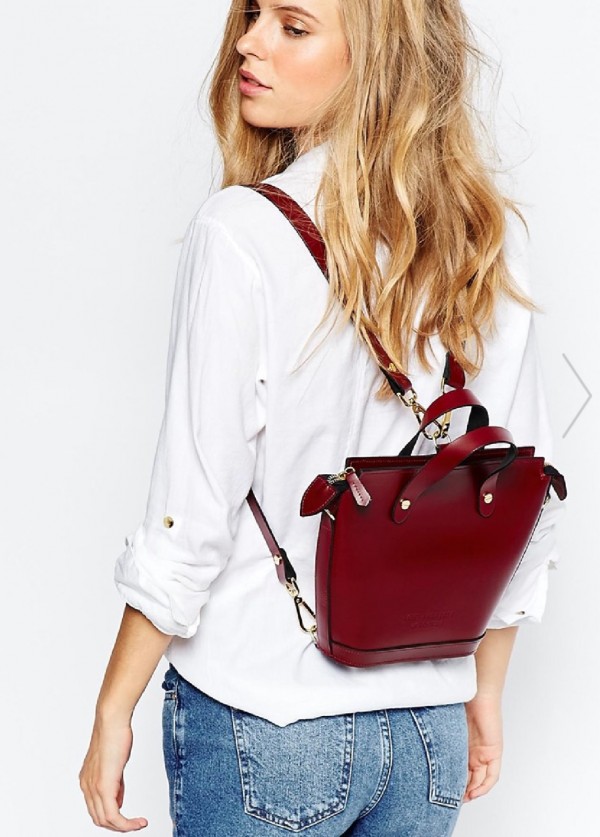 MINI LEATHER BACKPACK – ASOS – Lost Property Of London £252
STYLE TIP TO UPDATE!
Add a scarf or buy a bag with one already there! An easy way to add interest to a plain tote. I've done this for years. I often add a cotton traditional bandanna to a beach bag or even on a smart  "lady like" tote for a fun unexpected twist.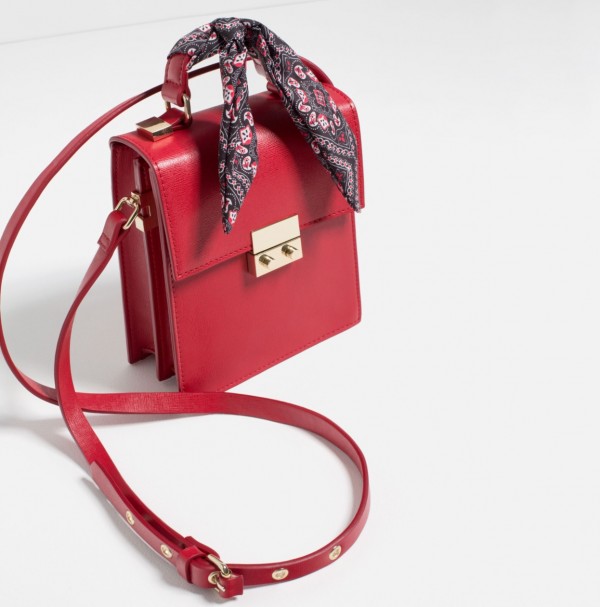 BAG WITH SCARF – Zara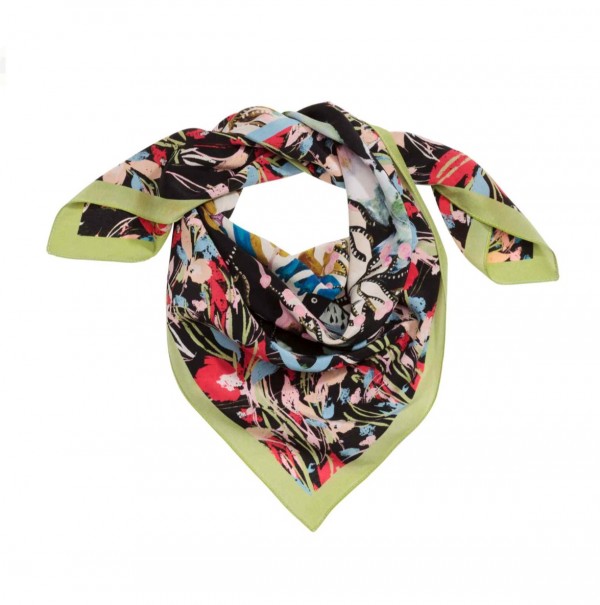 PURE SILK SCARF – H&M £29.99
DIY your own combinations with a pretty scarf!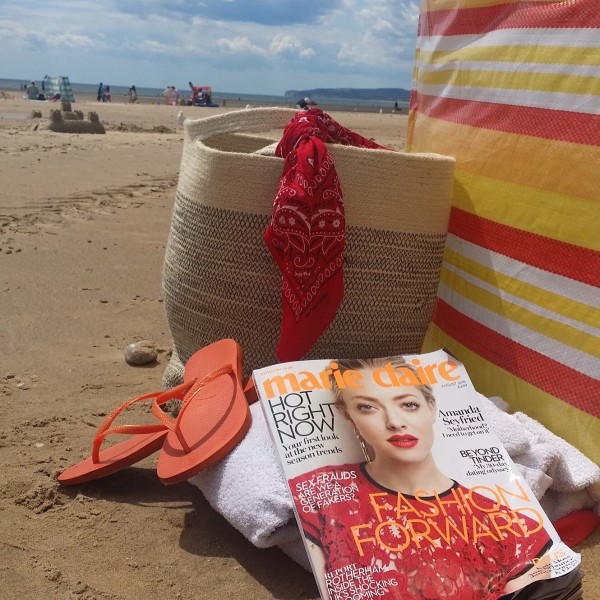 BLOW THE BUDGET!
If I EVER was going to blow the budget it would be on something classic; possibly tan (or boring I know, black!) and probably Mulberry? or Chloe? Anyway, it doesn't really matter 'cause it's not going to happen! But, if it did…….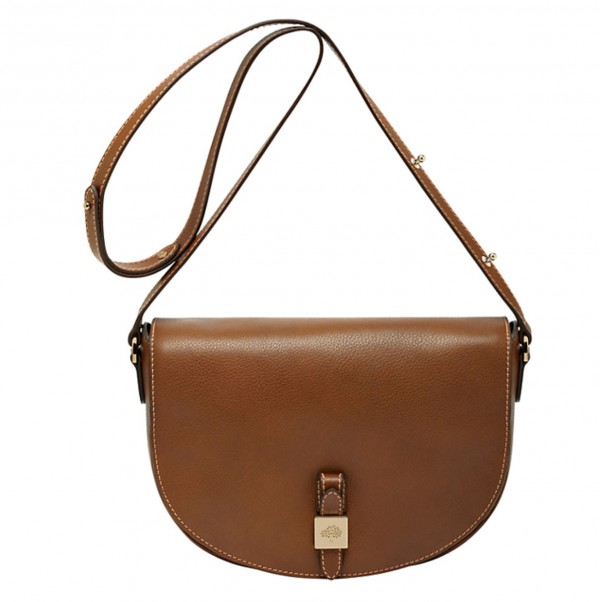 OAK LEATHER SATCHEL – Mulberry Tessie £595
FROM LULU WITH LOVE!
Lulu just speaks for itself!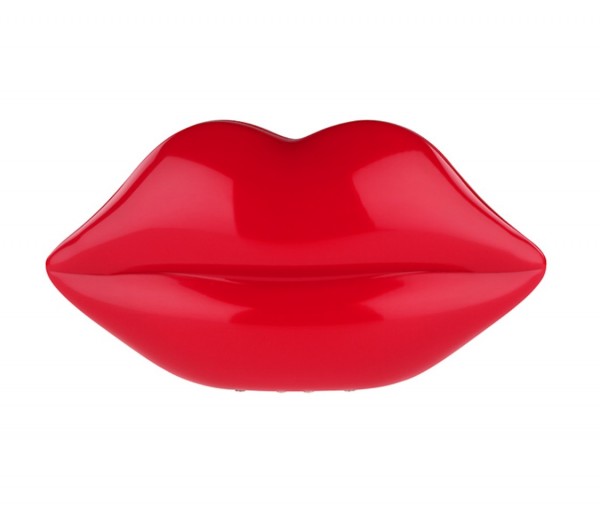 PERSPEX LIPS CLUTCH – Lulu Guinness £245
I have been super busy my end with clients but I have had to make time to sort myself out too for the season ahead. Any time soon I will be sharing with you my high street heroes and the bits and bobs I have actually taken the plunge to buy. I've revisited a brand I used to love and I've come up trumps. The next blog will be all about Solihull Fashion Week. There is a really exciting VIP evening event on Thursday 21st April where Anton Du Beke from "Strictly Come Dancing" and the lovely Sameena Ali-Khan from ITV will be hosting. Friday through to Sunday will be jam packed full of fashion shows. The Friday show will be hosted by Sameena and celebrity hairdresser Andrew Barton. I will expand further in the blog but being part of the event and attending the shows is a great way of showing your support for Solihull, it's independent retailers and the small businesses that we are so fortunate to have. For more information just visit the Solihull Bid website. Link below.
So, farewell for now and maybe see you at Solihull Fashion week?