COLD SHOULDER!
If there was a top to own this season it's the "off the shoulder" top. A bit tricky I hear you shout? Maybe? Where do I start?
LET'S START AT THE BEGINNING!
Being a massive trend this season was a good enough reason for me to sit up and take notice of this rather cute little breed of summer attire. I have to admit it did intimidate me at first glance. Why? Well, I have broad shoulders and "strong" arms so this style in theory could make me look top heavy. Also there was the "boho" issue. Most of these off the shoulder tops have a festival feel and often very oversized. That's obviously a huge thumbs up if it's your bag but you all know that it's just not me. I'm not going to get a glorious tan any time soon and I'm most definitely not going to wake up tomorrow with long blonde hair with beach waves! So where do we go from here? That brings us to the meaty bit in the middle of the journey! Finding "the one!" – never going to be easy and usually involves kissing A LOT of frogs!
THE MEATY BIT!
OK, I didn't want typically boho so I avoided H&M. I didn't want I white one as looking like a renaissance artist wasn't on the agenda either! I didn't want to pay the earth as I wasn't quite sure how well this was going to pan out. This ruled out LOADS! When I saw the red one I'm wearing on line at Mango I knew that I could be onto a winner! It was made from a crisp cotton content fabric which meant it looked more expensive than it was. The bright red colour gave it personality and a continental feel (always good for me!) My "dressing like a French girl" box was ticked! It had a good level of detail down the back too which stopped it looking like a tent! There's a pleat in the centre back which finishes in a split and the hem has a very deep turn back that gives definition to the bottom of the blouse. All in all it's a very nice top for the money and credit where credit's due! Though it came up large and I sized down in the end and finding the right fit look a little while, I'm glad I persevered as It has become one of my favourite purchases this summer. Though I've styled it here with cropped kick flares, it's easy shape works well with skinny jeans and shorts too.
THE END!
So there was a happy ending to the search for an off the shoulder top and the moral is do things your way! I found my feet with the style by taking it down a different, less predictable path. The weather we are having is not making getting dressed in the morning very easy but I have decided to just crack on and make it work! If it's chilly(which is was yesterday when I wore my top)  I'll still wear my new summer styles with other pieces that give a bit of coverage like jeans. You can see in the pictures that it wasn't a scorching hot day but was hazy with a bright light that I couldn't look at!  These cropped kick "DREE" flares from TOPSHOP have been a life saver. With a bit of ankle on show they give a nod to warmer weather and give you a chance to show case interesting footwear . They are a little looser than skinnies too and made from soft thin denim so they feel cool and comfortable to wear as the day and it's climate chances.
AN OLD CHESTNUT!
My posts wouldn't be mine if there wasn't something "old" in my outfit! This blog post is no different and the precious little old favourite is my mules! I bought them when I was in my twenties. Mr.W remembers them from when we were dating. His phrase not mine. They were from BALLY in the sales. I remember buying them in the Regent Street store in London whilst shopping with a friend who got the same pair! There has been the odd summer when they haven't been worn and they may well die very soon but this summer they have fitted the bill nicely. It helps that one of the shoes styles to surrender to this summer is the mule! I just love it when things make sense! Little nods to different influences all coming together in one outfit. French chic blouse, check! kick flare crop trouser and cute little mule, check! Continental colour mix (i.e. colours of similar tones – red,orange,pink put together), check! If you can't spot the pink, it's on my toes! As you can see I have seriously manipulated my off the shoulder top to work in my favour.
THE FINER DETAILS!
You can't beat a bit of, what I call, "holiday jewellery". As the fuss was around the neckline with this top I felt I needed some balance at the wrist. A right old fist full too! A real mixed bag of everyday bracelet (my Pandora bracelet never comes off, except when I do ZUU!); some FCUK tasselled treats and a vintage Murano glass bracelet. This is easy to do by mixing high end jewellery with cheaper high street pieces.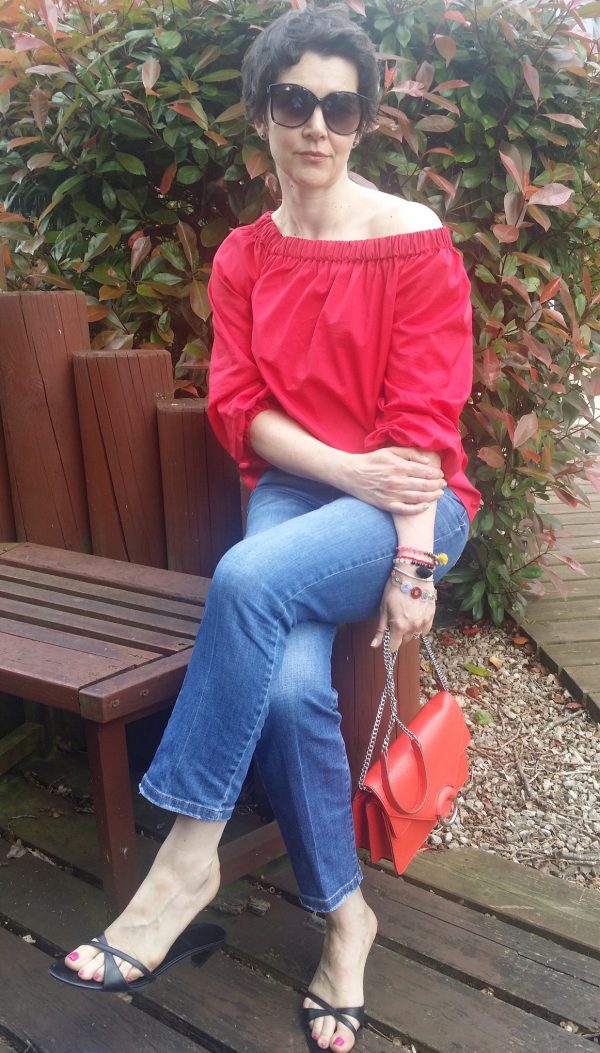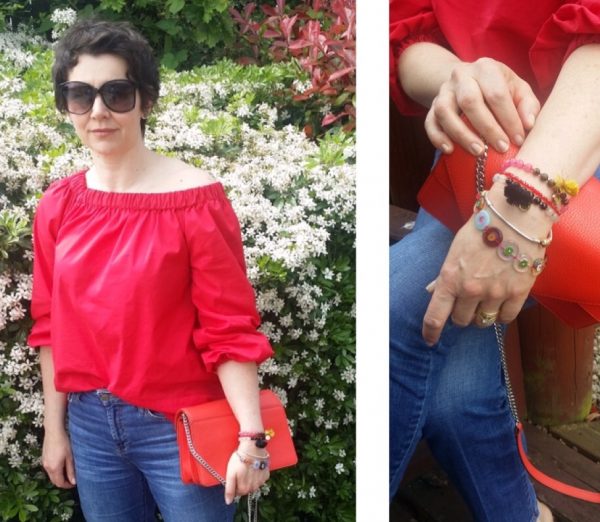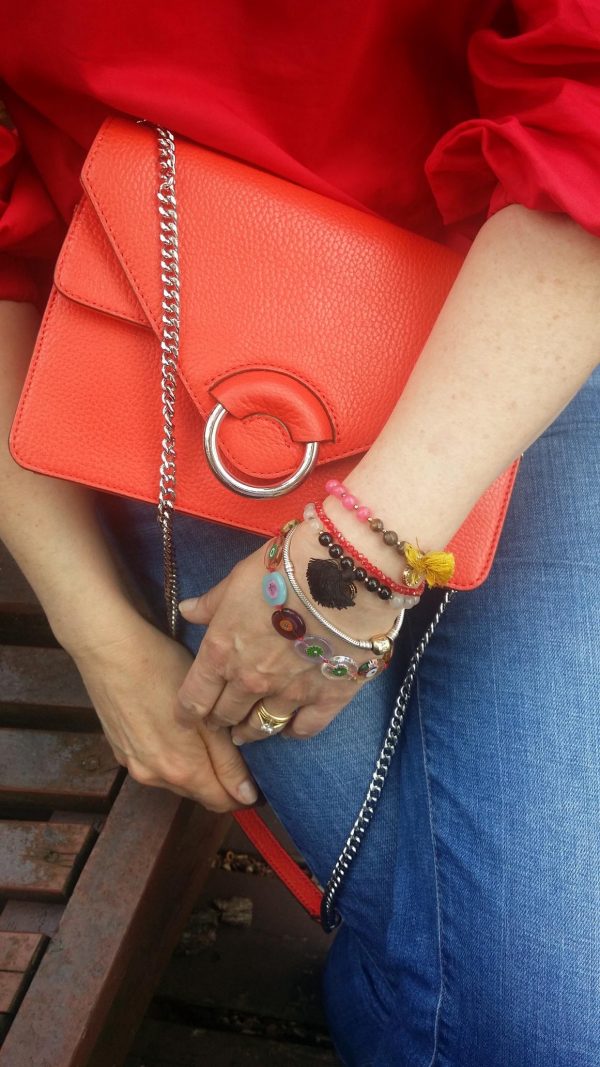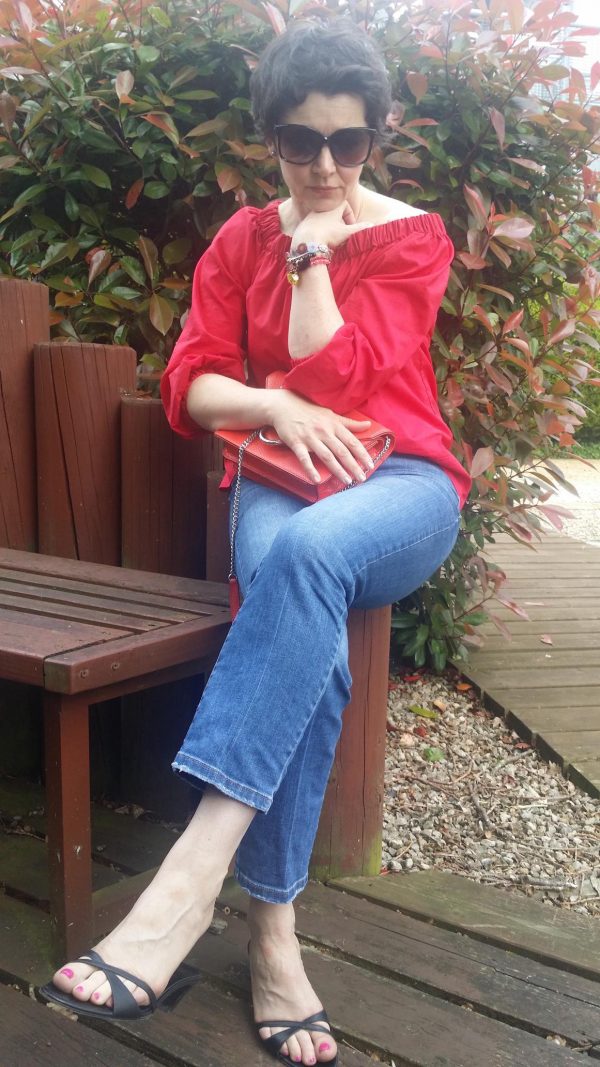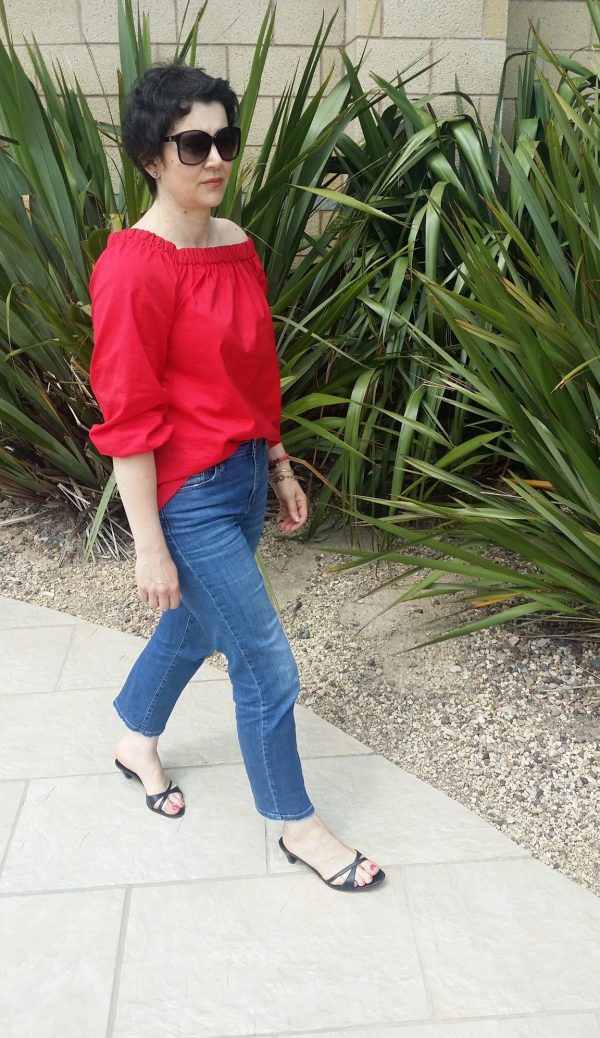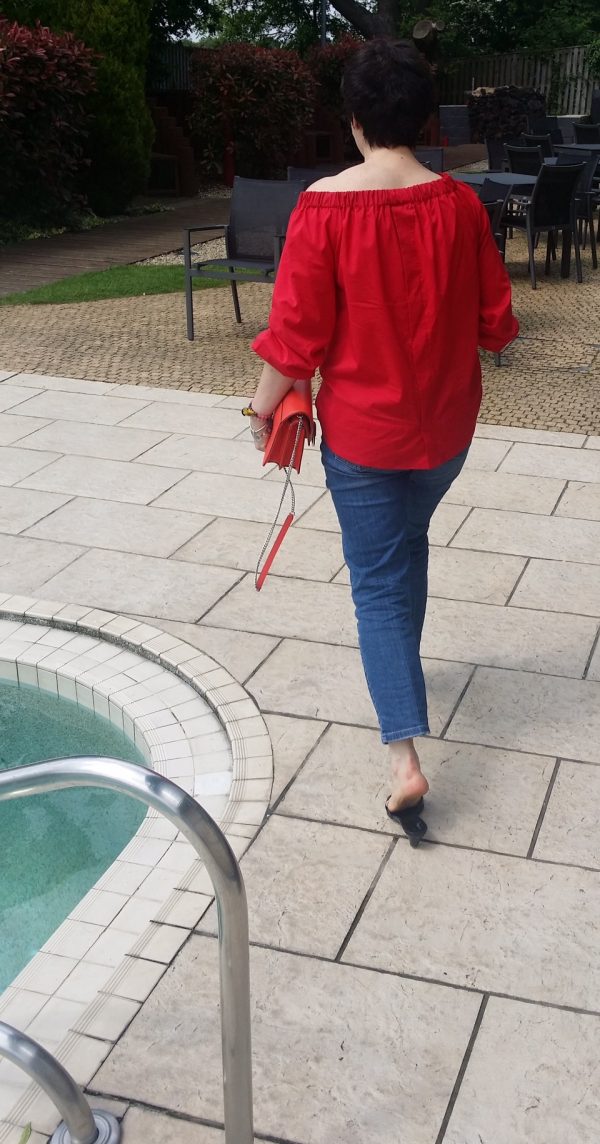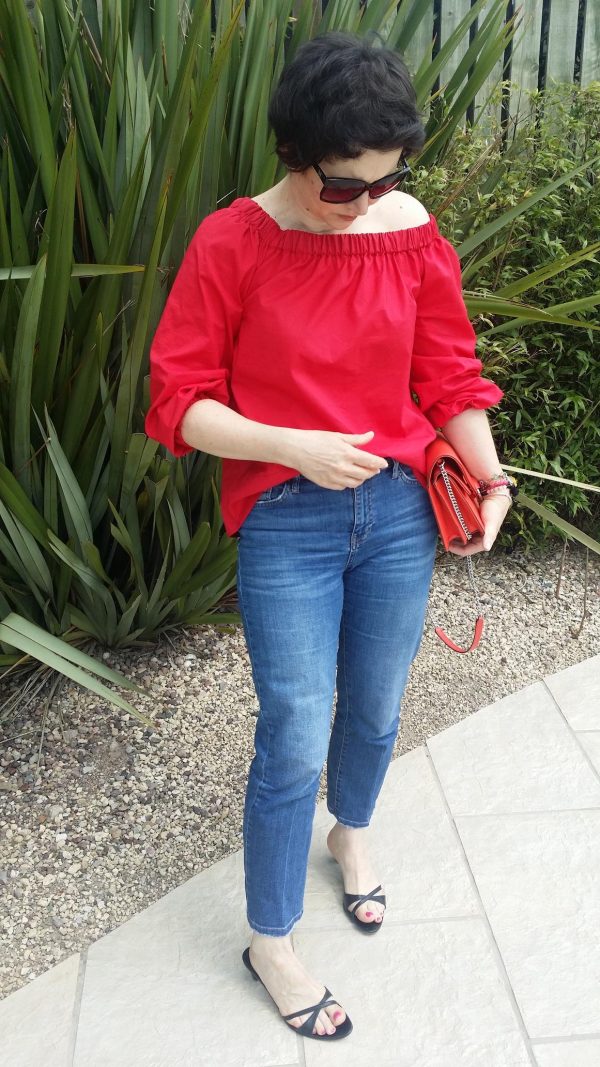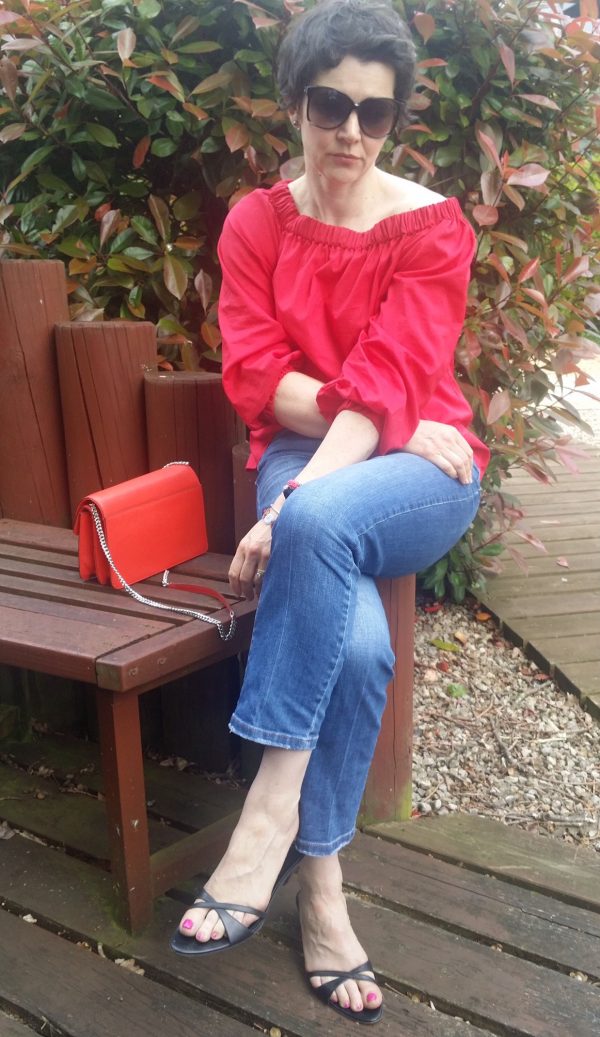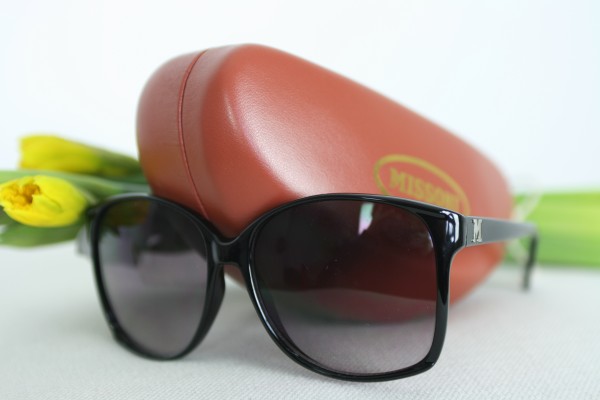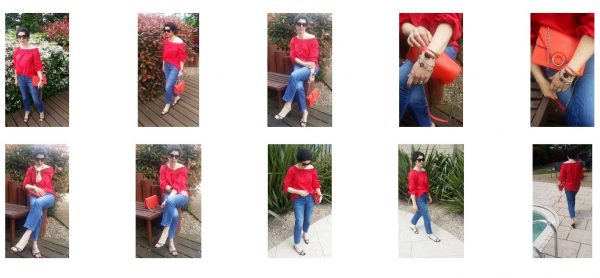 Blouse- MANGO
Jeans – TOPSHOP –  (similar here) and petite here
Bag – BANANA REPUBLIC 
Mules – BALLY  (old) –  (but I like these)
Bracelets – PANDORA, TOPSHOP, FCUK, VINTAGE
Sunglasses – MISSONI –  (sold out but similar here)
CHERRY BYE!
I hope you've enjoyed a little "outfit of the day" and feel inspired to think outside the box that we all spoon fed when it comes to trends. Is there something you'd love to try but feel it's just too far from your comfort zone? As always I'll see you soon and have fun with styling your own outfits. Xx