It started with a BBQ on a sunny day. I remember reading an article a long time ago by a well known TV stylist about dressing appropriately for an occasion and to NEVER wear white to a BBQ for fear of the inevitable dollop of red sauce that would slide from your hot dog and end up on your newly laundered pale attire! I get this but once I had kids I decided that no clothing would stay that precious and most items get messed up on a day out anyway so, me being me and not taking life or clothes too seriously, I decided, therefore to do the exact opposite and don my white trousers. FLARES no less!
Every story should have a beginning; a middle and an end. The middle bit is that I enjoyed wearing my whites so much that they got a few more airings until they needed a wash. I find myself doing this a lot. Is it just me??? I find an outfit I like, wear it to death then move on! Well, any way, the next day wasn't quite so gloriously warm so a suitable layering piece was required. I've found this little blazer from last Summer a life saver this year. An item like this can really open up your wardrobe and can be styled lots of different ways. Dressed up or down a little jacket can give you a more put together look and beats that bobberly cardi in the car hands down! There are plenty of these trophy jackets around this season which look great over dresses; tailored pieces; your favourite jeans or even city shorts and culottes. Layering pieces are worth considering, if you haven't already, as they are invaluable in our weird and wonderful British climate. If you like wearing prints then find a plain pop of colour that works with your existing wardrobe. If you sway towards block colour dressing and usually seek texture, colour or print in your accessories then be brave and find an embellished or embroidered number like mine that can take you from beach to bar! The one that fits well and works for you will depend on lots of factors. I've just listed a few below for inspiration which I haven't seen in the flesh but I think you get my drift?! As far as the trousers go, yes you've guessed it, they are an old chestnut in my wardrobe!! Most high street retailers have had a go at wider flared trousers and jeans this Summer so go to where you usually find your best fit and take it from there. My wide linen pair were from a Designer Outlet so their original price tag wasn't cheap. The point being, they are a well made classic that I have worn every summer for a LONG time. As I've got older I have learnt that every now and then it's O.K. to invest. So the outfit evolved from first thing when I walked out the door on the school run in a simple pair of wide trousers and T-shirt to a full on fashion blog with Aztec prints; flying fringes; bits of blue and basket weave!!
Creased but cool and comfortable, just go with it I say!
A simple ensemble! Tee and trousers….. add a bag; add a hat; add a cuff; add sunglasses….
Things got a bit chilly!
White flares are not the most flattering when stationary so I'm on the move!
NECKLACE – I bought mine from one of those pop up stalls in the centre of Touchwood (Solihull) years ago but there are loads of holiday inspired pieces available in the shops depending on your budget. From beads at ChloBo ( some items at 50% off at Fabulous Collections in Touchwood) to tassels at Boden ( pink leather tassel charm necklace).  Accessorize and TOPSHOP ( pink tassel on a beaded necklace) have all sorts of  festival inspired jewellery to choose from.
Add a jacket and tweak the accessories… building an outfit…..
BEADED RING – (just seen) ChloBo at Fabulous (Touchwood, Solihull) similar here and here
WOVEN LEATHER BASKET – (old)  TK MAX  ( similar straw basket below)
HOME MADE LEATHER TASSEL
LEATHER CUFF – KURT GEIGER  (last season)
VINTAGE ITALIAN PANAMA HAT – similar listed at the end of this blog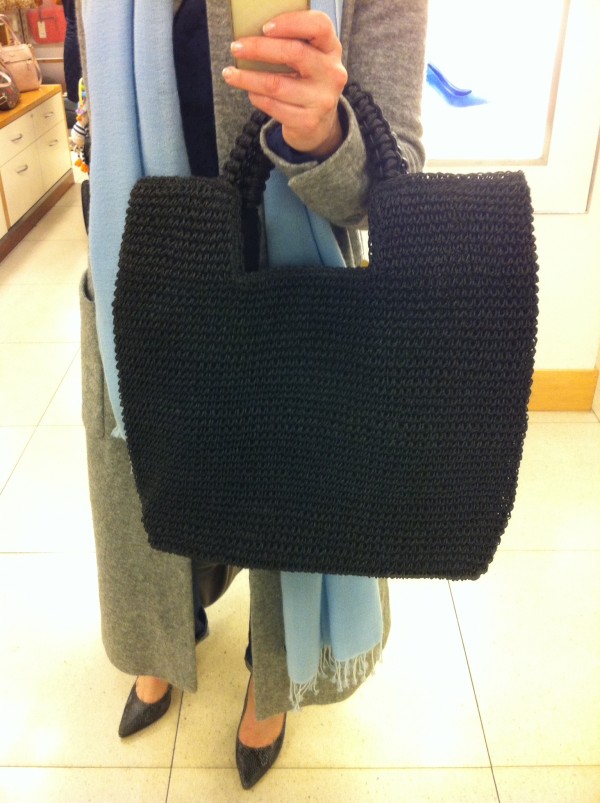 STRAW SHOPPER – John Lewis ( Touchwood, Solihull) On finding the link I've spotted that the black colour way pictured here is out of stock online. Navy is still available and If you're quick black might still be there in our Touchwood branch?
If you like rules then I'll give you guide lines and style theory! How to wear wide trousers? The answer, with a neat fitted top  and a high wedge or a block heel sandal. Go as long as you dare with your trouser length and add inches to your legs!
KIMONO JACKET – M&S
BLAZER – ZARA  ( I had to stop myself from putting on most of their website here!! If you want a funky little jacket that won't break the bank, Zara has nailed the trend!)
PRINTED BOMBER JACKET – Zara 
STRIPED COTTON JACKET – Zara
JACKET – M&S
The beauty bits! L'OCCITANE foot cream; CLINIQUE chubby stick in 15 pudgy peony; CLINIQUE nail enamel ( part of a set).
SMART LINEN TROUSERS – Pure Collection
PANAMA HAT – The White Company
STRAW HAT – River Island
Image is from ASOS
The moral of this little story is that classic, well made ( and often investment) items will last the test of fashion time. These items pay you back in pound per wear and will give you a sense of satisfaction that you've spent your hard earned pennies well. They become the building blocks of a seasonal wardrobe and provide the spring board from which you are able to then play with your styling and have a go at the new season in a way that feels right for you. You'll tackle those tricky trends you want to try with ease as they'll be grounded by the clothes that make you feel your best. You won't catch me in a peasant blouse and strappy gladiator sandals that tie up to my knees but I'll still have a go at doing things my way and wear "that" blouse with some beautiful tailored cigarette trousers and killer heels!  Find your feet and you'll never look back!
THE END
As always, I hope you've enjoyed reading! Do you have items in your wardrobe that come out to play year after year? I'm such a bargain Betty and obviously fashion is my thing so I'm always on the look out for different and interesting bits and bobs. I won't be able to always give you links to buy the same thing. I'm more about inspiring you to have a go and have fun. Keep your eyes peeled when you're out and about. You never know what you might find!!
P.S. Just so you know, the white trousers survived the BBQ unscathed, however, by the time I'd finished crawling around on my hands and knees in the garden taking the perfect angled photo they were in a bad way!!! I bet the stylist on the BBC never thought about that, did she??! Xxxx